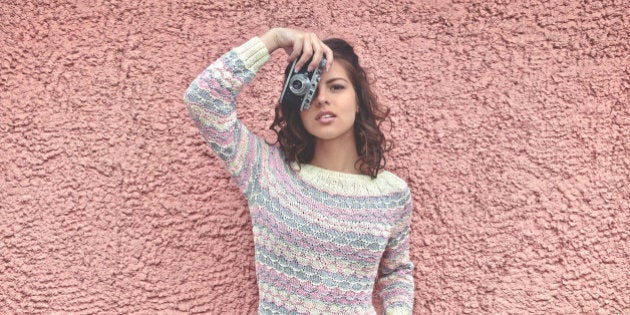 I have been travelling more and more, and want to keep my style fresh when I am running through airports or travelling to new exciting destinations.
I recently picked up some amazing spring style tips from Bradley O'Brien -- xecutive vice president of design and product development for Tommy Bahama. Bradley shared all of her tips for the best travel looks this spring.
• The Destination Dress: Easy to wear, always pulled-together -- a great dress is a must-have on any packing list. From a sporty chic sleeveless polo and gingham shift to date-night glam of a statement halter dress and printed wrap. The strapless stripe-and-floral dress and tropical maxi go from beach to bar. I call it the no stress dress: Swing and maxi styles in luxurious stretch jersey defy wrinkles -- just unpack and go.
• Get in the Zone: Look for a fabric using 37.5 technology that regulates body temperature and controls perspiration. This super soft fabric is used for men's and women's polos, tees and camp shirts made of performance silk blend. Total comfort and great style for the backyard to a golf course.
• Knit Revival: This is huge for spring and knitwear covers T-shirts, tops, sweatshirts and sweaters such as a lace up pullover. The cardigan is the perfect layering piece for spring, especially over a shift dress.
• Novelty Must-Haves: The ancient Japanese dying technique of Shibori is an important element in both sportswear and swimwear this spring, appearing on hoodie sweaters, patchwork on denim and on a shift dress. Stitch interest and embroidery on dresses and accessories add an artisanal touch.
• White: Crisp and fresh, white is a constant throughout spring, in an array of fabrics from denim and linen twill to linen and ethereal cotton batiste. Chunky knit and cable knit provide rich texture on pristine white sweaters.
Here are a few of my favourite travel tips:
Travel Size Laundry Detergent
I always bring more camera gear than clothes, so I have to make the most of the space that I do have in my luggage. I pack a travel size laundry detergent, wash my clothes in the tub or sink and hang to dry. Most hotels will have an iron and ironing board. If it is a special occasion, I may splurge and ask the concierge to have a dress cleaned.
To avoid having to pack a curling iron, blow dryer and a bunch of hair styling products, I will book a blowout at a salon in the city that I am visiting. Get my blown out the day after my arrival, and then I use a bit of hair spray (bring a small travel size hairspray) each day to keep my hair in place.
I roll my clothes in dry cleaning bags to keep my clothes fresh. The air in the dry cleaning bag will also help to prevent too many wrinkles. Also, this protects my clothes from becoming marked up from other items in my bag.
Key items and accessories
I always pack one outfit with two tops and a pair of classic shoes. I mix and match these key pieces. I wash the tops on alternating days. My other secret is that I splurge on the accessories. I bring bracelets, earrings, necklaces, rings and anything else that is small and can spice up an outfit. This way, even though I haven't brought that many pieces of clothing, I can still feel pretty and dress up for a night out on the town!
I always use the same skincare when I am travelling that I use at home. Flying, staying at different hotels and time zone changes can be stressful. So I try to keep as much of my daily routine the same, including my daily cleanser, moisturizer and mask.
Workout and Being Healthy
I have a focus on being healthy and active. Because I travel frequently, it is important to plan ahead so I can stay on track with eating healthfully and getting my workouts in. I always pack smoothie packet mixes and protein snack bars, and a pair of sneakers with my workout clothes. The best case scenario, I can rent a bike at my destination, get some fresh air and exercise!
Let's keep thriving and living our very best lives! Keep an eye on my blog, as I continue to travel to unique destinations and reveal all the best travel tips in 2017.
Your suggestions are always welcome, as I continue on my journey to live life to the fullest. Let's explore some wonderful places!
Follow HuffPost Canada Blogs on Facebook