David Lees via Getty Images
Wearing sunglasses in the summer not only looks cool, but is also essential to protect your eyes.
To find out more about how to choose the best sunglasses for summer, I spoke with spokesperson, Robert Throop, Performance Sun Category Director at Oakley. Robert shared everything you need to know to find the perfect sunglasses to protect your eyes this summer and look great.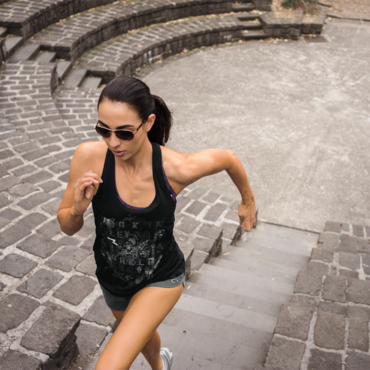 What are the top trends for sunglasses this season?
The top trend for this summer, a summer of competition, is performance sunglasses designed to meet the demands of the world's top athletes.
• Men are looking for simplicity, timeless design with a fresh spin and integrated technologies. A lifestyle look, with the benefits of a performance eyewear.
• Women's Trends have moved away from the bigger, the better. Canadian women are now looking for practicality and uniqueness. Eyewear that will perfectly fit their face and their active lifestyle. A classic frame shape like the aviator is on-trend now. Beyond the frame shapes, ultra-feminine eyewear also offers a great level of detail with warm colours and acetate print on the temples.
Why is it important to wear sunglasses?
Protecting your eyes is of the utmost importance all year long. This summer, don't compromise protection over style. A high quality sunglass should protect your eyes from UV rays, glare, impact and give you the best visual experience.
How to choose the right sunglasses when you are shopping online?
Determine the use of your eyewear and look for keywords in product descriptions that complement the intended use.
If you are looking for a sport sunglass that is lightweight for trail running, look for a product that would enhance performance.
Here are examples of a few tools that can help you find the perfect eyewear:
• Look for your face shape on websites and there should be suitable sunglasses to match your face shape.
• Recommended use -- select the sunglasses that will specifically meet your needs.
• Be inspired and try something new!
What are the latest innovations in sunglasses?
Look for innovations in lens development, like Prizm, a revolutionary lens technology that enhances detail for an optimized performance. It provides ultra-precise color tuning, designed for specific environments.
Prizm technology picks up on nuances that you would miss with the naked eye. Landscapes that would normally be washed out, dull or flat with other lenses become defined, vibrant and vivid.
What is the difference between a lower priced pair of sunglasses and a pricier pair?
The biggest disadvantage with low cost sunglasses is the optical quality of the lens.
For sports sunglasses, which styles are on trend now?
A multi-sport sunglass with perfect combination of style and uncompromising excellence in functionality.
How should you care for your sunglasses?
Caring for your glasses can be quite simple. It is suggested to keep the frames in the case when they are not being worn and use a microfiber cloth to clean the frames often (hand wash and air-dry the microfiber cloth regularly).
Any other tips?
Look for eyewear that also provides all day comfort, protection and visual clarity to complement style and performance benefits.
Most people wear the same prescription glasses every day and gravitate to the same style, time and time again. Dedicate time to researching the latest trends, and don't be afraid to step outside of your comfort zone.
I will be thinking about all of these great sunglasses tips this summer!
Your suggestions are always welcome, as I continue on my journey to live life to the fullest. Let's have the very best summer ever!
Visit Sacha daily at SachaD.com
Follow HuffPost Canada Blogs on Facebook