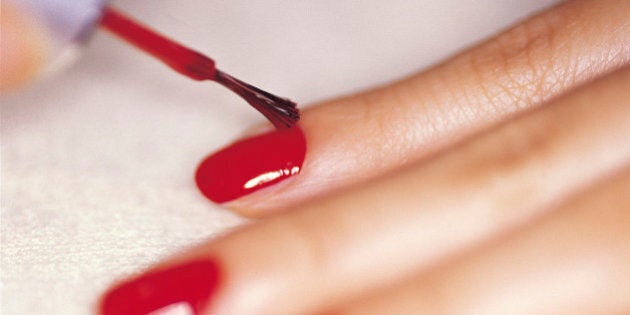 I love pretty nails. They can really make an outfit come together and at the same time you can make a statement about your personality with the colours you choose for your polish.
Recently, I was lucky enough to speak with celebrity manicurist, Gina Edwards for Kiss Nails. Gina shared with me the hottest trends for nails this fall and also the best tips to keep your manicure and pedicure looking amazing for a long time.
Nudes and reds are considered a staple look. Can be worn day to evening all through the seasons. A nude nail is always a safe nail colour in a professional work setting. Lately, red nails are becoming a trend setter as far as carrying this look from day to evening.
We will see lots of chrome, metallic this fall season for nails. Strong bold nail art is trending as well.
A red nail is more acceptable in a lot of work environments maybe because red is classic, a maverick in colour.
A black nail for fall is a colour that goes with a lot of this seasons wardrobe looks. I consider black in the neutral family because it's a core foundation colour.
Accessories with a nude nail can be paired with delicate pieces for a day look and for evening you can expand and go for a bit more glam look.
With red and black nails you can take more of a risk and get bolder in your selection of jewelry.
It all comes down to your comfort level... layering pieces and adding more make up is always a first step out of your element. Be fearless and have fun with colour.
If you use press on nails for your manicure:
An important application step for applying a press on manicure is the use of the alcohol prep pad included. Leaving any excess oil can lift the nails if you ignore this step.
Wearing press on nails can help keep, protect your nails from everyday wear and tear, especially if you just removed gels or acrylics.
Do it yourself at home tips for regular polish:
Cutting cuticles will allow your nails to last longer and look cleaner.
Prep by buffing the nails to create a rough surface and then dehydrating the nails prior to nail application (use alcohol and acetone -- if you do not have these at home, just soap and water followed by drying your nails with a clean cloth towel will work).
Paint close to the cuticles without touching the cuticles.
Paint thin coats and let it dry in-between coats (at least two minutes to dry -- the longer the better).
Seal, seal, seal the bottom of the nails.
Use a good quick dry top coat.
Wear gloves when using cleaning products (certain chemicals can cause lifting of the polish). Don't be rough with your hands (don't use your nails as tools when packing or opening cans etc.).
How to care for your pedicure to keep your toes looking great?
Lasting pedicures: Take a brush and clean around your toes to keep the dead skin away. Use a paddle during your showers to maintain smoother heels. Try not to walk around barefooted or with flip flops, this can create calluses. To keep feet soft and smooth, wear socks and slippers around the house.
Keep your toe nails short and not too squared at the edges (rounded edges will have less chance of chipping and getting banged up). If you are athletic and run often or go skiing, or if you have a job that requires you to walk around in high heels all the time, get shellac as opposed to regular nail polish pedicures. Shellac polish will last the longest on your toes.
Pedicures with short and squared nails can last up to six weeks.
When using a regular nail polish, you can dry them with a fan or dip your nails into cold water. If you paint your toes and are in a rush to leave with your shoes on use this tip: put cuticle oil or olive oil (or any oil) over your toes and on top of the nail polish, wrap the toes with saran wrap and then put on socks (no socks is fine too).
This method only works if your nails are at least 70 per cent dry.
I love all these nail tips and trends for fall. I am going to use these helpful tips as I continue to expand by style ideas this season!
Your suggestions are always welcome, as I continue on my journey to live life to the fullest. Let's have the very best 2016!
This video and post also appear in SachaD.com.
Follow HuffPost Canada Blogs on Facebook