Maria Teijeiro via Getty Images
If you have been reading my blog, you know I have written about the "Top Tips for Travel Skincare" and "Where The Locals Love to Hangout in Victoria."
To find out all the latest tips and trends on how to look amazing and feel comfortable (for guys and women) when traveling, I spoke with Natasja Parlee, MEC Lifestyle Designer.
Natasja shared all the best looks this season.
What are the best travel looks for men and women this season?
The best travel looks are made-up of comfortable yet stylish pieces that can be worn in a variety of scenarios. Simplicity is key. I designed a comfortable black dress thinking of travel. You can pair it with flip-flops for the beach or with leather sandals for dinner. Add a nice scarf and some jewelry and you have created a different look with the same dress.
For men a short sleeve button up shirt and some chino's combined with a lightweight windbreaker can take you from sight-seeing to dinner without looking out of place.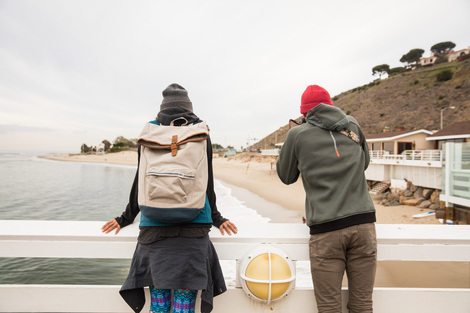 What are the key pieces to have when traveling? for men and women
• On top of your suitcase bring a bag that can be used as hand luggage on the plane but also looks great and is practical for your destination. Just make sure you stay within your weight allowance.
• Edit down your clothing to comfortable, easy to wash pieces that can be layered. Don't worry too much about replicating looks - no one will notice.
• Look for UV-protected clothing so you can stay out in the sun longer.
• Summer dresses and comfortable pants with stretch will keep you comfortable while looking good.
• A lightweight packable rain jacket or a coat treated with DWR for unexpected showers.
• A colourful scarf to dress-up your basics but can also work as a plane blanket, shawl or impromptu beach towel.
• Leather sandals and a simple pair of modern sneakers is all you need for most trips in the summer.
How can you get the most out of your travel clothing?
Make sure the items you bring along on your trip are workable together in different outfit variations. I always stick to a simple color pallet. This allows me to create multiple looks with minimal items and by adding accessories you can easily create interest. Layering pieces are a must.
How to care for these clothes?
Bring clothes that are easy care and dry quickly, require little maintenance and can be washed in sink if necessary. Natural fabrics won't hold-on to odor as much as synthetics, however synthetics often dry faster and don't need as much ironing. Choose fabrics based on access to washing amenities and irons.
Any other tips about travel wear?
Dress to fit in, not to stand out. It always surprises me when people visit a city looking like they're going on a safari. Just because you're in a foreign town doesn't mean you suddenly need to dress in tan and have cargo pockets.
Pack for the destination you are visiting. On another note, I love the new tracking devices you can put into your luggage so you can see exactly where your baggage is on your smart phone at all times. Planning perfect travel outfits is pointless if you lose your baggage!
I will be thinking about all of these style tips as I continue to expand my wardrobe and go on adventures!
Your suggestions are always welcome, as I continue on my journey to live life to the fullest. Let's have the very best 2016!
Visit Sacha daily at SachaD.com