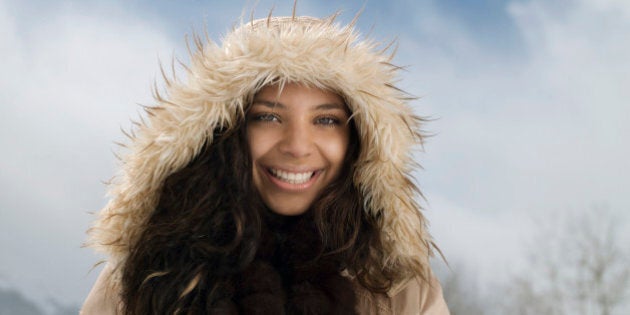 I think the winter is my favourite time for style and clothes. You can get cozy in a big chunky sweater or get dressed up in a skirt and tights.
Recently, I was lucky enough to speak with Syd Beder, Senior Director, Design at Roots Canada. Syd shared all the latest trends for winter and top tips on how you can mix and match the different looks.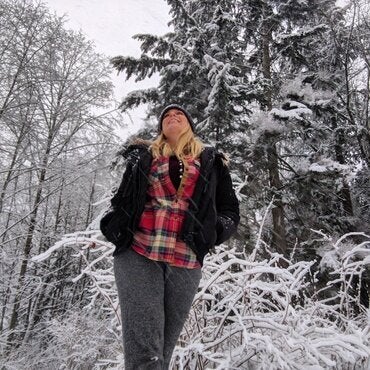 Sacha (author) in her favourite winter outfit on a snow day in Vancouver
As we move into 2017, Canada's sesquicentennial, this winter it's all about celebrating Canadian Style!
The world too is embracing Canada and its "outside" vibe. Warm parkas, heritage plaid shirts, comfy turtleneck sweaters, rustic cabin socks, and super cozy sweats, topped with the oh so Canadian toque, are all being seen on runway. The style can at once be adapted to be "season less" and "youthful" in spirit, again as we move forward, very "trend" worthy buzzwords.
Canada is synonymous with red. This colour evokes a warm nostalgic feeling and works for everyone! Add to this some golden oak, winter white, woodrose, cabernet, snowy ice, grizzly brown and celestial blue and you have the perfect mix of colours that you can dress in and it also paints the perfect Canadian landscape!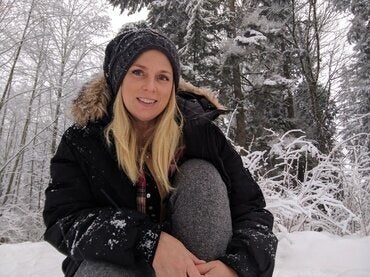 Sacha (author) in her favourite toque!
Layering is also on point this season. Some days this winter, with global warming, a sweater worn as outerwear over a plaid paired with a slim track pant. Whether you are walking the Sea Wall or shopping at an outdoor holiday market, these outfits are warm and cozy, and reflect our Canadian attitude.
For deep freeze day - try a goose down parka!
Here are a few of my favourite looks this winter:
Oversized coats: Winter coats are a great investment in our Canadian climate. With several lengths, colours and fabrics to choose from, the options for a warm yet stylish coat are plenty.
Leather oxford: Effortlessly take your polished workday look into the weekend by pairing these sharp shoes with relaxed jeans and a high-quality cotton long-sleeved top.
Vintage bombers: Bombers have had fashion staying-power since the early 20th century. Paired with a warm scarf and leather gloves, these jackets will keep you cozy and fashionable in the colder months. Avoid the fast-fashion option and look for something vintage that makes you look like you were just in a cockpit.
Cozy Over-sized Sweaters: With sweater weather in full swing, get cozy with over-sized knits. Pair them with a dressy booty and your favourite jeans or leather leggings for an effortlessly chic look that will keep you warm and comfy.
Explore, Get outside! 2017 will be Canada's year to shine. Embrace your Canadian "roots" and get ready to share your passion and place with the many tourists who will be visiting us this coming year!
I will be thinking about all of these winter style tips as I continue to expand my winter wardrobe. Your suggestions are always welcome, as I continue on my journey to live life to the fullest.
Let's have the very best 2016 & 2017!
Follow HuffPost Canada Blogs on Facebook