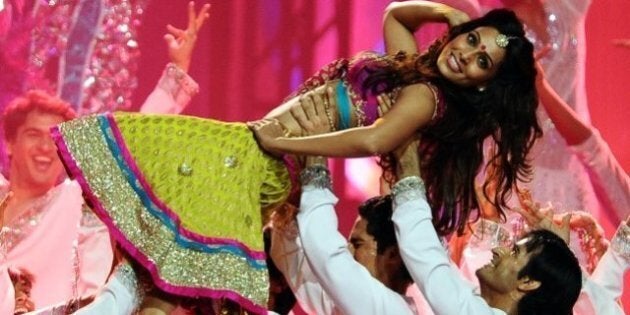 Time is a funny concept for Indians. Sometimes its as fluid and expansive as the country itself; other times its short and harshly abrupt. And sometimes its just painfully long. Depending on who you ask, this weekend's International Indian Film Academy awards (the "IIFAs") in Toronto shows why the expression "Indian Standard Time" is both common parlance for Desis... and a bewildering notion for everyone else.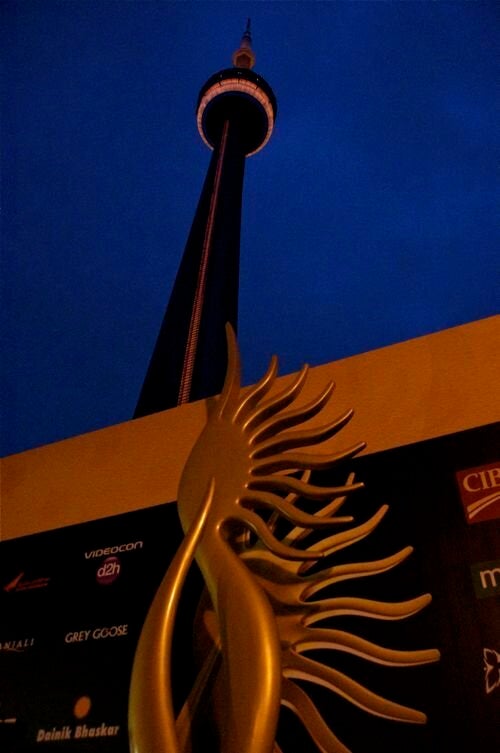 For Ontario Premiere Dalton McGuinty and provincial officials, bringing the 12th version of the IIFAs to North America for the first time was a four-year marathon of trade missions shuttling back and forth, a 12 million dollar subsidy and a concerted effort to boost the province's status in India.
As is conventional for a festival that's been on the road since 2000, travelling from London to Johannesburg and Dubai to Singapore, the IIFAs began by showcasing this year's home region with an introductory video and live performance. Given that Canada's overall trade with the country stands at a paltry $4.5 billion -- less than that of India's trade with Belgium or Finland despite a proportionately large and affluent diaspora community -- the IIFAs showed its 700 million viewers around the globe "the Indian summer's warmth in Canada" according to affable star Anil Kapoor, who kicked off the show.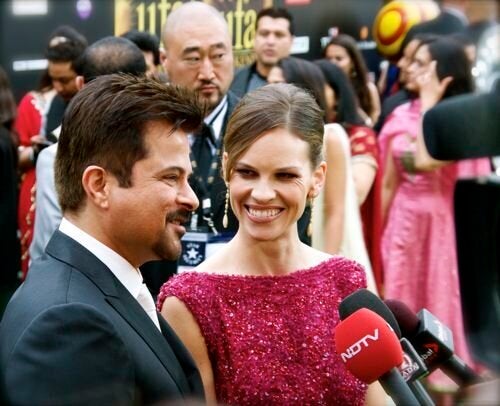 Anil Kapoor and Hillary Swank © Kian Mirshahi
For the audience of 24,000 who attended the show at the Rogers Centre, after snapping up every single ticket in less than 10 minutes, the wait must have felt like an eternity but one well worth it judging by their boisterous reactions throughout the night.
The stars responded in kind, with virtually every one of them acknowledging the immense reception they received in Toronto and Arshad Warsi telling the adoring crowd, "You have given us so much love, I want to come back and live here!"
Those who couldn't make it to Saturday's awards had the option of "IIFA Rocks" on Friday, a hybrid evening of technical awards, electric musical performances by bands like Punjabi Bhangra trio RDB and a fashion show, with the latest in Indian haute couture by Rajesh Pratap Singh and Vikram Phadnis on display.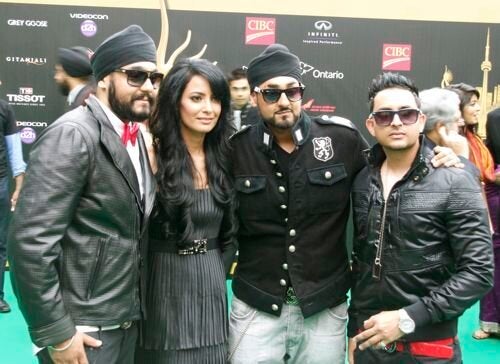 RDB and Nindi Kaur © Kian Mirshahi
For the fans without tickets to either show and spent hours camped out at the opulent Royal York Hotel downtown, outside a theatre in suburban Brampton or points in between waiting for a glimpse -- and shrieking when they did -- of Anupam Kher, Bipasha Basu, Dia Mirza and other stars on the green carpet (in tune with IIFAs growing theme), moments of intimacy were all too fleeting, often cut short by handlers and beefy unsmiling security guards.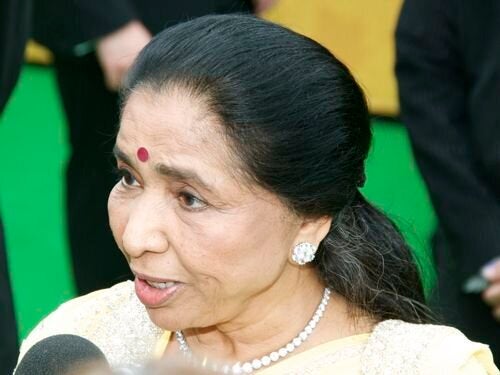 Asha Bhosle © Kian Mirshahi
For newcomers and those in Toronto perplexed by the power of this industry, the three-day event was the culmination of six months of buzz. It was also instructional on how to have a career in Bollywood: either be progeny of an established Bollywood family such as the legendary Kapoor clan (in addition to being subject to an elaborate retrospective at the TIFF Bell Lightbox, Golden Age director Raj Kapoor's name now adorns a street in Brampton), win (or at least be a runner-up) in a major modeling competition (naturally Miss World, Miss Universe or Miss India for sure but Miss Asia Pacific, Miss Intercontinental or Miss Margo Beautiful Skin will do) and if you can't be a Kapoor, at least be a Khan: it worked for Aamir, Arbaaz, Fardeen, Imran, Irrfan, Saif Ali, Salman, Soha Ali, Sohail, Zayed and of course "King Khan" himself: Shahrukh, or simply SRK who was appearing in his first IIFA in seven years despite a lingering knee injury.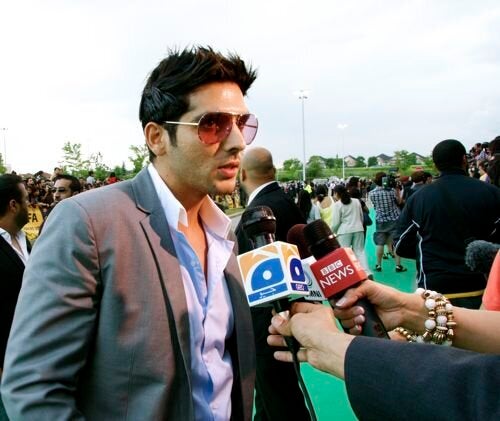 Zayed Khan © Kian Mirshahi
Whatever the hype was going in to the show after more than 30 events played out in the build up to it, India's movie royalty wasted little opportunity during their biggest night of the year.
For actor Dharmendra Singh Deol, the patriarch of one Bollywood family, it took 50 years of working in the Indian film industry to be feted with the lifetime achievement award while playback singer Asha Bhosle and actress Sharmila Tagore were feted for careers of equal longevity. The perpetually laconic Irrfan Khan was honored with the "Outstanding Achievement for an Indian in International Cinema."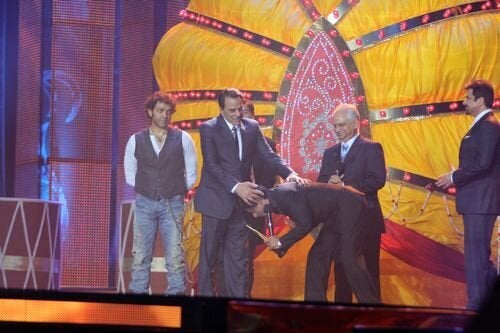 Shahrukh Khan salutes Dharmendra Singh Deol
For Ranveer Singh, the journey to superstardom was a lot quicker. The ebullient actor won the best debut male award for his first film Band Baaja Baaraat, was one half of the "Hottest Pair" alongside co-star Anushka Sharma and during a night of sensational dance numbers on a spectacular light and sound backdrop including ones by Basu and a tribute to Bhosle by Priyanka Chopra, he stole the show with arguably the most energetic performance of the evening. Singh, who has relatives in Toronto, seemed taken aback by the rapturous reaction: "There's so much love, such a great reception here -- its awesome!"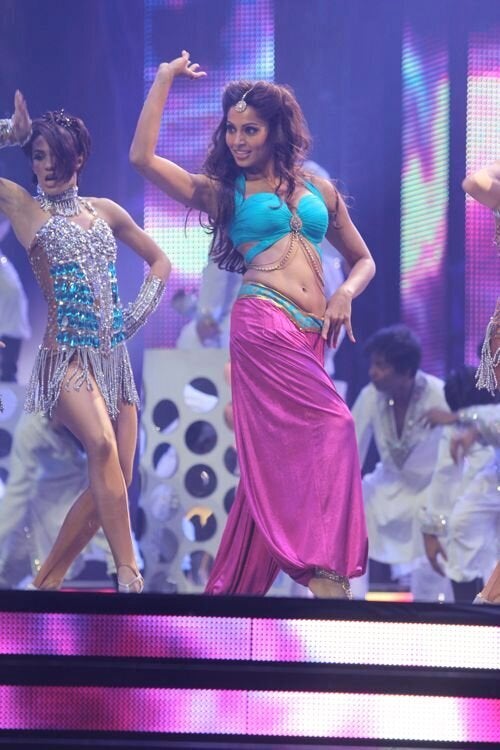 Bipasha Basu performs during the 2011 IIFAs
For SRK, seconds must have crawled at a glacial pace during one bizarre moment early on in the show when an enthusiastic middle-aged fan rushed the stage and prostrated himself before arguably the world's biggest star. The audience, security staff and SRK's co-hosts might have thought this was one of the evenings many stunts and set pieces but when Khan started telling the man to ease up the pressure on his already wounded knee, fans had their certifiable moment of award show spontaneity.
SRK had much of the evening to himself, opening and closing the show despite the leg, and seeing his film My Name is Khan, an exploration of post-9/11 Indian experience in America, win awards for best story, direction and for his own role as leading male actor. Yet the overall winner was the Salman Khan vehicle Dabangg which cleaned up with 10 awards including best film.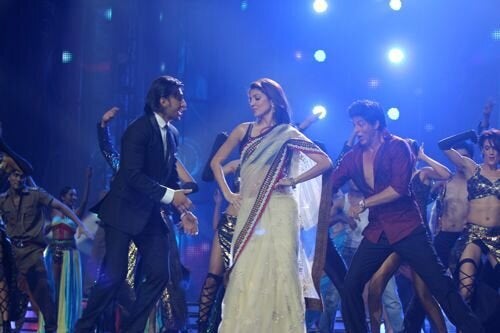 Ranveer Singh, Anushka Sharma and Shahrukh Khan in the finale
For the latter Khan, Amitabh Bachchan -- the original face of global Bollywood -- his daughter-in-law, Aishwarya Rai (oft-called the most beautiful woman in the world), and the other stars who couldn't make it, their absence from Toronto was their loss. Despite a few disjointed moments during the weekend, the 2011 IIFAs were an enormous success by any measure of cost, exposure and excitement for both fans and stars, the city of Toronto and the industry of Bollywood.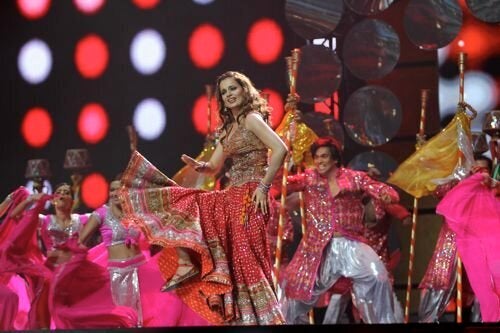 The painfully long Indian Standard Time part? The show itself was an epic of Bollywood proportions, starting 90 minutes late and clocking in at a staggering five hours. Yet that didn't seem to faze too many in the audience as they filed out at two in the morning, stars still in their eyes.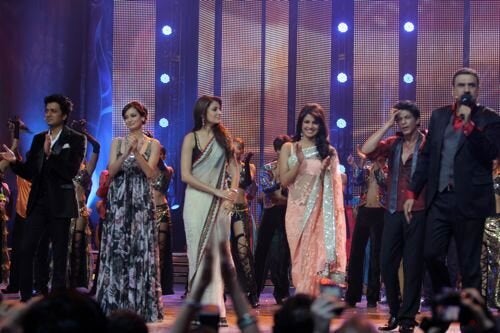 Stars thank the audience at the end of the gala
Best Director: Karan Johar, My Name Is Khan
Best Actor: Shah Rukh Khan, My Name Is Khan
Best Actress: Anushka Sharma, Band Baaja Baaraat
Best Supporting Actor: Arjun Rampal, Raajneeti
Best Supporting Actress: Prachi Desai, Once Upon A Time In Mumbaai
Best Actor In A Comic Role: Riteish Deshmukh, Housefull
Best Performance In A Negative Role: Sonu Sood, Dabangg
Achievement In International Cinema: Irrfan Khan
Best Female Debut: Sonakshi Sinha, Dabangg
Best Male Debut: Ranveer Singh, Band Baaja Baaraat
Hottest Pair 2011: Anushka Sharma and Ranveer Singh
Outstanding Achievement in Indian Cinema: Sharmila Tagore
Best Screenplay Award: Abhinav Kashyap, Dilip Shukla, Dabangg
Best Female Playback Singer: Mamta Sharma, Munni Badnaam Hui in Dabangg
Best Male Playback Singer: Rahat Fateh Ali Khan, Tere Mast Mast Do Nain, Dabangg
Best Music Direction: Sajid-Wajid and Lalit Pandit, Dabangg
Best Lyrics: Niranjan Iyengar for Saajda, My Name is Khan
Best Story Award: Shivani Bhatija, My Name is Khan
Best Costume Designing: Niharika Khan, Band Baaja Baaraat
Best Action: S Vijayan, Dabangg
Best Makeup: Banu (for actor Rajinikanth), Robot
Best Background Score: Shankar, Ehsaan, Loy, My Name Is Khan
Best Song Recording: Vijay Dayal, Ainvayi Ainvayi, Band Baaja Baaraat
Best Choreography Award: Farah Khan, Munni Badnaam, Dabangg
Best Editing: Namrata Rao, Band Baaja Baaraat
Best Sound Recording: Pritam Das, Love, Sex Aur Dhokha
Best Sound Re-recording: Leslie Fernandes, Dabangg
Best Cinematography: Sudeep Chatterjee, Guzaarish
Best Art Direction: Sabu Cyril, Robot
Best Special Effects: Indian Artists, Robot