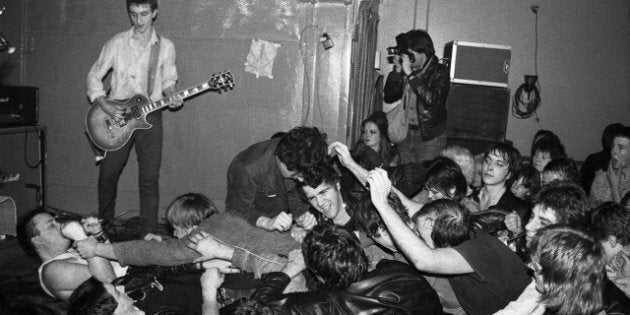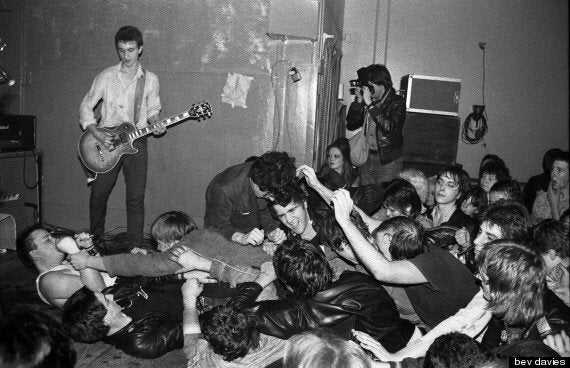 k.d. lang, Guns N' Roses, and Henry Rollins as a scientist in Johnny Mnemonic. All vital pillars of culture -- some more than others, fine -- and all owing to the first wave of Canadian punk. A forgotten, gutter-bound part of our cultural history, it would be easy to assume that because you haven't heard of bands like The Extroverts or The Diefenbakers that they haven't had a measurable effect on your life.
But Canada's early punk scene, propelled by a pioneering group of brainy misfits and some drug-addled heshers, built the backbone of counterculture in this country in a way that the corporate kowtowing of Yorkville or Yonge Street never could have. It created the do-it-yourself touring circuit that made Fucked Up possible, and it got Jean Chretien elected Prime Minister. Three times.
In most Canadian cities at the tail end of the 70s, the only bands welcomed in bars were those with a wealth of cover material -- recognizable bangers that meant beer sales. You could sneak an original in towards the end of your set if you had built up the juice, but that was an implied honour for only the most tested of cover-rock warriors.
In some cities, it was more than just unreceptive bar owners -- in Ottawa and Halifax, the American Federation of Musicians, a powerful union comprised of seasoned jazz and blues vets, blacklisted any bar that hired non-union performers and paid non-union scale. A fair protection for the talented folks bringing in costumers on Friday and Saturday, but what if a new band wanted to get their sea legs on a Monday night? Bars couldn't risk blacklisting, and so new musicians, the lifeblood of any creative community, were without a single stage to play.
Punk was the antidote to a staid dominant culture. If the bands on the radio are garbage, start your own. If the bar down the street won't let you play, start your own bar in a basement. And if your city is boring, it's up to you to find a way to make it vibrant and exciting. Punk wasn't theorizing and complaining. Punk was action. Explicit, subtlety-free action. The explosion of creativity that followed Hilly Kristal's declaration that only original music could be performed on the stage at his Bowery playhouse, CBGB, is the most documented example of the eroding sands of the decade's culture. But it was less of an inciting incident than an indication of a change in the air, churning its way across Canada, the U.S., and Great Britain.
In Regina, The Extroverts convinced the owners of a local restaurant to let them book shows in the unused backroom. The Schnitzel House, the city's lone punk-friendly venue, was the site of one of the first performances from Juno-winning blues rocker Colin James, and later became a permanent live music fixture, shuttering only this September after over 30 years of hosting original music from local and international artists.
In Edmonton, hall shows were the only option, where the the first bands for noted Canadian musician and producer Moe Berg performed and k.d. lang hung out at the periphery, jockeying for the role of Diefenbakers' vocalist. Her eventual manager -- the one who would find a way to bring her fringe sensibility, rooted in punk, to a mainstream rock and country audience -- had developed his reputation working with Berg, who himself would find fame with The Pursuit of Happiness' "I'm An Adult Now" and production credits with everyone from The Monoxides to The Cliks.
Stories like this dot the Canadian landscape with such persistence that it's astonishing. Punk encouraged an outsider mentality and simultaneously demonstrated that outsiders could succeed without accepting the culture that had been handed to them.
From Jean Chretien's electoral war room, run by former Calgarian punk Warren Kinsella, to the urban advertising staple of wheat pasted postering that started with The Dishes in Toronto, the influence of early Canadian bands was universal. Henry Rollins, vocalist for Black Flag and future IFC staple, speaks of the importance of D.O.A.'s continental touring in reverential tones; Duff McKagen, bassist for Guns N' Roses and Seattle native, cites Vancouver's scene as crucial to his development as a musician.
Canada's punk history is worth remembering and worth celebrating. It forms the foundation of a proud alternative underground that has grown and thrived since, the vital incubation stage for some of our most interesting art and forward-thinking ideas. It's bigger than a few great records and some memorable nights in a Winnipeg loft -- although those are pretty great, too.