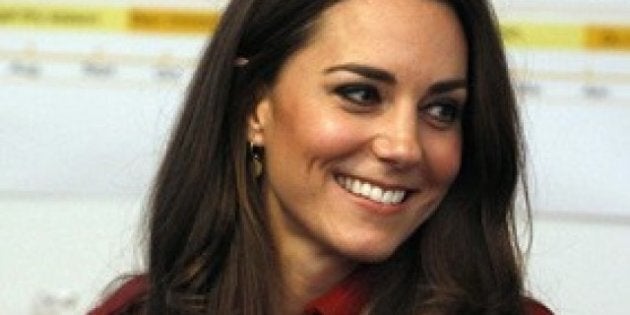 Rumours are flying and the much of the world is abuzz with the news that Kate Middleton, the recent bride of Prince William, is pregnant. Why do we care?
Of course there are the obvious reasons: a royal baby would be heir to the throne, continuing a long line of monarchy and tradition that, for generations, has kept England part of the fairy tale dreams of many a young woman. The "princess" archetype starts early for many, with companies such as Disney capitalizing on the fantasy and desire of little girls the world over who aspire to become just like Kate.
Marry a prince and live happily ever after.
Live a life of fame, fortune and fantasy.
Never have a want in the world.
Kate's recent behaviour (she declined peanut paste at a UNICEF office devoted to African famine relief) set off a flurry of speculation about her potential pregnancy status. Things were further compounded by the Duchess of Cambridge's apparent new penchant for rubbing her stomach, as well as wearing an oversized coat in public. Royal watchers are anxiously waiting for the official word on not if, but when the royal baby will make his or her debut.
The intense interest in monarchy is a curious one, considering that we on the other side of the pond left our royal roots in an effort to become a separate and independent entity in and of ourselves. Yes, we continue the relationship and some traditions of the "old country," but we've supposedly moved on. Even so, there is something within our collective consciousness that time and time again lures us back to the pomp and circumstance that is part and parcel of the royal life.
We loved Diana, Prince William's mother. We waited with bated breath for the "Diana 2.0," and rejoiced when William seemed to find her in Kate. As if part of a scripted fairy tale, we again look for the defining piece of the puzzle to continue our collective fantasy: a royal heir. The contradiction of our desire to underscore the independence of our country while embracing vestiges and events of a distant culture is not lost on many of us. Accordingly, we continue to anxiously wait for news of a new baby in Buckingham Palace.
On the outset we maintain our collective independence from Britain, but on some level do we perhaps feel a tinge of envy that we've lost out, just a little? Lost out on the revelry that comes with having an incumbent king -- or queen for that matter? Envy that our friends in England have Windsor Castle, St. Paul's Cathedral and now, apparently, a royal baby on the way. Doesn't seem fair, does it? After all, while we may respect and support our country's landmarks and traditions, it's not really the same. A palace is a palace is a palace and we don't have one, plain and simple.
Kate's clothes are baggy and she's watching what she eats. And for reasons that are very apparent, we care much more than we'd like to admit.