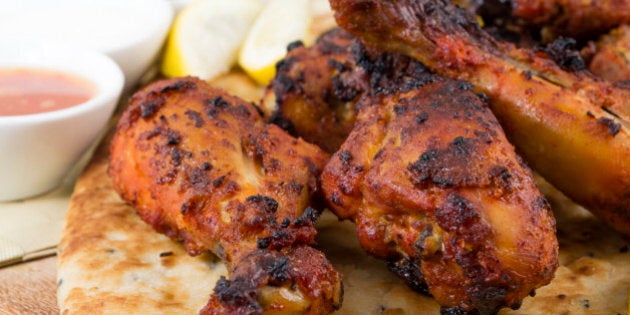 The task of cooking a traditional meal may be daunting even to the most ambitious of cooks. So what does one do for a major holiday dinner, like Christmas Eve or New Year's Eve, when faced with a large group of friends and family showing up hungry and set to taste your culinary talents?
Do you go out and buy the big bird, and all the ingredients needed to make a gazillion sides, or reach for take out menus? Or do you pick up the gauntlet and take on a whole new challenge and shake things up a bit? I recommend the latter.
Why not surprise one's friends and family with a new culinary repertoire? If you like the below recipe, you can further expand your kitchen's diversity by watching my new cooking show, Essence of India, which returns to Canada's Gusto TV in January. The network is also airing a full month of holiday food programming throughout December, so there are lots of ideas and recipes to mix things up.
But on to a recipe that will give your big holiday celebration meal a complete makeover.
I'll tell you how to throw a tandoori party, with a handful of spices, meats and skewers sure to add colour, dazzle and spice to the meal. And before you have a panic attack at the thought of using complicated spices, I'm going to assure you that it's really easy.
Making one's own tandoori party or Indian BBQ right at home, with the perfect handful of spices and your choice of meats, is a very accessible meal to create in one's kitchen. It's also a great way to use all those spices that are probably otherwise gathering dust on your shelves.
The ultimate tandoori dish is Tandoori Chicken Tikka. One can serve it on the bone, or go boneless and use skewers. The meat can be swapped for lamb or even fish. Tandoori fish is one of my favourites, and the fish used can be anything from swordfish to salmon. Tougher cuts of fish survive the skewering process better.
Here's a good basic recipe for my Tandoori Chicken Tikka -- a great way to make your own Indian BBQ or Tandoori party for that special holiday dinner you're planning to throw! And the good news is, you don't need the special Tandoor oven to make it. Your good old fashion oven or open air BBQ grill will work for my recipe. See, I promised to make it easy. Check out my recipe below: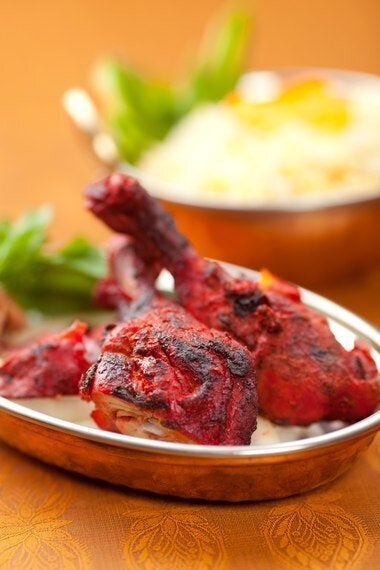 Chicken Tandoori: This is an easy dish to make, just needs a handful of spices and an oven.
• 2 whole chickens, divided into legs, breast and thighs.
• 1 teaspoon of cardamom powder
• 1 teaspoon of red chili powder
• 1 large onion, finely chopped
• 1 tablespoon ginger garlic paste
• 1 teaspoon ground cumin
• 1 teaspoon ground coriander
• 1 ½ teaspoon garam masala
1. Make deep incisions in the chicken pieces and mix with spices, ginger and garlic paste and cream and yoghurt. Leave to marinate for at least a couple of hours and preferably overnight.
2. Turn the oven on 350 degrees F and place the chicken pieces on a piece of foil.
3. Once the chicken starts to cook, gather the drippings and continue to baste, so the chicken remains moist.
4. Keep checking the chicken pieces and turning them every 5- 7 minutes. The chicken should be cooked through and feel soft and tender.
5. For the last 5 minutes turn the oven on broil. Let the pieces of chicken turn a rich reddish brown color.
6. Serve with thinly sliced onions, and lemon wedges.
• Tandoori Chicken is best eaten with naan bread and mint chutney
• Some grocery stores carry ready made tandoori powder mix which is a good short cut.
Gusto TV's Christmas Cooking Countdown
Watch Gusto TV's 'Christmas Cooking Countdown' starting December 8, with the best holiday cooking specials from home and abroad every evening until December 25 on Gusto TV. Get all of the recipes and more at gustotv.com, including daily features starting December 1 from favourite hosts Nigel Slater, Rick Stein, Rachel Allen and more. Catch a FREE PREVIEW of Gusto on now with Bell TV/Fibe Ch. 619/1619 and Eastlink Ch. 743 to January 8, 2015. On the west coast, Gusto can also be found on TELUS Optik TV.