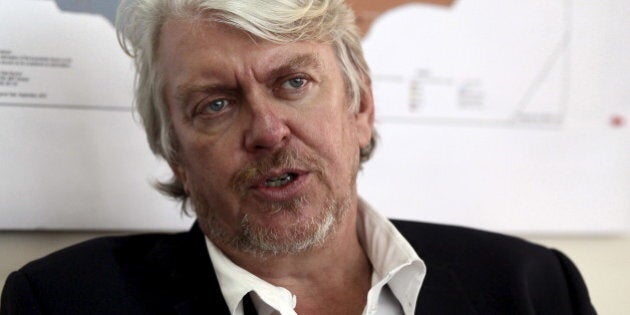 Ethiopia is no stranger of aid workers, community builders and contributors from Canada. But what sets John Graham apart is, he has lived through many African episodes of disasters, from the Ethiopian drought of 1984, to war and the flux of refugees in Southern Africa and can speak from experience and with rare authority.
Inside his petite office, my conversation with the country director of Save the Children Ethiopia was planned for a mere 15 minutes but extended to a full hour. That even as his assistant walked in on us for no reason but as a gesture, a warning (to him) that he needed to end the conversation and continue with the work at hand.
I continued to ask about others as well, including Naheed Nenshi, the young South Asian, African born mayor of Calgary? "I am proud to come from the most progressive area of Canada," he told me, half-jokingly, perhaps as a way to explain how his province once home to rednecks and right-leaning conservatives is now run by moderate leaders.
"Are you Canadian," he asked me. Canadian I am!
Graham has been in Ethiopia since 1997, working as a dedicated aid worker. Before that, when the then young Canadian prime minister, Brian Mulroney was making an impression in international diplomacy not felt perhaps since the Lester B. Pearson era. He was appointing "Canadian friends of Africa" to key influential positions. Stephen Lewis as Canadian ambassador to the United Nations, Joe Clark as Foreign Minister and David MacDonald, a true friend-of-Ethiopia as ambassador and John was an idealist young man with Oxfam Canada helping with cross border operations from Sudan providing needed aid to the destitute.
That was then and this is now.
Since he ventured in to the continent, Ethiopia has been in the midst of a slew of natural disasters. From drought, conflicts and war, they have each become the signature, face of the country to the world. As aid fatigue in becoming the norm and Syria is becoming what Ethiopia was during the 1984 drought disaster, Save the Children is facing its biggest challenge in addressing a current drought and in need of millions of dollars to sustain its work.
This from a charity group that has managed to raise a record $100 million for the drought last year. This year, the goal is for a smaller affected population - $50 million, as part of the $1 billion dollars of the Humanitarian Requirement Document for 2017.
The current situation as one that has occurred as a result of "failed rains in southern and eastern part of the country caused by the negative Indian Ocean Dipole (that) have left 5.6 million people in urgent need of assistance."
Haven't we heard that before? We sure did, but the work of Save the Children is different and unique among charity organizations. It has become a leader, an expert in aid giving in the continent.
For instance, it piloted the Ethiopian government- endorsed and widely utilized program - The Productive Safety Net Programme (PSNP) in Ethiopia. This was a pioneer program that enables rural villagers to "to resist shocks, create assets and become food self-sufficient."
It has also partnered with local public transportation companies, to show short documentaries on important social issues such as child migration and protection. According to Graham, it has even partnered with local aid organizations, 90 in total to make their efforts have powerful impact on the ground.
Ethiopia is projected to become an industrialized nation yet the social issues of the nation are still overwhelming. One study done by Save the Children points that, in the world, a young girl under the age of 15 is married to a much older man "every seven seconds" and Ethiopia is a poster example of that reality although the situation is rapidly improving.
The poverty rate, the divides between rich and poor, the lack of access to the most basic human rights accorded by the United Nations are still rights afforded to the privileged. While charities contribute to dependency, lack of motivation, there must still be a role for reputable organizations.
"We have reduced our ratio of aid spent from 75 per cent humanitarian, 25 per cent development to 25 per cent humanitarian, 75 per cent development," he told me, as I caught a signed picture of Princess Anne prominently placed on his bookshelf. I asked him what the connection to the royalty was.
Perhaps sensing my misgivings about charities in Ethiopia in general, he listed the many charitable and development work, Save the Children Ethiopia is involved in, including many funded by the Bill & Melinda Gates Foundation. I ask him about Canadian aid which was almost non-existent during the prime minister Stephen Harper era.
Is there a "Canadian Bill Gates"? "Not yet," he told me.
"We will be successful, when there is no need for charity institutions in the world," he shrugged. "Like ours." It is no wonder he has transformed the organization to best reflect the ideal activist dream.
Follow HuffPost Canada Blogs on Facebook