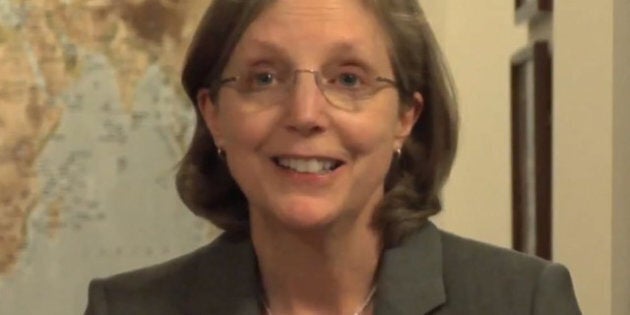 Deborah Coyne is running for the leadership of the (once) mighty Liberals. The niece of a noted former Bank of Canada governor, James Coyne, and widely connected to the Pierre Trudeau legacy is in the race because she has a "vision and a program that will resonate with many Canadians" and that she has "an ideas-based campaign".
The self-described Toronto-based independent public policy consultant believes her candidacy reflects the notion that "Canadians are fed up with polarizing partisanship, and that gives the Liberal party a golden opportunity to re-emerge from its current third-party status as the party of bold and principled national leadership on important public policy questions."
For what has been an elitist party in the past, her candidacy might just be what is needed to rejuvenate the soul of the oldest and most successful political party in Canada. At the very least, it gives a symbolic gesture to her party's image via a candidate with real substance and credential.
However, for the many activists looking for a non-elitist candidate, she might come up a bit short, and it's making some of her potential supporters nervous. According to one Ottawa Liberal activist, her resume reads like "a debutante, not a common man".
At 57 years old, the law professor has written many books and articles. During the Meech Lake Constitutional and the subsequent Charlottetown Accord debates for instance, she advised the one Canadian that is largely credited for killing both proposals -- one time Newfoundland (Liberal) premier, Clyde Wells and the Newfoundland House of Assembly. She also led many "NO" committees and campaigns as well as public opinion against the idea.
That literally killed a potential Brian Mulroney legacy.
In the coming months, as she is joined by other candidates who might also include a Trudeau, she is expected to tour Canada and introduce herself. She has had an intimate relationship with Canadian historical personalities as well as great Canadian milestones. In Canada, there have been very few Canadian women who have tried such a daring goal of leading a national political party and eventually becoming prime minister.
Canada has never elected a woman prime minister yet. While the achievement of Kim Campbell is great, it is only fair to note that she was not elected as Prime Minister by the general public, but by members of the now defunct Progressive Conservative Party of Canada.
The very first woman to ever try to lead a political party in Canada was Mary Walker-Sawka for the Progressive Conservative Party leadership in 1967. It happened during the forced John Difenbaker leadership referendum-like convention led by then-party president Dalton Camp. It pitted her against heavy weights such as one time prime minster Difenbaker and former Nova Scotia premier and eventual winner, Robert Stansfield.
Sawka was slightly younger than Coyne is at the moment and had lofty ambition for Canada and its women. It seemed she was way ahead of her time.
Some of her platforms included the immediate withdrawal of Canada from NATO and North American Aerospace Defense Command (NORAD); she also wanted foreign aid to be reformed, federal sales taxes to be eliminated, older houses to be torn down and rebuilt, and finally old age security payments to be increased.
She urged women of her party to support her. At the end, as she concluded her convention speech and her nomination moved forward, she failed to find a seconder. As she was about to be eliminated, a female supporter of a competing candidate, George Hees, decided to second her nomination out of pity.
At the end, she won two votes and was the first to be eliminated.
The reporting by the media of her efforts was not favorable.
That was almost a half century ago, and it seems nothing has changed. As the candidacy of Deborah Coyne was announced earlier this week, one media outlet described her candidacy as "Deborah Coyne, Mother of Pierre Trudeau's illegitimate child, seeks Liberal leadership". This is a very unfair testament of a successful and ambitious Canadian public servant who is pursuing such a high office.
Would the same statement be made if the candidate was a man? I do not think so.