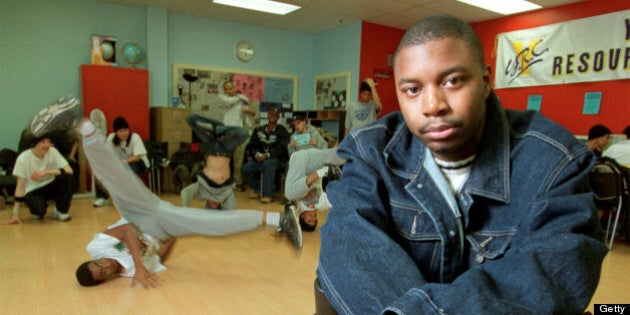 In one week, Dwayne Morgan will be celebrating 20 years in the art world. He has been an eloquent spoken word artist and has used that talent to advocate for social change. From gender equality to youth empowerment, he has become a great role model for many. The Harry Jerome award winning artist was even recently honored with the Scarborough Walk of Fame.
I spoke to Morgan about his early years in art and advocacy, why he believes his message is universal, and where he hopes to be in the next decade.
Dwayne: Congrats on being an inductee of the Scarborough Walk of Fame! You must be proud to be honored for all your great work by your local community.
I am very proud to have been inducted in to the Scarborough Walk of Fame. It's amazing to know that people have been paying attention to what I've been doing over the past 20 years. A lot of times, you feel as though you're living/working in a vacuum and nobody cares, so it was pretty overwhelming to be celebrated and immortalized in this way. To see the looks of pride on people's faces was also amazing. I was surrounded by so much love, and really felt what my life meant to people.
What are you up to these days?
Right now, I am still hard at work entertaining people in Toronto. I have a series of shows happening this summer, I'm doing a lot of speaking engagements, and I'm constantly figuring out what I want to do next. I am getting ready to record a new album, which will be the first of its kind for spoken word, my next two books are already written, and I'm working on a national tour.
You have been a spoken artist for two decades. Tell us about your journey so far.
The spoken word scene today looks nothing like it did when I first started. There were no open mics and very few opportunities when I was starting out. My career has been one of building, creating opportunities and infrastructure to allow what exists today. Long before self-publishing became a legitimate industry, I was doing that in 1995. I've always tried to look forward to what's next and I think that's been a big key to my success at this point.
While in high school, you started the Up From The Roots Entertainment group. What was its purpose?
I began Up From The Roots as a platform for my friends to perform. I knew many talented young people who lacked opportunities to express themselves. I decided to create that opportunity, not knowing what it would grow in to. I'm amazed that it's still going two decades later. There are so many poets who credit me with giving them their start and artists from singers to comedians who appreciate the fact that I always created opportunities for them.
You are the author of many books that have been well received by the community. Your most recent DVD is called the Dwayne Morgan The First Fifteen. What is it about?
Dwayne Morgan The First Fifteen is my 15-year anniversary commemorative DVD. My most recent book is called Everyday Excellence and looks at some of my experiences over the past 20 years, and the philosophies that I live by that have allowed me to succeed when faced with adversity. I see it as a road map for anyone trying to achieve more out of their lives.
You have performed for many distinguished people such as one time Governor General, Michaelle Jean, and have hared the stage with many leading artists such as The Roots, Alicia Keys and Drake. That must have been very exciting.
I love all of the experiences that I have had in my career. The best thing about sharing the stage with international artists is the increased number of people that I stand in front of. I don't get all excited over someone's name. We're all just people doing our thing, and I treat each opportunity as such. I am still amazed that I can write poetry and have so many great opportunities open up for me.
Where would you like to be in the next decade?
In the next decade, I want to be doing the same things, but on a bigger scale. My message is universal, and I plan to take it all around the world! I believe that we should all be doing things that we love on a daily basis, so there's nothing in my life now that I would want to change, only amplify its reach, to inspire as many as I can to reach for the stars!