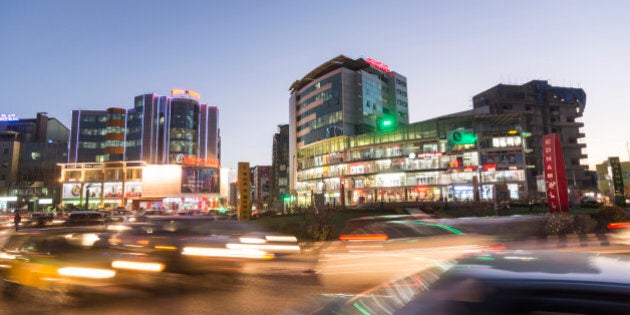 I was introduced to Kana TV by Ethiopian-Canadian entrepreneur, a proud Ethiopian diaspora and one-of-the countries visible passionate advocate (part owner of Kana), Addis Alemayehu.
Growing up in Ethiopia, I knew of only one TV station (ETV). There was no choice or options, whether we liked it or not, we watched endless movies from USSR or Eastern Europe, endless government news and beautiful music from the likes of legends such as Mohamud Ahmed, Kuku Sebsebe, Alemayehu Eshete, Aster Aweke and Tilahun Gessesse.
The young Ethiopians growing up in today's environment have many options to choose from.
In a population that is in the upwards of 90 million, there are now over 12 TV stations that are exclusively geared toward the local population. There is the Washington based EBS, which targets the ever expanding affluent middle-class population, the government owned EBC, which primarily distributes government information, the Kenya-based Nahoo TV and Dubai-based Moby Group's, Kana TV.
By far, Kana TV is making the most impact and impression on Ethiopians and the future of Ethiopian television (for good or bad). Kana TV describes itself as, "free-to-air, satellite TV channel" that "brings international standard programming to the Ethiopian population."
I had a chance to visit its headquarter while in Addis Ababa, at the invitation of an Ethiopian-American, Hellen Kassa, who is now, the Chief-of-Staff at the station in-charge of helping oversee daily operations. I did not know what to expect.
To prepare for this rare visit, I spoke to many people. I had countless conversations with a slew of people and ironically, even those who oppose it publicly, end up watching it intensively at home. The people who like it, really like it and defend it for bringing new thinking, new ways to Ethiopian television. Those who hate it however, despise it for bypassing local talent and focusing on international soap operas, mainly from India and Turkey, and dabbing it in, Amharic. For them, Kana TV is like what Black Entertainment Television (BET), has been to the African-American population in the United States, playing endless music from popular hip-hop artists, without contributing to the visibility of real talent and giving little exposure to those who may advance the African-American culture.
The controversial TV station has become a wedge issue among local Ethiopians since it began. From day one, it promised to broadcast 30 per cent local production and 70 per cent, mostly soap operas, from abroad, creating resentment from the long suffering Ethiopian film and TV industry. However, Kassa explained to me how, they "are doing dubbed content dude to our Ipsos Research that showed that half of all satellite viewers in Urban Ethiopia are watching foreign content so our approach was to try and bring those eyeballs back and actually bring it to them in a language they understand."
Some businesses have banned it all-together to deter its staff from being addicted to the endless soap operas, young children have been advised to avoid it all-together, and even, a priest has been praying for its destruction. This is not to say it has not received positive review. It has. That is why, despite all its opposition and criticism, it has thrived and its viewership is growing. What is true is the fact, Kana is a new concept that is yet to be embraced by all segment of the Ethiopian society.
The office of Kana, occupies three levels of a building in the sought after area of Addis Ababa, Bole. There are now, over 130 young people, fresh graduates, working for it, and paid well above the average salary of the country and given adequate training. They earn a rich experience, in a franchise that is world-class, and equips them with the foundation they need to launch their own direction on TV, film and music without leaving Ethiopia.
As Kassa explained to me, they are even in the processes of adding new graduates to Kana's roster to gear up for their original content team. The three-month station has been a hub for those looking for practical experience that can only be gained at Kana within Ethiopia. Elias Schulze, the Managing Director and Cofounder of Kana TV, once explained how he "visited Ethiopia and fell in love with it" and that "the Ethiopian market has a lot of latent demand."
He is correct. There is much to love about Ethiopia and be excited by the many opportunities that are available among its young and eager population. I hope his love in genuine. Kana is obviously an important institution, in a country that is embracing new ways, new players that are eager to bring it to the 21st century. What worries me most about Kana is, unless it starts to hear its critics and have a real conversation with them and extends some of the benefits to the local talent; it will be to Ethiopians what BET became to black Americans.
Kana should not just be a successful pioneer, like BET, that is focused only on what is popular but an institution that exercise's real benefit to Ethiopians as its greatest legacy. I am a fan and I am excited with its future as I am well aware of its potential to do good. I am almost certain it will.
In the mean-time, I wish team Kana the very best and thank them for their great hospitality while I was in the city of my birth.
Follow HuffPost Canada Blogs on Facebook