Old wisdom was that foreign aid was a great strategy to help move Africa forward. This seems to have changed. Trade is the new foreign aid to the continent, one blessed with young population, ample resources and a better investment environment.
Ethiopia, once a place for the world's pity, is now transforming itself to an investment hub. That is a good thing. There are many foreign investors venturing in to the country looking for investment opportunities, complementing the diaspora and the locals that are taking advantage of a better investment environment in the country.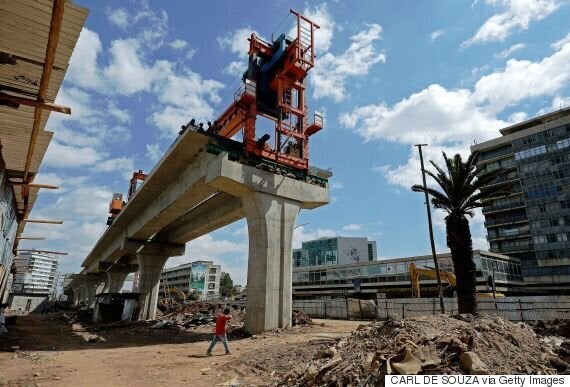 Africa is surely moving in the right direction.
It has been involved in the construction of Awash, in particular the Kombolcha and Hara Gebaya Railway, and employs more than 4,500 people in Ethiopia alone. The inception of the railway system was celebrated two years ago in the presence of Ethiopia's prime minister, Haile Mariam Desalegn.
These are good developments in a continent that is seeing brighter days.
This was the first time Yapi Merkezi had undertaken such a mega project in Africa, though it had taken similar projects in Dubai, Istanbul, Ankara and Casablanca. The Ethiopian ambassador in Turkey, Ayalew Gobezi, publicly acknowledged how Turkey is an agent of change and progress in the continent.
In bestowing the honour, the assembly noted the 52-year-old company's "significant contributions in knowledge and technology transfer to Ethiopia." The project is valued at $1.7 billion and it is 400km long. It is to complement Ethiopia's desire to fulfill its strategic vision of Growth and Transformation Plan.
This is to be a joint project of the Ethiopian Railway Corporation, funded by Turkish EX-IM Bank and Credit Suisse and the government of Ethiopia. The long-term vision of the project is to help transform Ethiopia's agriculture sector, connecting the nation's agricultural producers in the northern and central regions and to port facilities.
The company was also recently awarded with a major contract to help transform the Dar es Salaam - Morogoro Railway this week. This is to build the fastest train in the region, costing just over US$1 billion. It is said to be about 1,300km long and will connect Uganda, Rwanda, the Democratic Republic of the Congo and Tanzania, and provide access to the Indian Ocean from East Africa. This is expected to help promote exchanges of goods move faster and make it easier to do business among the countries.
These are good developments in a continent that is seeing brighter days, despite noted challenges and difficulties.
Follow HuffPost Canada Blogs on Facebook