There is no one good question to ask a legend. There are plenty to ask.
But I was in a rush to ask Mulatu Astatke the question that is on everybody's mind these days. I needed to know what he thought of a slew of complements he has been receiving on social media from The Weeknd, AKA Abel Tesfaye.
How could I not ask, when a mere mention of a name on the famous Canadian twitter feed brings a neglected artist to near stardom and allow a public cause to be accomplished. But Astatke is no ordinary artist; he is an extraordinary talent, award winning and a respected pioneer in the local music industry, known as the 'father of Ethiopian jazz."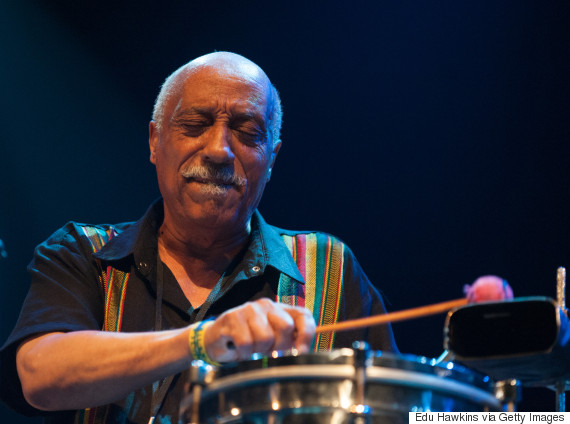 Mulatu Astatke performs on stage at the Royal Festival Hall on September 13, 2014 in London, United Kingdom. (Photo: Edu Hawkins/Redferns via Getty Images)
Inside the magnificent and still the only Diamond Star mansion-like Sheraton Addis in Ethiopia is where I had a face-to-face conversation with him.
Dressed in casual faded jeans with an immaculate colourful shirt with a red-rose perfect handkerchief placed outside the heart pocket of his Oxford coat, I had a rich conversation with him. He was set to give a press conference and promote an upcoming concert at Sheraton Addis on February 18.
The conference was late, almost 40 minutes late and in an almost disarray. With cell phones ringing nonstop and young publicists running around to drive the conference forward, what is heard in the background are beautiful sound. They are the music of the legend himself.
Some I have heard in popular movies, some sampled by artists but they are just breathtaking. Cool, collected and Quincy Jones-like, with the voice of a lion, he is excited about the future of Ethiopian music and the next generation of local artists.
Like a concerned uncle-like figure, concerned why anyone would name their kid "The Weeknd," (unknown to him that his real name is Abel Tesfaye), he told me how excited he was that "famous Ethiopian" was kind enough to mention him, as one of his influences. He knows the magnitude of the endorsement, yet he told me, he has not yet heard his music.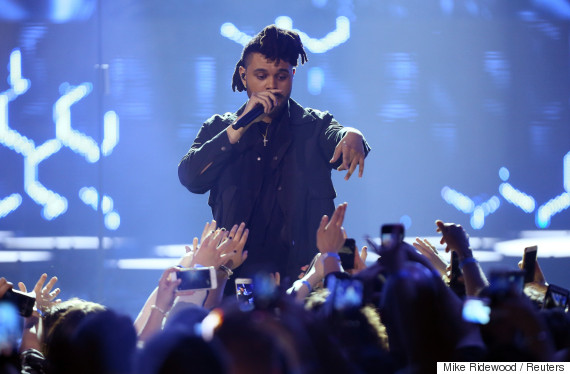 The Weeknd performs on stage at the 2016 Juno Awards in Calgary, Alberta, Canada, April 3, 2016. (Photo: Mike Ridewood/Reuters)
"I am in to Ethiopian Jazz and he is into something different," he reflected.
"My mother, grandmother, and my uncles would play Ethiopian artists like....Mulatu Astatke..... I can speak and understand Amaharic but I can't understand their poetry. When my mother would translate -- it's the most beautiful thing ever," The Weeknd had said.
Astatke was born in December 1943, a week before the European Christmas into a prosperous family, who valued education. They saw a future engineer, he saw an artist in himself. They sent him to Wales to an engineering school; he instead made his way to Lindisfarne College, then ultimately to the Berklee College of Music, becoming its first African-born graduate of the prestigious college. He must have been a stubborn young man, to have convinced his parents, a career in music, more so almost half a century ago.
In the shadow of the Derg era, when the best of his generation were making their way to western countries, he returned to Ethiopia. He brought a renewed musical sense to help engineer a new Ethiopian sound, with a bit of an imported influence from American jazz and Latin instruments. He was determined to take the Ethiopian sound to the mainstream, like the African sound of Mali, Senegal and what was then Zaire.
He accompanied international musicians such as Duke Ellington and toured the country, partnered with legendary Ethiopian artists, such as Tilahun Gessesse and Alemayehu Eshete.
Most of the artists he collaborated with, along with the record company owners all left Ethiopia, making his a one-man effort in what was becoming a doomed industry. What was to be an advancement of Ethiopian art went underground.
His sound was neglected; he seldom released a full album for almost two decades. It was not until the beginning of the end of the Derg era, his sound started to make a comeback. International record companies started re-releasing his old work. The Ethiopiques album - Ethiopiques Volume 4: Ethio Jazz & Musique Instrumentale, 1969-1974, Mulatu Astatke became a hit once again and earned him a large and new following, especially outside of Ethiopia.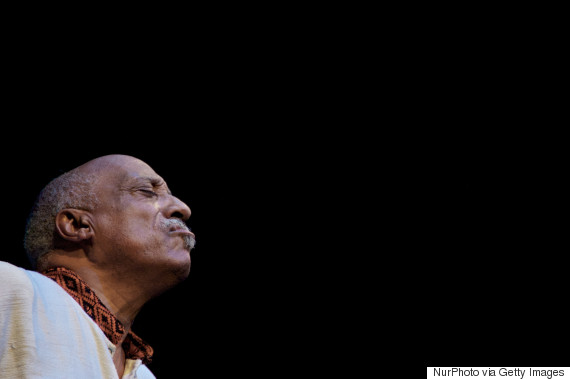 Mulatu Astatke performs during the Rome Jazz Festival 2013, in Rome, on November 2, 2013. Photo: Massimo Valicchia/NurPhoto (Photo: NurPhoto/Corbis via Getty Images)
His music would be sampled in Hollywood movies such as Broken Flowers, and American based National Public Radio would use it in some of its programs. The Somali Canadian artist, K'naan, Nas, Damian Marley and Kanye West would all sample his sound.
He would be invited to tour the world, to the Montreal Jazz festival and others.
Harvard would offer him a Radcliffe Institute Fellowship, while MIT made him the Abramowitz Artist-in-Residence and his alma-mater, Berklee, granted him an honorary doctorate in 2012. I asked him, if there are local artists he admires. "Plenty," he told me, and then he added. "But most are in the jungle and we have not found them yet."
Then he lists his musical heroes, the unknown architects of the "tizita, ambassel, benishangul and bati.
I asked him about Berklee, as the pioneer graduate of his generation and knowing he was back there after a 50 year hiatus and whether it has become more diverse. His answer is "no," but he told me, how he helped Ethiopian artists such as the Japanese-Ethiopian arranger, Abegaz Shiota get there.
I could not help but venture back to The Weeknd!
He wants to collaborate with him to bring Ethiopian sound to the mainstream. Fresh from receiving an honorary degree from Jimmy University, his hometown's higher institution, he expressed how much he would appreciate receiving support from him to further its musical department.
The Weeknd was recently asked about his eventual return to Ethiopia. "When I do go, I'm going to make it very special," he said. His musical hero has a road-map to make his eventual return special and memorable.
The concert is an initiative of Ethiopia's premier advertising agency, Zeleman and it will take place at Sheraton Addis on February 18th.
Follow HuffPost Canada Blogs on Facebook
Also on HuffPost: