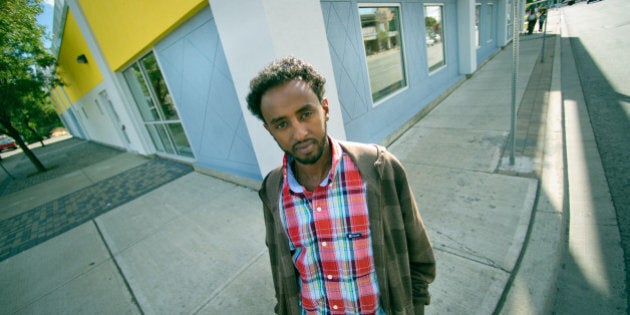 Last Saturday I went to Danforth and Greenwood to have breakfast, as I often do on weekends. Since I moved to Toronto, this area has felt like home to me. I have even played a role to have it become Little Ethiopia by way of a City Hall designation.
This is an area where hard working African immigrants frequent, as business owners, customers and residents. The area is diverse with an Eritrean bar, an Ethiopian night club and many Ethiopian restaurants. I love the area -- it's beautiful and is a rare reflection of modern day Canada. What was once a dying neglected part of Danforth is now an active and engaged neighbourhood with immigrants full of dreams.
When the Toronto Star named me as its 2014 Person To Watch earlier this year, this is where I took them. When the Cosmpolis Toronto chose me to represent Ethiopia and asked me to choose an area in Toronto that means a lot to me, this is where I took them. This is an area that reflects my background as well as my future. I have many friends here -- Ethiopians, Eritreans and others.
With the new Canadians here, I am reminded of struggle and triumphs, and in the older and more established immigrants, I learn of my own ideal destination.
Last Saturday morning, something terrible happened in this area. Nahom Berhane was killed.
When I went to eat breakfast with friends on that particular morning, we saw countless police cars and the media begging to interview people. We were told someone had been stabbed and killed. Nobody knew who the victim was. We absolutely did not know it was Berhane who had been killed.
Without knowing who the victim was then, I agreed with a request from CBC to be interviewed and defend the area as one of its visible advocate. In the interview, I reflected on what Little Ethiopia is and our intention to clean it and make it more attractive, much like Greektown.
By participating in this interview, I wanted to limit the stereotype that I felt was forthcoming. I did not want the media or tourists from other neighborhoods to define it for us. In hindsight, I should perhaps surpassed my passion and waited for more information to come my way. I wish I knew the facts before I agreed to be interviewed.
Since then, I understand, some in my own communities have misunderstood what I may have meant to say and it may have been taken out of context. For instance, when I said clean the area -- I clearly did not mean to reflect on Berhane's character. Because, once again, when I made those statements, I did not even know Berhane was the victim. I was defending the area and the contributions of the business owners and residents have made to make the once-abandoned area livable and worth a visit.
However that does not matter. What matters is some people may have been offended. To those who are, I sincerely apologize. I have learned my lesson and I am sorry!
I knew Berhane and he was someone I looked up to in high esteem. I knew his brother and his sisters, especially Aresema Berhane, from a distance. They are all respected and admired by many Torotonians. I would never have the courage nor the wish to discount the life of Berhane as he reflected the ideal biography. He was an engaged, kind, successful, compassionate and passionate Eritrean-Canadian.
I have had the privilege of having a conversation with Berhane numerous times over the years. He was a successful social worker and he and I shared many similar interests in the community. He wanted to empower all those that he was acquainted with and believed in our pursuit of the Canadian dream.
I shared with him about projects I was working on and he always encouraged me to pursue it fully. As a role model to us all, he was generous with his time with many including myself. That is why I will always be thankful for those rare moments I spent with him.