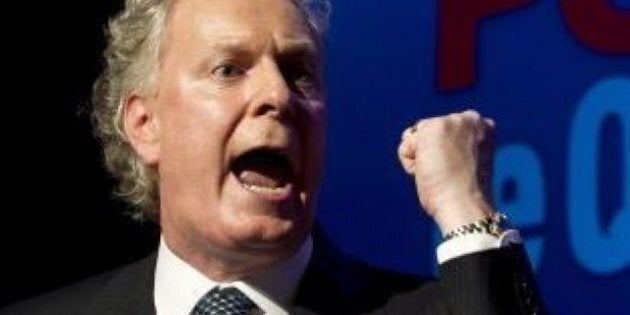 Prime Minister Stephen Harper congratulated Pauline Marois on becoming premier-elect of Quebec last night.
In a prepared statement, the Prime Minister remarked: "we do not believe that Quebecers wish to revisit the old constitutional battles of the past." Her win was a historic one where she will become the first woman premier of her province.
In her acceptance speech, Marois explained how "we want a country and we will have it," and continued "I said it during the campaign. I'm saying it now, and I will continue to say it: I have the conviction that Quebec must become a sovereign country."
This is a very unfortunate conviction.
The loss for the Quebec Liberals and its leader, Jean Charest, was a political low moment last night (although the violence that occured at the PQ headquarter was the biggest tragedy of all).
Charest has been a distinguished public servant both in Quebec City and in Ottawa. He served in the government of Brian Mulroney as a noted Environmental Minister and in Kim Campbell's short-lived government as Deputy Prime Minister.
In the 1995 Quebec referendum, he distinguished himself as a passionate defender of federalism. In the 1997 leaders' debate he melted the hearts of many Canadians when in a symbolic gesture he took out his passport from his heart pocket to demonstrate his commitment to a united Canada.
He was then pushed to enter Quebec politics because of his rare eloquence, talent and ultimate goal of defeating the separatists. He reluctantly accepted and abandoned his dream of becoming Prime Minister of Canada. That is a rare commitment and dedication to Canada.
In last night's provincial election, not only did he loss the premiership but his own seat as an MLA (he is now rumoured to be resigning as leader of the Quebec Liberals). This is the second time such a defeat happened to a premier since Robert Bourassa in 1976. Bourassa resigned as leader of the Quebec Liberals only to return after a decade as leader and winning a seat in a different safe Liberal riding of Saint Laurent and became an MLA.
In Canada, there has been rare circumstances where leaders have lost their own seat only to bounce back in another riding and contribute to public service. Tommy Douglas was also such a leader in the federal scene.
In1962 Tommy Douglas resigned the premiership of Saskachewan in order to be a candidate for a federal seat. In his first try as the new NDP leader, he was not successful. He then moved to the riding of Burnaby-Coquitlam in British Columbia and won subsequent elections.
In a long career that lasted until his retirement in the 1979 federal election that brought in Joe Clark as Prime Minister in a minority Progressive Conservative government, Douglas was a powerful advocate for a slew of issues. Medicare was one and, partly because of him, it was embraced by the federal government and is now Canada's signature to the world.
The fact of the matter is that despite showing strength by winning 50 seats, the Quebec Liberals lost not just the seat counts (by four seats) but the popularity vote as well to the PQ. The Premier explained how " the result of this election campaign speaks to the fact that the future of Quebec lies within Canada."
Indeed it is my hope that Charest will still be involved in public life and perhaps follow the footsteps of either Tommy Douglas or Robert Bourassa and makea a comeback. I hope his resignation from public life is temporary.
His undying affection for federalism, conviction for equality and eloquence is still a service needed by Quebec and Canada.