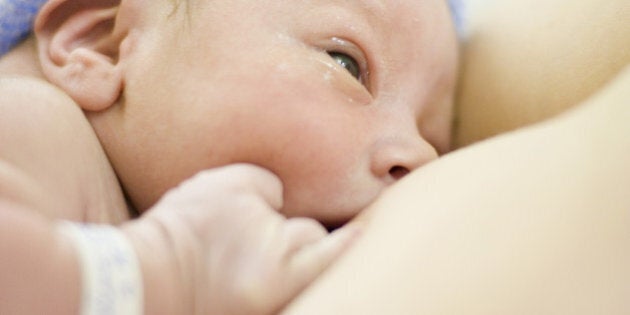 Interestingly, my breastfeeding experiences have made it such that now, as a postpartum nurse, my practice is centered on emphasizing the things I wish I had known -- things which not only ruined my possible precious memories, but made me wince every time I heard my child's familiar hunger cry.
1. Surprise, surprise -- some babies don't wait the customary two to three hours between feeds. My recollection of my first baby 18 years ago is reminiscent of a baby bird with its beak constantly wide open waiting for the worm. I had had many friends who had nursed their children, but nobody had warned me that breastfeeding was an activity which lasted...well, always.
This is what I tell my breastfeeding moms now, and what I wish I had known 18 years ago: At birth, a newborn's stomach is the size of a dime. Breastfed babies, unlike bottle fed ones, do not have their stomachs stretched by the ingestion of larger amounts of formula.
Although many new mothers worry that their children are "not getting enough milk" or are convinced that they "have no milk," during those first few days, it doesn't take a lot of colustrum to fill that tiny stomach. However, colostrum digests more quickly than formula, and as such, some babies will want to nurse more often...or in my case, forever.
I tell them, "Stick with it. Your baby is doing what he/she is supposed to. And I understand it's a lot of work for you, but imagine how exhausting all this constant sucking is for him/her. Try side lying. Try whatever position allows you to close your eyes for a moment while someone is supervising you. But keep doing what you're doing."
2. After the birth of my fourth child, nursing caused my nipples to crack, bleed, and blister. Latching the child caused my toes to curl and tears to flow (mine, not the baby's). Although, mercifully this child did feed on a two-hour schedule, when that two hour mark approached, I reapplied my lanolin cream, kept the Kleenex box close at hand, latched my little hoover on, and wept my way through his feeds for the first two weeks, until my nipples finally toughened up, and like the palm of my hands had formed calluses from the weights I lifted at the gym, my breasts did so as well.
When I shared my initial agony with the nurses on the postpartum ward where I was a patient, the public health nurse, and other mothers, the consensus was that I must be doing something wrong. "Breastfeeding should not hurt," was the mantra repeated among the breastfeeding gurus. Many tried to reteach me to latch. But this was my fourth child. I had breastfed three others, and knew what a good versus a bad latch felt like. So, although grateful for the moral support, I'm still convinced that my kid just had a powerful suck and I just had sensitive nipples. End of story.
But what I tell my mothers when I see that familiar tight look on their faces and their shoulders shoot up to their ears, and I've established that their baby does indeed have a good deep latch, I emphasize to, "Keep using your lanolin cream, and unfortunately, it will take a few days for your nipples to toughen up." But essentially, some babies just suck more powerfully than others. And my more knowledgeable breastfeeding mothers will agree that they may not have experienced this with their other breastfed children, but they recognize that this time around, breastfeeding is going to hurt for a little while.
3. My third baby was a gem. She slept for hours a time, and when she awoke, she was content to look around calmly. This was vastly different from my two boys who wailed for their meal the second they awoke. As a result, her feeding cues were few and far between, and since her weight was never a concern; neither the pediatrician nor the public health nurse thought to ask how the breastfeeding was going.
Fifteen years ago, postpartum nurses did not tell you to wake your child every three hours in order to help bring in your milk supply. But with this baby, I noticed that my breasts never did engorge, and gain that same fullness that they had with the boys. I didn't leak. And quite honestly, I don't even remember wearing breast pads. By the time my daughter was two months old, I was barely able to squeeze out a few droplets.
I do have mothers who have had issues with milk production with their previous children, and are hesitant to even bother with breastfeeding. This is what I have to say to these mothers, "Ladies, nowadays, there are herbs and drugs to help your body make milk."
I've witnessed moms who could not express any colostrum on their second postpartum day. After the commencement of Domperidone, their baby can be heard swallowing gulp after gulp. Sometimes, recovery from a caesarian or a more traumatic birth for both mother and babe, will slow down or possibly affect milk production entirely.
Whatever the reason, had I known about the possibility of drugs and herbs to help bring in my milk with any of my children, my breastfeeding experiences would not have been ones where the bottle of formula was always much more convenient than it should have been.