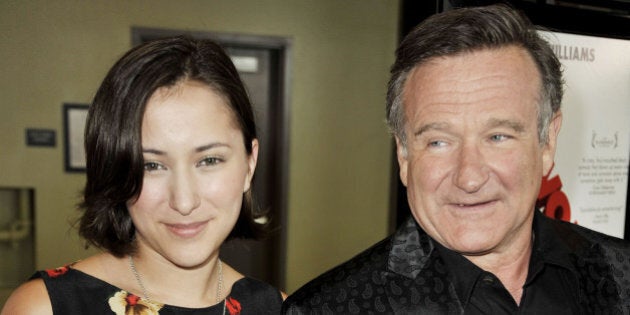 Just as the searing pain of Robin Williams's death was finally subsiding for me, his suicide a cruel reminder that depression can burrow inside of the most joyful façade, I stumbled upon a tribute written by his daughter, Zelda.
And once again, there it was -- yet another indicator that depression is so powerful that its opponent can barely recover from its violent left hook before depression takes another unsportsmanlike shot to the head. As someone who has been suffering from Major Depressive Disorder since adolescence, the birth of my children gave me a reason to stop plotting permanent methods of cutting depression off at the knees.
I have been tripping over this tyrant since I was a teenager, and during those days, although my depression manifested as a bully whispering in my ear that the bottle of Tylenol would be enough to shut it up, an eating disorder, with its gradual and calculated enduring damage would be preferable since nobody would drag my limp body to the ER where my stomach would be pumped, or my friends, aware of my penchant for extremism knew I would not stop at just one pill, and would plunge their fingers down my throat. My mind, preoccupied with ways to cut out calories for the next several days, did not process faster, more lethal approaches of committing suicide.
Postpartum Depression trailed the birth of each of my children. Piggybacking the years of Major Depressive Disorder, PPD never strayed from its primary purpose -- that of dangling joy close enough so I could see it, but far enough away that to reach for it meant that I would plummet to my death. My daily thoughts of speeding my minivan into the brick wall of the elementary school down the street from my home were only that: thoughts. My eating disorder came and went at its leisure -- its primary role to kill me slowly rather than have me walk in front of a semi.
Essentially however, being a mom was a welcome buffer from the ruthless torment of my adolescence and my young adulthood, and for a while I was able to hide from my depression by ducking behind my kids. The fear that my babies might someday experience the deep sadness I had felt since my childhood was the fuel that kept me present in their lives, and had me acting the part of June Cleaver so magnificently (as quoted by my physician) that I could numbly place one foot in front of the other, and avoid steep drops.
Even today, as my depression has me clutching at my throat and flailing in my sheets helplessly, desperate for a reprieve from this pain, my thoughts of suicide are halted by the image of my children finding my lifeless body, or a devastating vision of them standing by my grave. The very idea of them having to continue their lives with the stigma of being the kids "whose mom killed herself" is enough to make me rethink my plan.
And then I read Zelda Williams's tribute to her dad. I could barely focus on the accolades because my mind zeroed in on the few words "While I'll never, ever understand how he could be loved so deeply and not find it in his heart to stay..." Because that's the bottom line. His children loved him deeply, and he loved them, and yet, all that love was insufficient to keep him here...Or rather, the pain was just too much.
That scares me. At what point will I be unable to harness the love I have for my children so it can drag me out of the darkness long enough so I can wipe the tears blinding my sight, and stop the plan? Because I'm certain that's how Robin Williams's got through his scariest times. Love is pretty powerful. It may not defeat the tyrant, but it certainly can cover your ears so you no longer hear what it's urging you to do; how it's laying out a plan for your suicide.
The answer is simple: Seek help. And yet the answer in many cases is far more difficult to achieve than the alternative.