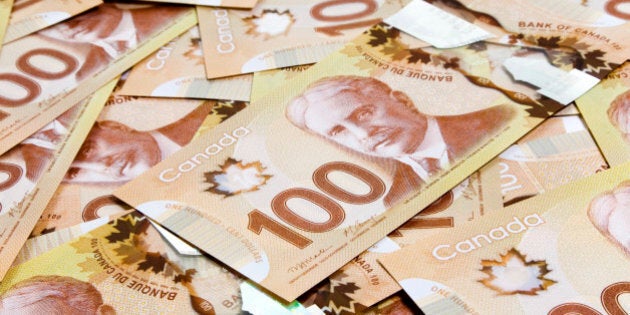 With the unlucky loonie continuing to drop, Canadians are pinching their pennies and watching their savings. According to a recent survey from digital offers site RetailMeNot.ca, 73 per cent of Canadians are worried about the nation's economy. However, a little savvy spending will help to satisfy needs and wants.
1. Explore low-cost Canadian online sites
We're all feeling the pinch of inflated prices due to the Canadian dollar. The up side? The weak dollar gives us all the more reason to support the Canadian economy. Low-cost Canadian retailers like Joe Fresh have a great online selection that will allow you to stretch your dollar while still looking great.
2. Shop online in Canadian dollars
If you are shopping online on a non-Canadian site, there is nothing worse than seeing one price at checkout and feeling the sting of a higher price on your credit card due to the exchange rate. So make sure you visit sites that let you shop in Canadian currency. For clothes, we love Asos.com where you can find great prices on brands like French Connection and American Apparel or splurge on Marc by Marc Jacobs. Prices are listed in CAD, and there is free shipping to Canada on orders over $45.
3. Discover savings for Canadians
More and more online retailers are offering incentives for Canadians to shop within their own borders. Before you shop online, do a quick search for your go-to online retailer like Sephora on RetailMeNot.ca to find Canadian-friendly promo codes and additional offers like free shipping offers.
4. Free up more than $50 each month
According to the recent survey, nearly half (47 per cent) of Canadians are worried about being able to afford everything they need this year. There is plenty of opportunity to free up cash when money is tight without feeling the pinch. One of my favourites is to simply call and check in with your service providers every few months to see what discounts can be negotiated. Be sure to call your cable company, bank and cell phone provider and simply ask, "what can I do to maximize my savings this month?" The best course of action is to talk to the customer retention department to get the best deal right off the bat. Offers and promotions change from month-to-month, so if you don't call, you're leaving free money behind.
5. Travel within Canada and save
Sixty three per cent of Canadians are planning to avoid travel to the U.S. this summer due to the weak dollar, making it the perfect time explore our home country. If you're planning a getaway, use a Canadian travel booking site like Expedia.ca, that will display prices in Canadian dollars, and search for an online promo code before booking your hotel, flight or rental car.