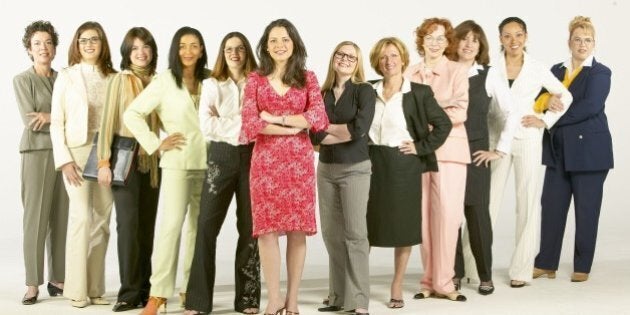 How many women do we know -- colleagues, friends, family members, ourselves -- who are pursuing a career while tending to other priorities, like raising a family? No doubt more than we can count on two hands. But how closely do we consider what it's like to walk in these women's shoes? We all stand to gain by talking to women about their aspirations and how they can best achieve them. What better day than International Women's Day to start the conversation.
Creating such dialogue and leveraging it into a playbook for women's success was the purpose of a new study by TD Bank Group and the University of Toronto's Rotman School of Management. In asking over 400 women about the challenges of pursuing their aspirations for career, family and the legacy they leave behind, several key themes emerged.
For one, women revealed a tendency to get in the way of their own success by lacking confidence or feeling guilty about their choices. The consequences of a career break -- to have children or care for other loved ones -- was another reality women identified. Equating, say, a five-year career break to five year's lost income proved to be a miscalculation by women who experienced a longer-term impact to their career and salary trajectories.
The importance of legacy was another matter on the minds of the women we talked to. In balancing competing priorities, many confessed they had given little thought to how they wished to be regarded by those around them -- colleagues, friends, family -- by the time they reached their golden years. Yet carefully considering the legacy they wish to have can no doubt help influence women in making the right choices to create it.
All in all, learning more about women's challenges and concerns both personally and professionally is a key first step to continuing their advancement - and achieving the equality reflected in this year's International Women's Day theme, #PledgeForParity.
The financial sector has an important role to play here. Life's unexpected curveballs -- divorce, illness, unemployment -- can have a significant impact on outcomes for women. Establishing financial preparedness through conversations around life goals, a strong financial plan and emergency fund is a key way financial institutions can support women in their aspirations.
Ongoing dialogue between women and their partners is also essential to their continued success. Not being on the same page with a spouse when it comes to division of labour in the home, for instance, can present a significant roadblock for women.
Similarly, women -- and their employers -- stand to benefit through regular conversation around career aspirations. For instance, women will no longer be passed over for promotions because bosses assume they are uninterested in the longer hours or business travel associated with a more senior role if we all engage in open dialogue.
So let's open the communication lines even further and, in doing so, unlock even greater success for women across Canada.
TD is committed to supporting the advancement of women through its Women Investor Program - a unique initiative focused on empowering women to take control of their finances through education and community outreach.
Follow HuffPost Canada Blogs on Facebook