elephant
I wonder what his crime is. A baby elephant is held captive in a tiny enclosure, as he dangles his trunk through the narrow prison bars. The real criminals are humans who killed his mother after she raided a cropland. Subsequently her baby was captured and brought into an elephant camp where he's been suffering unfathomable abuse and torture during his ruthless training for the past three months so he would surrender to his masters.
One of his tusks was damaged during a training session. And this could potentially turn into a serious issue if the pulp inside became infected, which could in turn have a detrimental impact on his bodily functions for the rest of his life. More disturbing is the fact that such activities are continuing unabated at an elephant camp run by the state government, where you'd expect to see better care and compassion for these animals.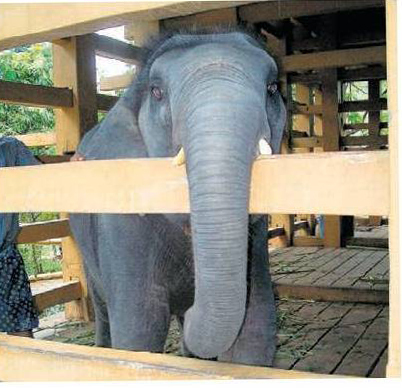 An injured baby elephant in the Konni Elephant Camp, Kerala
Photo Courtesy: Heritage Animal Task Force
The fact is, Kerala government is not only turning a blind eye to the torture and neglect of these supremely gentle animals, but the state's Chief Minister is busy approving illegal parades. Last month he granted a new parade showcasing 101 elephants in the name of "awareness on ethical management of captive elephants" during the third week of April in Kerala's capital city of Trivandrum. Perhaps he wasn't aware that he had to obtain mandatory permission from the Animal Welfare Board of India (AWBI). Or maybe he forgot that his own state's forest department had banned new festivals in March 2013.
Such blatant violations of state rules by the same authorities who created them could be blamed for the death of six people in just the first three months of this year including the recent demise of a custodian who forced the elephant to drag a pile of wood, in addition to a renowned veterinarian, three mahouts, and an ex-service man.
Between January and March 2015 there were 329 reported incidents of elephants running amok. The elephant below killed his mahout inside a temple compound, and then went on a rampage destroying its structures. He was allegedly brought under control by the elephant squad using a capture belt outfitted with steel plates and sharp nails.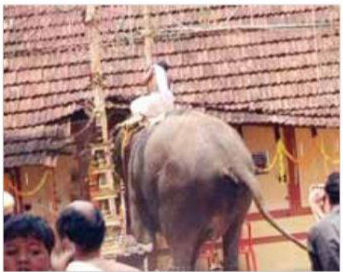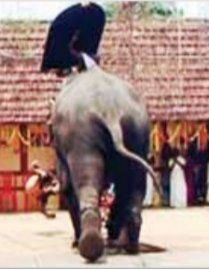 In these images the elephant is trying to topple down the mahout who was later killed
Photo Courtesy: Heritage Animal Task Force
When the capture belt is released, it springs like an elastic, tightens over the legs of the elephant as the nails dig into the skin, inflicting severe pain and deep wounds. Although it is a banned weapon in Kerala, they're still using it. In an email statement to me, Mr. V K Venkitachalam, Secretary of the Heritage Animal Task Force (HATF) said,
"The nails fitted inside the iron belt will cause high degree of pain on the body of the elephant if the elephant move its leg as per its own wishes. Even though the use of such weapon is banned by law, the police and forest officials remain mute spectators whenever the duplicate elephant squad use these cruel means to control the elephant."
Another cruel trend on the rise is the trucking of elephants from festival to festival. These animals are forced to stand in one position on the back of an open truck beneath the scorching sun, and transported for hours through traffic congestion to participate in as many parades as possible. They do this despite the grave risks involved for people and elephants so the temples, owners and brokers can make profits. Mr. Venkitachalam claims that the state authorities are flouting the Indian Motor Rules for lorries that allow transportation of goods only if they are tightly packed inside the vehicle.
The fundamental question is how can elephants be treated like commodities? They are sentient beings that feel hunger, thirst and the intense heat. They are deprived of their basic necessities, and in fact their movements are restricted so badly that they are unable to move their ears, trunk or tail, and when try to shift their bodies even slightly, they end up with serious injuries.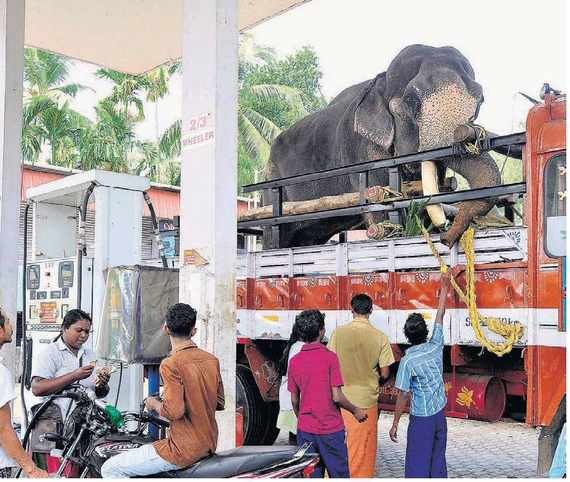 This elephant at a gas station as the truck driver fills gas.

Now, does it take a rocket scientist to figure out that this is risky?
Just recently the truck carrying an elephant named Ganapati collided with a car and a bike before the truck toppled over. Ganapathi, who sustained serious hip fractures, is now being treated. And although a vet is reassuring the media that the elephant is responding positively to treatment, the accident is a stark reminder of the grave risks involved in trucking such massive animals.
Rightfully, the secretary of HATS has called for a ban to transporting elephants in trucks, he has told me that the Principal Chief Conservator of Forests is taking immediate measures to amend the elephant transportation rules that will also restrict the speed limits of these trucks.
So amid all the doom and gloom there is slight progress, as elephant advocates continue to fight for better welfare and compassion for the gentle giants. I've also been informed that recently Kerala Forest Department and its standing counsel at the High Court of Kerala made a landmark judgement denying transfer of elephants between states, and upholding the provisions of India's Wildlife Protection Act -- 1972. They sent a stern signal to the elephant smugglers who had applied to smuggle India's heritage animal into Kerala, an illegal act that was banned across India several years ago.
Another huge victory for elephant advocates! Their petition to ban the new parade displaying 101 elephants in Trivandrum resulted in its cancellation. In a letter to the Chief Minister of Kerala, AWBI stated,
"There have been many reports and complaints of elephants being misused in such parades/processions violating the provisions of the law and resulting in grievous injuries to the elephants and human beings also. It is therefore requested to ensure that this event does not violate the Government of Kerala's decision taken earlier and such events if they are decided to be held can be conducted only if permission and registration of AWBI is taken."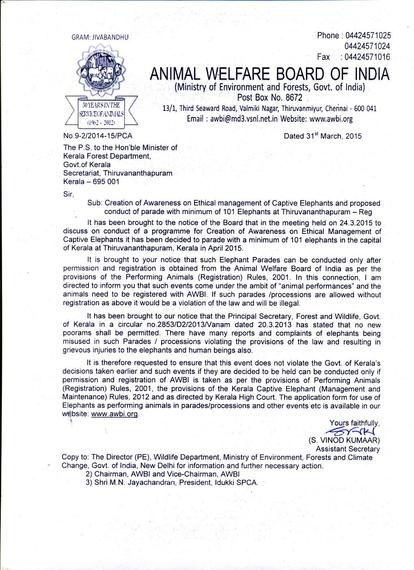 MORE ON HUFFPOST:
National Geographic Elephants