The festival season for humans is a season of torture for elephants in Kerala. The cultural celebrations have barely begun in that Southern state of India, and five elephants have already run amok in the past two days.
A handler has been seriously injured and hospitalized, after a temple elephant in Kannur District ran amok, and created panic for six hours. The furious animal ran out of control as it toppled electric posts, trees and smothered all objects on its path, inflicting injuries on its own body.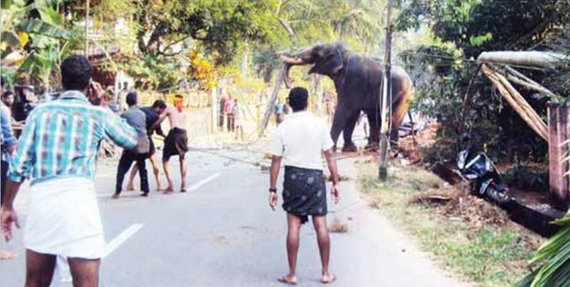 The animal was tranquilized and brought under control. In this image below you will see the arrow still pierced in the back of the heavily tethered elephant.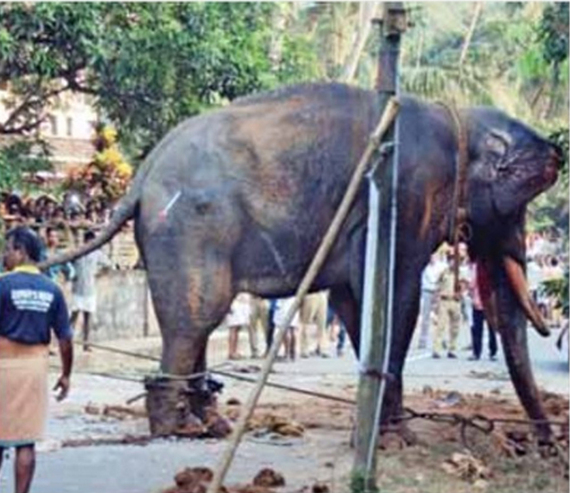 The same day, another elephant owned by a private contractor in Palakkad District also ran amok, uprooting a palm tree that broke the power cables, creating panic for five hours.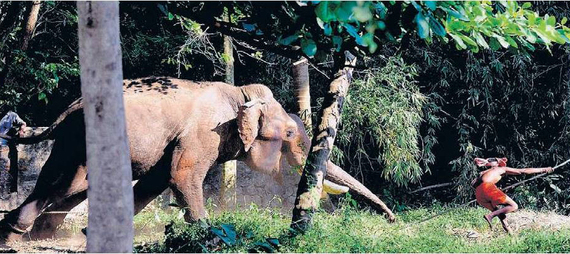 Photo Credit: Mr. Venkitachalam
Soon after, two more elephants ran amok as they were being forced into a truck after working hours on end the previous day, parading with more than 10 elephants inside a temple complex. This in itself is a flagrant violation of the state government regulations that allow only three elephants at any given time inside a temple. Heritage Animal Task Force Secretary Mr. Venkitachalam, the lone voice for Kerala's elephants says,
"All these three elephants are totally blind and the persons keeping them have no valid Ownership certificates and have no own place for keeping elephants with shelter sheds on their own... They were transported from various districts without obtaining mandatory prior permission from respective divisional forest officers."
The two elephants in the image below were brought under control and are being disciplined with the "long pole."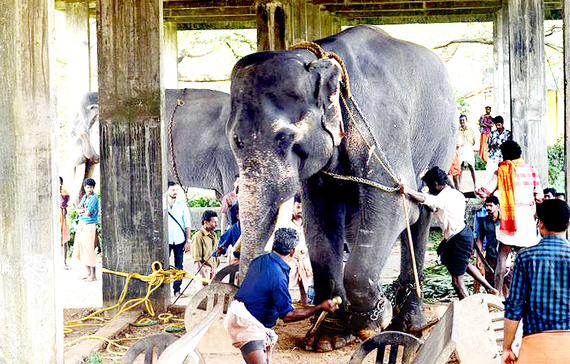 But the authorities turn blind eye to these violations, and are oblivious to the pain and suffering of these gentle giants that are in peril no matter where they turn.
When there are no festivals, the elephants are tethered 24/7 and neglected, deprived of their basic quota of food, water and exercise, as well as their right to mate. During the festivities they endure such abhorrent torture, as they are paraded on tar roads beneath the scorching sun and made to carry more than 1,000 kilos of weight on their back that aren't designed to do so.
And when these elephants are pushed to their limits they run amok, but they are captured with spike traps and tortured as you can see on this elephant's left hind ankle -- one of the most sensitive parts of the elephant's body.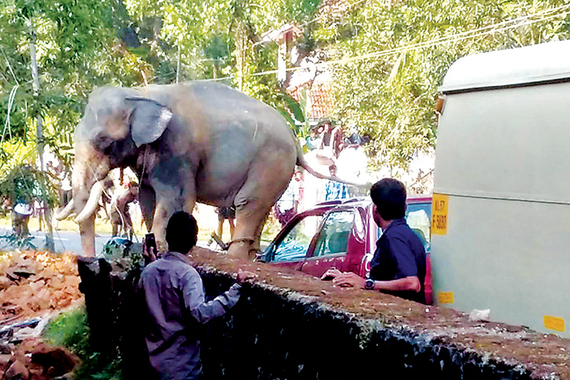 Take a close look at this injured elephant's feet and you will see spiked trap on his ankle
The reality is, this is a complex issue. And in order to appreciate the magnitude of the temple elephant crisis in India one has to understand the political, commercial and cultural systems that are intertwined and have played a critical role in perpetrating the exploitation of these magnificent animals.
In my attempts to expose the brutality, I embarked on a mission to produce a feature length documentary film this past March. It's called Gods in Shackles (formerly For the Love of Elephants); an exposé revealing the dark side of the Indian state of Kerala's glamorous cultural festivities that exploit temple elephants for profit in the name of culture and religion.
You can watch our Gods in Shackles movie trailer by clicking on this link.
By exposing the abhorrent torture suffered by India's heritage animal - the embodiment(s) of Lord Ganesh, Gods in Shackles offers hope to the thousands of endangered captive and wild elephants in India through heightened awareness that will inspire key stake holders and policy makers to do whatever it takes to enhance the living conditions of these intelligent animals.
Coincidentally, today is International Animal Rights Day. Today we invite you to become part of a legacy by participating in the making of our documentary, and our grander vision to create a rehabilitation center for festival and temple elephants. We believe this film can create waves across India as well as around the world.
This is a movement aimed at bringing forth justice and peace for elephants, while enhancing their living conditions. Every one of us can play a significant role in creating a just society where humans can coexist harmoniously with all sentient beings, as they are part of our miraculous web of life.
The International Animal Rights Day has been created to celebrate the sentience of non-human animals and promote their fair treatment worldwide -- in law, society, agriculture, industry and the wild.
Here's a perfect reason to become part of our mission! Give your voice to these brilliant animals today, and help us liberate the Gods in Shackles.
ALSO ON HUFFPOST: