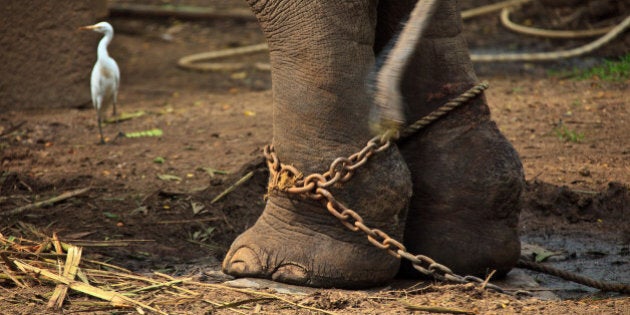 In an exclusive interview, Suparna Ganguly, the Hon. Secretary of CUPA decried, told me there are more than 3500 elephants in captivity being exploited for profit in tourism, and in festivals under the guise of religion, while some are forced to walk beneath the blistering heat on hot tar roads for begging, so the owners can stuff their pockets, even as these innocent animals suffer. A really pathetic plight of Asian elephants, declared as India's Heritage animal and worshiped as Lord Ganesha's embodiment.
December is a particularly torturous season for the more than 700 elephants of Kerala, but a profitable one for their owners and brokers, with the festival season kicking off across the state. They use mostly bull elephants for display, as people are fascinated by their majestic tusks that only male Asian Elephants possess. Sadly these animals are paraded even during their musth -- an annual cycle when the bulls are in their peak mating season. In fact I've heard disturbing stories that they're deprived of water, and made to starve, so their dominant musth tendencies, deemed "aggressive" can be repressed.
Unable to withstand the heat and starvation some elephants kill their mahouts, while others run amok. According to the Secretary of the Heritage Animal Task Force, Mr. V. K. Venkitachalam, a total of
, killing two mahouts during the week of Christmas. He estimates that in 2015 there's been
This year 11 elephants have died due to torture, neglect, and health related issues.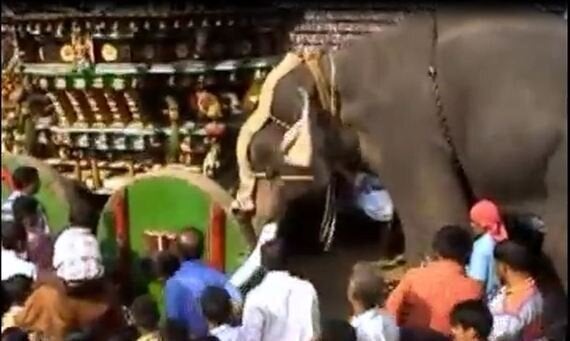 A Bull Elephant Forced to Push a Chariot Weighing 10 Tons
Photo: V. K. Venkitachalam, Secretary, Heritage Animal Task Force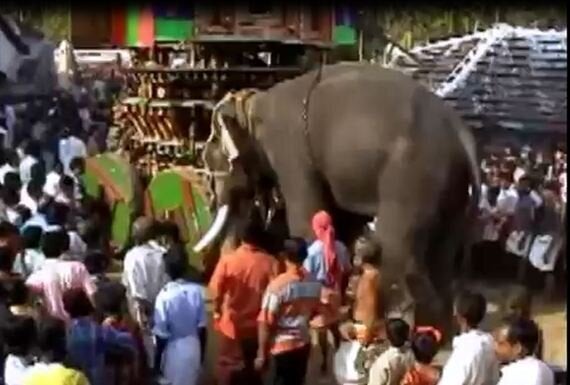 People Rejoice as the Poor Elephant Struggles to Push the Massive Chariot
Photo: V. K. Venkitachalam, Secretary, Heritage Animal Task Force
"Both the police, the revenue and forest officials remain as mute spectators on this type of abusing Elephant as part of the chariot festival. Even though we had lodged complaint in this regard, Palakkad District Collector and Palakkad Assistant Conservator of Forest of Social Forestry Department, all of them remain mute spectators. The Elephant was tortured there to push the chariot under scorching sunlight."
His observation aligns with the eight-year joint study mentioned above which suggests, the state governments are in bed with the elephant owners who are renting out elephants to the forest departments for a fee. Ganguly confirmed that some of these elephants are used in government run forest camps for tourist rides in national parks and tiger reserves, as well as for patrolling and anti-depredation squads in their efforts to curb poaching.
Given the magnitude of the crisis, a leading wildlife organization in India, Wildlife Rescue and Rehabilitation Center (WRRC), co-founded by Ganguly, moved swiftly to launch a supreme court case, aiming to eradicate the root of the problem. They zoomed in on the illegal capture of the endangered Asian elephants from the wild that are torn from their families, and then tortured, trained and exploited for profit. With all the evidence gathered from the eight-year study, and the numerous complaints lodged by animal activist organizations in Kerala the Supreme Court case was launched in July 2014. Ganguly stated,
"Our petition has been to put the spotlight on the abuses and violations of laws that are being committed on elephants in captivity and the role of the State and central government in not being able to curb illegal ownerships, interstate smuggling of elephants, rampant commercial use, absence of all welfare and monitoring."
To further strengthen the Supreme Court case, a 10 minute segment from Gods in Shackles portraying compelling evidence of torture and abuse has been submitted. Ganguly said,
"We will submit the DVD of the edited version sent and the print out of the photographs in enlarged versions with our application to Supreme Court, pleading relief for these elephants. I am confident that somewhere the movie will deeply affect people's sensibilities and touch their hearts in effecting changes that are difficult to foresee now but are bound to happen. The power of visual media cannot be underestimated, especially with Gods in Shackles."
WRRC has requested the Supreme Court of India to implement key steps to end illegal capture of wild elephants and abuse of captive elephants. Among them:
Ownership certificate be granted to elephant owners only after embedding elephant with a microchip, so their movements can be tracked to prevent illegal transfer.
Conduct a census of all captive elephants in the country, preferably with the assistance of independent experts.
Set-up lifetime care facilities for rehabilitation of abused and abandoned elephants as well as those under government custody.
Set-up of effective monitoring and accountability mechanisms under the Wildlife (Protection) Act 1972 and issue mandatory rules for the maintenance and upkeep of elephants in captivity.
Ban use of elephants in religious functions and for exhibition as this causes unnecessary pain and suffering to the elephants. Such a ban would reduce the demand for captive elephants.
In just over a year into the court battle, one major victory already. The Hon. Judge of India's Supreme Court has placed an outright ban on elephant rides effective November 2015. The case is expected to last for three to five years, based on the swift actions of the respondents, and only time will reveal the fate of Kerala's suffering elephants that deserve to live a shackle-free life.
Meantime, you can join our movement in helping us free these tormented souls by visiting our campaign page. You can become part of our legacy by clicking here.