Just imagine walking bare-footed on melted tar roads under a scorching sun and intense heat for one hour, and then forced to run for three hours in shackled legs. You are given no food or water for the duration of the six hours. Well, this is exactly what happened to some elephants near the world renowned Guruvayur temple in Kerala.
According to the Heritage Animal Task Force (HATF) Secretary Mr. Venkitachalam, 27 elephants were forced to walk to a racing ground between 1:30 p.m. and 2:30 p.m. on melting tar roads beneath the blistering sun and 40 degree Celsius heat, denied of food and water.
Then between 3:00 p.m. and 6:00 p.m. they were forced to participate in a running race, their legs heavily shackled. The first mahout sitting atop each elephant continued to prod the animals with the banned bull hook and poke his toes in the most sensitive part behind the elephants' ears, while the second mahout on the ground hit the animal with a 10-metre-long pole to inflict maximum torture and make the elephants run faster.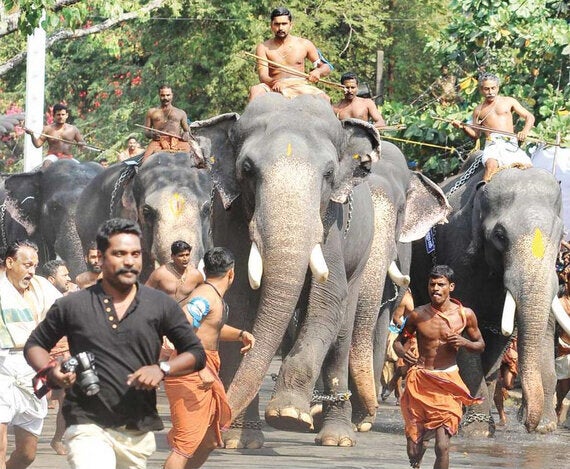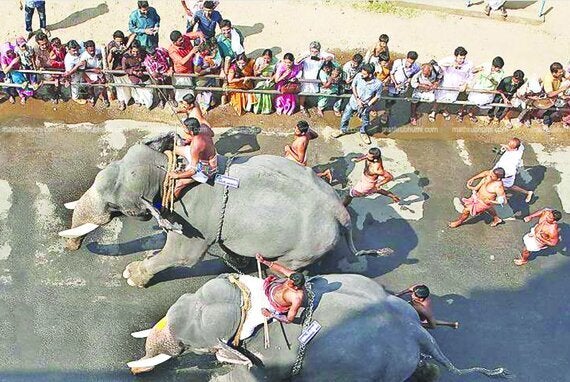 Hundreds of spectators witnessing the race unaware of suffering of elephants
And why do they organize this annual elephant running race? Just so people can have fun, as the elephants endure the torturous competition and are pushed to win!! Most people in Kerala don't seems to realize that forcing shackled elephants to run is one of the worst kinds of cruelty. And few people seem to have even a basic understanding that the soft-cushioned feet of elephants are made for lush jungles and marshes, not hard concrete or hot tarmac or granite floors.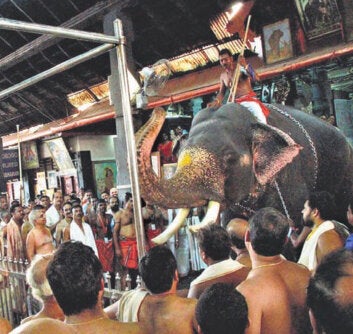 Winner, Gopi Kannan was forced to salute before Lord Krishna in Guruvayur Temple
The winner, Gopi Kannan, will now have the "honour" of carrying Lord Krishna's idol during the festivities that begin today. He'll be kept inside the temple and paraded on the hard granite floor. This winner was subjected to brutality during the race, and will endure more torture after the race for 10 additional days. Two years back Ramankutty of Guruvayur Temple, the adjudged winner of elephant race, collapsed and was unable to function for five days.
The world-renowned Guruvayur Temple has also rented out its elephants, going against the Wildlife Protection Act 1972 that lists India's heritage animal in the schedule 1 category, which cannot be exploited for profit.
But this temple possesses 53 elephants, most of which are rented out for huge sums of money. I've been informed that one of the most popular rentals, an elephant named Padhmanabhan, will fetch more than 220,000 Indian Rupees (over US$3,600) per day, as of March 10.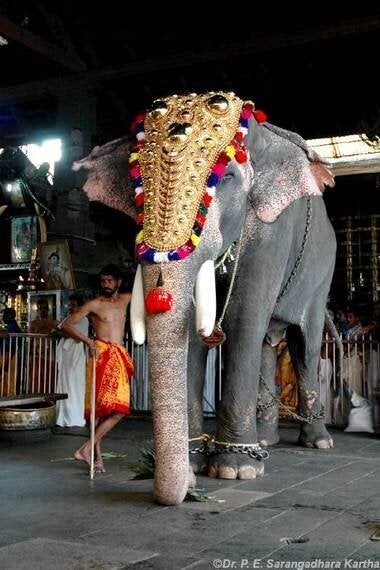 Clearly, the laws of the land are being openly flouted. HATF secretary V.K. Venkitchalam decries that the Guruvayur Temple authorities are getting off the hook with impunity. "This type of blatant violation of law is the brain work of the Guruvayoor Devaswom administration which is headed by politically appointed Chairman," he says. "The administrator of the Guruvayoor Devaswom is none other than the Additional District Magistrate. The District Collector of Thrissur is the former administrator of Guruvayoor Devaswom... The manual of Guruvayoor Devaswom does not contain anything which empowers its managing committee to earn money by using Elephants kept by the Devaswom."
Another temple near Trissur district paraded Kerala's tallest elephant, despite his physical disability. Thechikkottukavu Ramachandran is blind in his right eye, and has a track record of killing close to 20 people and three elephants.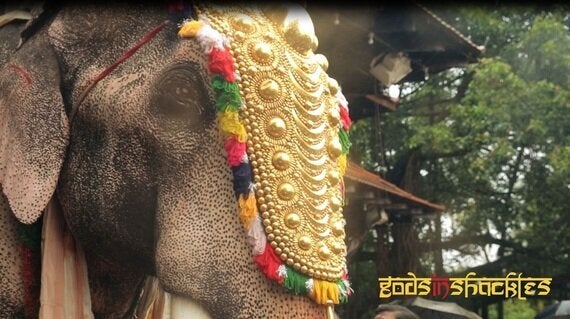 Photo Credit: Tony Azios, Gods in Shackles Cinematographer
Thechikkottukavu Ramachandran is blind in his right eye
Three Kerala veterinarians had conducted a thorough medical examination in 2010, and declared that Thechikkottukavu Ramachandran is disabled. But regardless, the temple forced this majestic animal to parade until around 4:00pm when he began to display aggression. He is one of the many elephants featured in Gods in Shackles, a documentary that exposes the despicable treatment of Kerala's captive elephants. You can learn more about the film by clicking HERE
It was only recently that Kerala's Chief Wildlife Warden issued an order, prohibiting the use of disabled elephants in temples and festivals (enclosed at the bottom of this article). Additionally, elephants with a history of killing people must be kept away from the public. But here again, the laws of the land were being flouted in the broad day light with absolute latitude.
It's no surprise that elephants are revolting. An elephant named Vayalassery Arjunan was pushed so far that he killed his mahout. HATF Secretary claims, Arjunan was one of the 10 elephants paraded without proper permits. Worse yet, this elephant also displayed symptoms of musth, an annual period when bull elephants come into heat and become dominant. In the wild they mate and fight with other bulls, but in captivity they have no way of releasing their energy reserves. So they become aggressive, which often results in tragic loss of lives.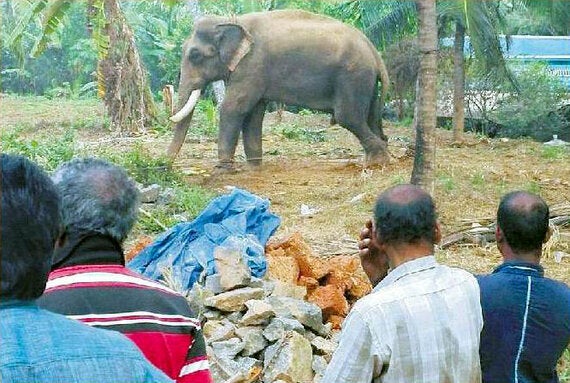 Photo credit: HATFAll four legs shackled to palm trees, Arjunan is deprived of his basic needs
Since this tragic event Arjunan has been shackled to a palm tree, with no roof to shade him from the blistering sun. He is unable to move and deprived of food and water -- a punishment he will suffer for 15 days. These tolerant animals revolt only when they are pushed to the extremes. But sadly when they do so, the torture is intensified and they are subjected to such severe corporal punishment.
Yet another elephant called Chamapuzha Unnikrishnan rampaged for six hours, toppling motorcycles and trees with his mahout atop his back. Veterinarians had to tranquilize this bull elephant. He was allegedly transferred illegally from another district.
"This shows the unlawful manner in which elephant contractors and festival organizes flout elephant parade rules with tacit support of forest officials. The district Collector of Ernakulam remains a mute spectator. The district collector is the chairman of the district's elephant monitoring committee."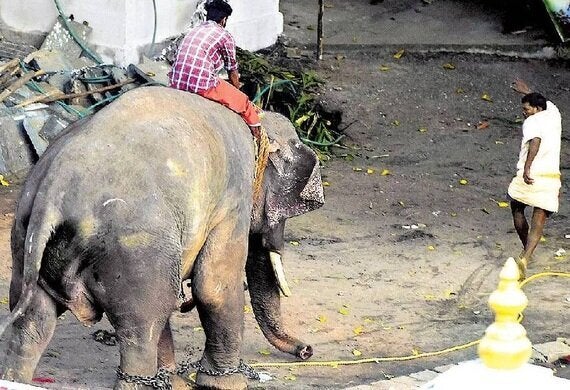 Chamapuzha Unnikrishnan rampaged for six hours
The harsh reality is, violations are ultimately costing the lives of poor people. As of Jan. 17, 2016 four people have died, including a woman. Their families are suffering, elephants are suffering and it's becoming clearer now than ever before that use of elephants is a no win situation. It's time to prevent unnecessary loss of people's lives, by releasing these elephants into a sanctuary where they can roam freely. Gods in Shackles features the story of captive elephants that are now thriving in a sanctuary. You can learn more about our movie HERE