EyesWideOpen via Getty Images
Stories of torture, neglect, exploitation, frustration, devastation and untimely deaths of people and elephants coming out of Kerala are disheartening. Between January and mid-March Kerala has witnessed more than 216 stampedes, with three elephants and five people dead, including four mahouts and a lady -- a replica of 2015 and aligned with previous years. But people are always surprised when elephants or people die.
Satyanarayanan was beaten to death after his musth cycle
Photo Credit: Heritage Animal Task Force (HATF), Kerala
Recently, a 20-year-old elephant named Choppi Kuttysankaran killed his first mahout. This elephant was in his annual musth cycle (when bull elephants are in heat). But still, a government vet allegedly issued a fake fitness certificate. Choppi Kuttysankaran was starved and deprived of water. So he became frustrated, and ran amok for three hours crossing railway tracks, cutting through congested traffic, and causing panic.
The temple authorities violated Supreme Court orders that spell out, elephants can be only paraded from 8 AM to 11 AM and 4 PM to 8 PM. Of all the places, you'd expect religious institutions to follow the laws of the land. But sadly, more than 22 temples unlawfully paraded several elephants in the wee hours for three consecutive days.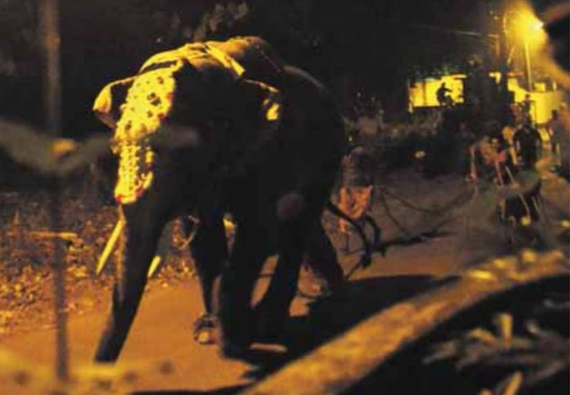 Choppi Kuttisankaran ran amok in the wee hours
Photo Credit: HATF
It's no secret that these "religious institutions" exploit wounded elephants. But how cruel is it to parade a sentient being with glass pierced into his feet? Even this disabled elephant was granted a fitness certificate and forced to limp. Another wounded and blind old bull, Tripayaar Ramachandran, was paraded despite his disabilities. The state government orders that prohibit such abuse are violated with impunity.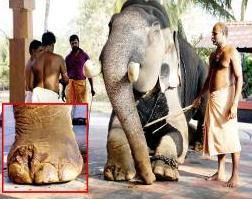 Tripayaar Ramachandran has a pus-infested foot
Photo Credit: HATF
During festival season elephants are transported in trucks, forced to stand bare feet on the steaming hot metal platform. People there don't seem to realize that it's necessary to provide some degree of comfort for these hard-working elephants that fetch them so much money. They illegally paraded a 78-year-old celebrity elephant Guruvayur Padhmanabhan, rented out for a whopping 2,000,000 Rupees (over $33,000 USD) per day - all under the guise of culture and religion.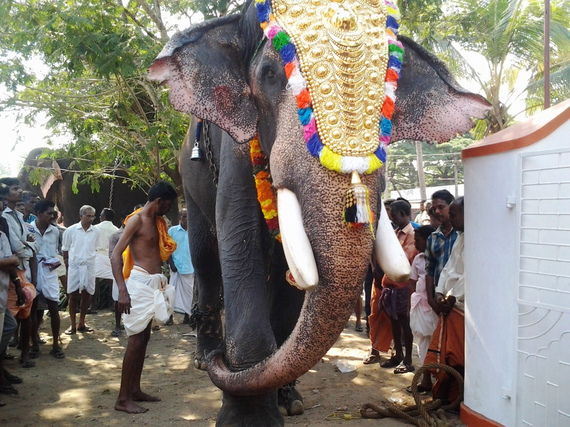 Celebrity elephant Guruvayur Padhmanabhan
Photo Credit: HATF
In their quest for material wealth people seem to have become blinded by greed, and are oblivious to the unfathomable pain and suffering of the embodiment of Lord Ganesh. Is it surprising that these elephants unleash their wrath and run amok, killing people and destroying properties? One elephant became so sick and tired of the torture that he caused property damage of five million Rupees (approximately US$83,000), and destroyed 27 vehicles during a six hour rampage. This elephant named Olarikkara Kalidasan has allegedly killed five people in the past. He was tortured for his "misbehavior" in a secret location.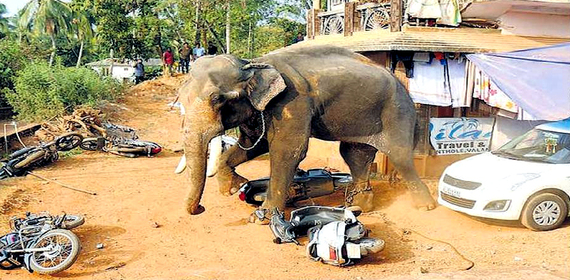 Olarikkara Kalidasan caused colossal property damage
Photo Credit: HTAF
This tiny state on the southern tip of India houses the largest number of captive elephants in the nation - 601 of them, private citizens illegally owning 289 elephants. Recently the state government legitimized their illegal activities by issuing ownership certificates, turning a blind eye to the plight of the suffering elephants, and flouting the same laws that they created.
Albert Einstein said, "Insanity is doing the same things over and over again, expecting a different outcome," which pretty much sums up Kerala's situation.
Meantime a disturbing trend is emerging in Kerala. According to the Heritage Animal Task Force (HATF) secretary, baby elephants are being kidnapped from the wild and exploited under the guise of eco-tourism in government run camps.
Take a look at the innocent five month old calf below. He was ripped apart from his family from the Mannarapara forest area and brought into the Konni camp so people can be amused. Mr. Venkitachalam says,
"Whenever a new elephant calf is admitted, a minimum of 2000 tourists a day visit the Konni Elephant Camp to watch the spectacle. The main reason they're keeping these elephant calves is to spin money from tourists who visit the camp. Ninety per cent of these elephant calves die due to faulty method of keeping them inside enclosures."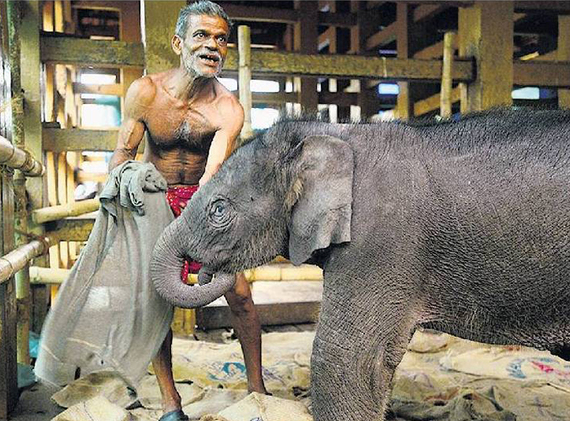 This five month old calf was allegedly kidnapped from the wild
Photo Credit: HATF
The HATF Secretary claims, every year they capture baby elephants for the government camps, bringing the total number of calves in Konni camp to four.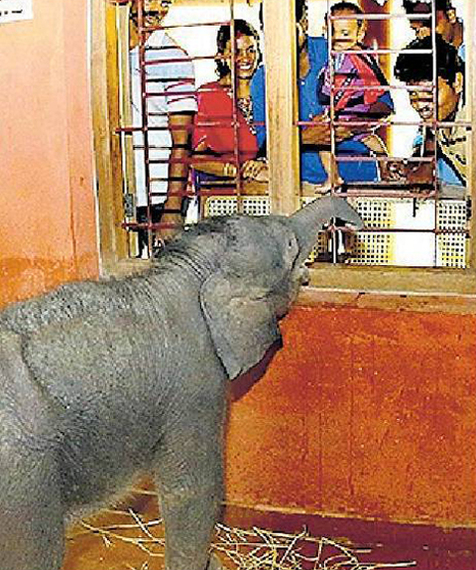 People flocking to see the baby elephant
Photo Credit: HATF
Yes, the state of affairs in Kerala looks grim and there seems to be no end in sight. But I think there are reasons to be optimistic. This year at least four temples decided to replace elephants with human dragged chariots for festivals, some temples have begun using faux elephants, and even the Kochi airport in Kerala has installed elephant statues.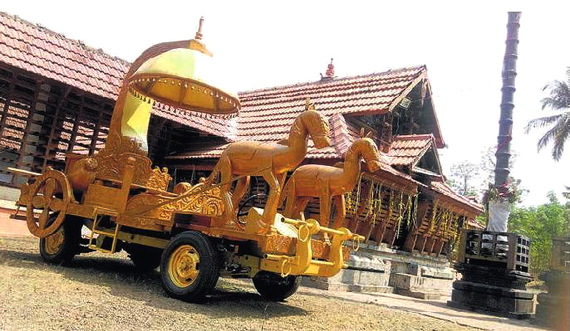 Garuda Vahana at Parthasarathi Temple in Kerala
Photo Credit: HATF
In the past decade, awareness campaigns have been sprouting across India, and people are beginning to take animal cruelty more seriously now than ever before. The Kerala media is writing more stories, although the status-quo controls the content to a certain degree. Ongoing court battles are resulting in landmark Supreme Court rulings in favor of elephants. Collective voices and fearless whistle blowers are risking their lives, speaking out against the atrocities on social media.
In the grand scheme of things though, a vast majority of the 7.3 billion humans are disconnected from the cyber space, and largely disengaged from crimes against nature and wildlife. Even well-meaning people are mired by their day-to-day existence, and they need to be educated.
The "Gods in Shackles" documentary will awaken them to understanding the long term ramifications of their ignorance. Please CLICK HERE TO DONATE to our outreach campaign, and help us bring this epic documentary into the world so we can expose and end the sad plight of Kerala's elephants.
Follow HuffPost Canada Blogs on Facebook