A temple elephant that has been paralyzed by torture with a banned weapon is fighting for his life. His handler reportedly tied a knife to a nine-meter long pole and inflicted serious injuries on his front and hind legs. Apparently the elephant named Valanjambalam Ganapthy has been subjected to on-going brutality since he killed his previous handler in February 2014. However I've been made to understand that repeated complaints to Kerala Forest Department to arrest the handler and provide urgent veterinary care for the elephant, has fallen on deaf ears.
Another elephant named Devanandhan is suffering serious burns after his handler used fire for intimidation (as seen in the images below), as the elephant apparently refused to return from a stream he was bathing in. However according to a secret informant, the poor animal's shackles had became entangled between the rocks and he was unable to disentangle them. Although this type of coercion induced on elephant is a violation of the law, the offender has not been charged. According to my informant,
"The police officials who were camping at the place remained as mute spectators after seeing this type of violation of the Wildlife Protection Act 1972. As a result of these cruel tricks, the elephant suffered serious burn injuries on several sensitive parts of its body."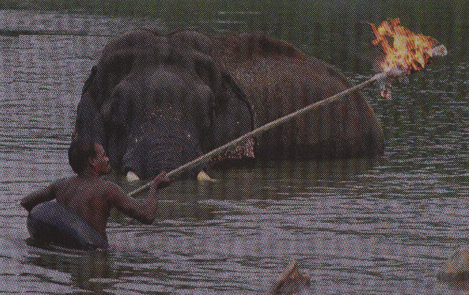 Photos obtained from Kerala, India
Apparently, this elephant is owned illegally by a government employee who works for Kerala's Revenue Department, his brother employed by the forest office in Palakkad District. I've also been informed that one of them has managed to illegally transfer another elephant and change his name, as the two animals remain in a private home with no ownership certificates, a key requirement outlined in the Wildlife Stock Declaration Rule 2003.
The Chief Minister of Kerala could not be reached for comments. The state's Chief Wildlife Warden, who said he was unaware of these atrocities is now investigating, and is expected to provide a report on Monday.
Meantime, two temple elephants have died in June, one due to stomach ailments, another found dead in a vacant plot behind a shopping complex. According to my source, the ailing Gireesan was kept inside a private property in Eranakulum District, he suffered from serious constipation for fifty days and died under "mysterious circumstances." He suspects the elephant's death could be linked to an incident that took place twelve years back when Gireesan killed the temple's president by piercing his body with his mighty tusks and dragged him on the temple grounds.
Apparently, despite a detailed petition to the intelligence wing of Kerala Forest Department the forest officials did not investigate what caused the physical ailment nor did they verify the documents related to private custody of the temple elephant.
Such is the saga of Kerala's temple elephants. Poor law enforcement and loopholes in the state's legal system seem to be two key problems perpetuating unimaginable atrocities against these helpless captive elephants that deserve nothing short of dignity and respect.
Meantime, the demise of the two elephants in June brings this year's death toll to 14. That is 14 out of approximately 800 captive elephants, they are gone forever! At this rate more than 30 elephants will perish each year, and over the next 10 to 15 years there could be fewer than 500 temple elephants in Kerala. They are withering away, and cannot be replaced, as the Indian government has placed an outright ban on capture of wild elephants.
So if Keralites would like to continue using elephants in their cultural festivals, they better pay attention to the welfare of these animals, even if only to salvage the annual Trissur Pooram that brings in abundance of tourists and wealth into Kerala.
Well, of course they'd like the world to believe that they care about their elephants, as portrayed during my trip this past May at a memorial service to honor a temple elephant -- Chandrashekaran. He died 12 years ago of physical ailments and torture. At least in his death he's receiving some respect, with more than 20 elephants parading from the temple grounds to a special location, the main elephant carrying the photo of the deceased Chandrashekaran.
The irony is, even as the elephants were being paraded on hot tar roads through the precarious and chaotic traffic to mourn the loss of their friend, their own safety was being compromised.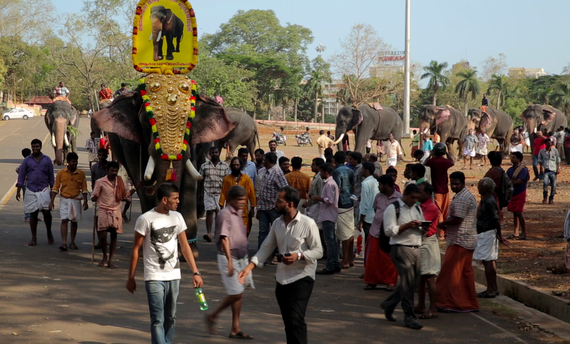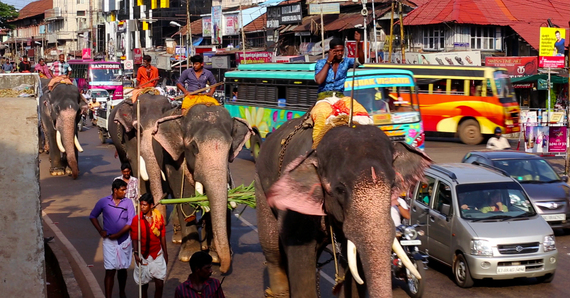 Photos: Courtesy Tony Azios (Cinematographer, For the Love of Elephants)
Isn't it sad that Chandrashekaran is receiving more honor and respect in his death than he did in his life? Doesn't it make better sense though to give these sentient beings the basic dignity they deserve when they're alive? In my view such public display of love and affection for India's Heritage Animal masks the truth, and doesn't really reflect a genuine concern for their welfare. Kerala government needs to step up to the plate and not only create stringent laws, but also ensure that they are enforced properly. After all, don't you think they have a moral obligation to care for and protect the elephants that brings in abundance of prosperity?