I don't know about you, but this weather change is really getting me down. I'm stiff. I'm achy. It's NOT all GOOD, Gwyneth Paltrow!
All this misery is only leading to memories of spa experiences past. From the massage at Miraval and the "mudslide" at Solage, to a traditional Thai treatment in Phuket and therapeutic thermal waters in Italy... I've got a few I would jump on a plane for.
Ritz-Carlton, Grande Lakes, Orlando, USA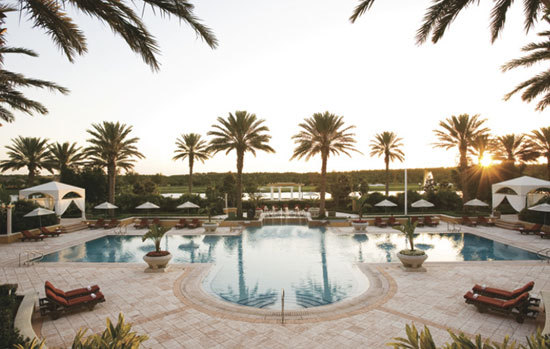 OK, this place has "grande" in the title for a reason. The spa is indeed vast with its 40 treatment rooms, a private 4,000-square foot heated outdoor lap pool, fitness centre, a boutique and a café. Sadly I was in a lot of pain the first couple of days so, desperate for relief, the Neuromuscular massage was recommended. The 60-minute session was, as listed, "goal driven." Cindy dug in and did was what needed to release tension in my neck and hips. I am fairly certain a Grande Eco Garden Hammock Experience, or the Deluxe HydraFacial would have been less painful, but a girl on a budget has to pick her battles and I did feel miles better the next day.
My room, with its Tiffany blue-coloured walls and bathroom stocked with Asprey toiletries, may have had something to do with it. The resort is lovely and serene (very un-Disney if you ask me), and a great choice for couples or families. Afternoon Tea in the Lobby Lounge, and brunch at the Vineyard Grill are popular on weekends. Ask about the fun in-room camping experience for kids!
Miraval, Arizona, USA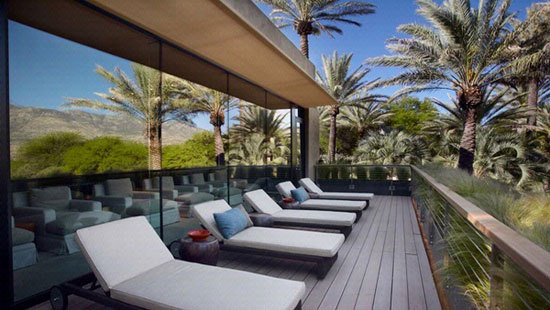 This was my first holistic spa experience. A very special place that not only endeavours to make certain you are comfortable every second of your stay (yes, you can wear a spa robe to dinner), but is very serious about helping guests restore balance to their lives. Wake up at leisure and set your day by simply check the schedule of yoga classes, meditation sessions, wellness lectures and workshops with any one of Miraval's team of specialists. One can always retreat to the spa where everything from a Hydrating Body Peel to Tibetan Chakra Balancing await.
But this place is a lot about the food. Every day is augmented with award-winning cuisine, perfectly portioned (you can always ask for seconds) to promote mindful eating. I particularly enjoyed my lunch with Juney Lupiani -- probably the most amazing nutritionist I have ever met -- who held court while a group fired questions at her over a mid-day meal.
I really could go on and on about the property that lies just outside of Tucson. Aside from the intoxicating scent of the desert after a heavy rain, I'd go back for another sweet sleep in one of their Catalina Rooms!
Solage Calistoga, USA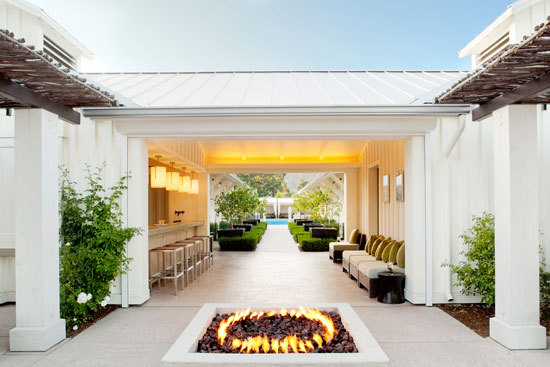 While staying just north of Napa proper, I decided to check into Spa Solage for a power hour of pampering before dinner at Solbar. The Mudslide seemed like the right thing to do. A modern take on the traditional mud bath begins by customizing mineral-enriched mud with essential oils, then I'm put in a private lounge that's heated to dry the mud once I've applied it all over my face and body. After about 20 minutes of baking, I'm and asked to wash it all off -- outdoors in a private sun shower, of course. The final stage sees me hopping, or rather flopping, into a zero gravity chair for a chill-out session.
The results after using an absurd amount of water? I do think my skin had a more youthful glow, but it was not until the next day that I noticed how smooth my skin really was.
Calidario, Tuscany, Italy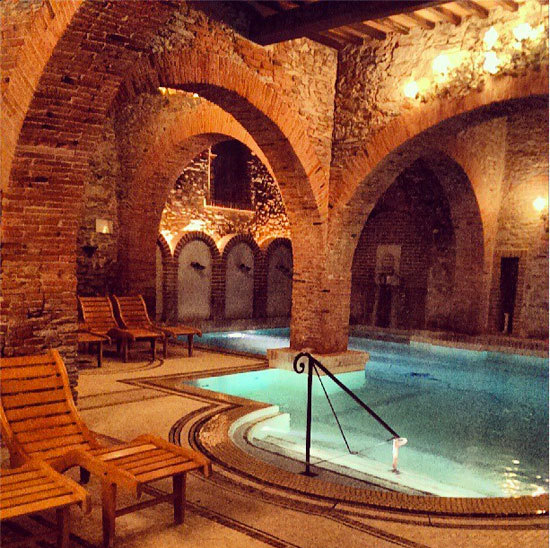 While in Tuscany this past summer, I was invited to Calidario for a dinner. I had seen the ads along the roadside and was skeptical about what this apparent resort would be like. Well, not-so-hidden gem found! No idea this natural spring even existed (and I can usually sniff out a spa within minutes of hitting a destination).
Open all year round, Calidario offers thermal waters in a stunning setting. Sauna, take a Turkish bath, have a massage, or simply take a soothing dip in the lake. Sadly I could not fit in a treatment before leaving the country, but you can bet I'll be soaking up those minerals on my next visit. A holiday in their hotel would not be too shabby either.
One & Only Palmilla, Los Cabos, Mexico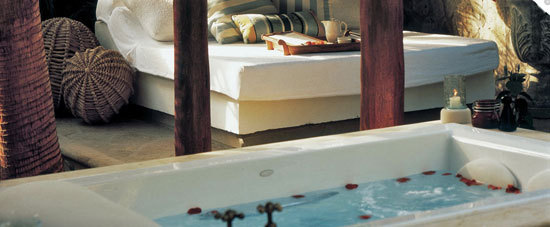 The One&Only's one and only resort in North America has been a favourite of the Hollywood elite for years, due to its discrete service, luxurious villas and private beaches on the Baja coast. The resort's spa offers treatments designed exclusively by ESPA (huge fan!) and that are also inspired by Mexican healing treatments. How about the two-hour Salud Por Agua treatment? This foot and body cleansing ritual is performed in warm water and combines elements of massage, joint mobilization, shiatsu, muscle stretching and dance. Relaxation goes next level as the therapist performs a full body massage with deeply conditioning therapeutic oils. Swimsuit required.
Indigo Pearl, Phuket, Thailand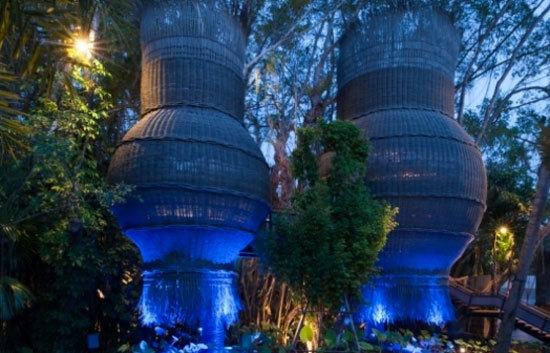 Built into a tropical rainforest, the Coqoon Spa has quite an impressive setting. Two of the treatment rooms are actually "nests" that are suspended from a very old (and presumably very sturdy) banyan tree, and accessed by a flying bridge. Crazy. When I arrived, totally cramped up from the long flights, I decided to book a traditional Thai massage. However, when I met my teeny tiny therapist, I was not so sure about my return on investment. Well, if ever a book should not be judged by its cover... the power these Thai women have in their hands should not be underestimated. Sweet Jesus, she cracked me like a nut! Relaxed and rejuvenated, and really hungry, I floated back to my room and later settled on satisfying seafood tapas for dinner at Rebar -- a lovely open-air lounge on the property. Day one well spent.
The Sukothai, Bangkok, Thailand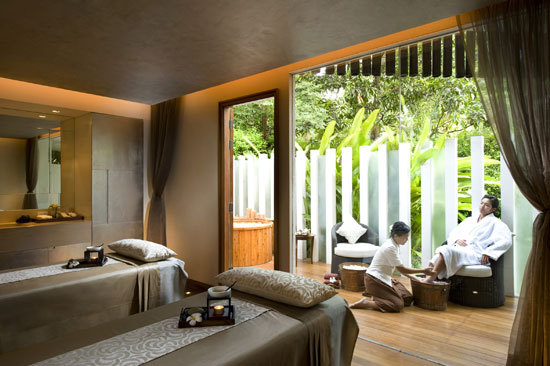 This hotel was perfection. Quite literally an oasis of calm in one of the most chaotic cities in the world. However well-known the Sukothai's brunch is (and it is pretty phenomenal), it's the lush gardens that surround Spa Botanica that score extra stars. The hushed hideaway offers ultimate indulgences like Pañpuri's award-winning anti‐aging facial, and energizing body wraps that charge the skin with natural vitamins, minerals and enzymes.
Again, their signature Thai massage is a winner here. Based on the oriental principles of energy meridians, the soothing technique of the therapist combines kneading and stretching to reduce stress, improved flexibility and relaxed central nervous system. Take that jetlag!
The Efendi Hotel, Akko, Israel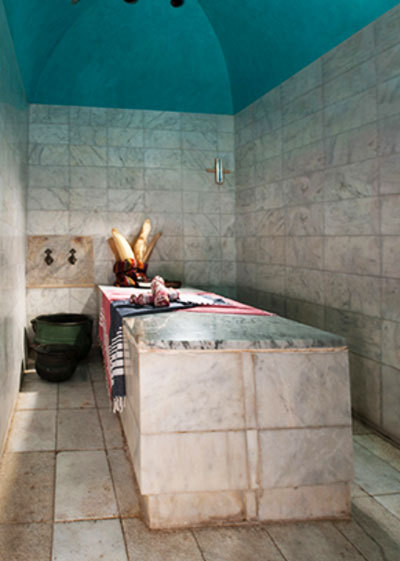 This 18-month old baby is such a treasure. The owner, Uri, is a local icon well known for his restaurants. It took eight years, and six interior designers, to restore the building that dates to 1860. Today, the hotel is all of 12 rooms, and also has a restaurant, wine cellar (where a chef's tasting menu is served), as well as a gorgeous little spa. The Hammam is about 400 years old and a Lavender Geranium Body Peel would be my pick before a proper Turkish steam.
Babington House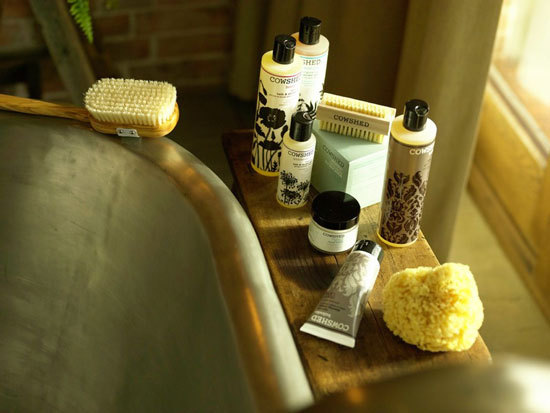 The home of the original Cowshed Spa, Babington House is the ultimate English countryside retreat. I was lucky to be a guest at a wedding, who also got to stay overnight (thanks Anne!) in one of the gorgeous rooms. Stocked with just about every cheeky signature Cowshed product, of course.
The spa itself is definitely unique, with its rustic aesthetic separated into two areas; Cowshed Active and Cowshed Relax. The latter is, naturally, the place to rejuvenate with a mud soak, massage or facial centred on the therapeutic nature of high quality botanical essential oils.
Cowshed Active is, as one would expect, the place to get moving. Home to swimming pools, steam, sauna and aroma rooms, the gym has also been kitted out with the latest Technogym equipment.
If you can't skip across the pond, then hit up their sister spa at Soho Beach House in Miami.
Shangri-La Hotel, Toronto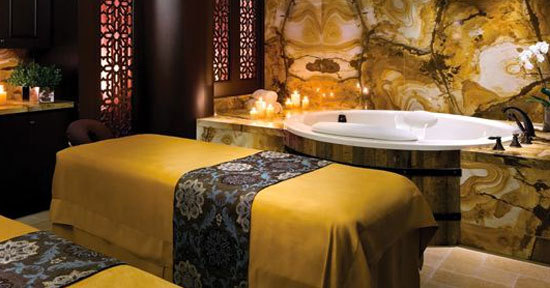 enRoute Magazine recently awarded this hotel with the highest honours for their spa. The Miraj Hammam by Caudalie Paris evokes faraway places by merging ancient rituals of the Middle East with modern French vinotherapies. Spa standouts are the list of Voyages & Retreats one (or two) can indulge in. Take the afternoon off for a Fez Escape and sink into a luxurious two and a half hour treatment that includes Hammam, Gommage, massage, as well as a mani and pedi. Pricey? Yes. But it took me to Morocco in a matter of minutes.
Also on HuffPost: