Pham Le Huong Son via Getty Images
The last time I was in Singapore was January 2010. I was with my brother on a stopover between Bangkok and Bali. We ate really well and visited the zoo, which were both very memorable activities.
Since 2015 celebrates the country's 50th birthday, and since I love the idea of a layover in a cool city, I figured it was time to revisit on my way back from New Zealand. Turns out, one can manage to do quite a lot in a very short amount of time.
April 7th -- 7 a.m. Arrival. Landing after a 10-hour flight from Auckland, I am greeted by a cheery Shangri-La hotel representative, who guided my tired feet to the limo that was waiting with its equally cheery and chatty driver. A girl has to treat herself once in a while.
7:45 a.m. Check-in to my Garden Wing room. Having opened in 2012 to offer a more resort-type atmosphere, it's very un-business-like compared to the Valley Wing where the likes of Bill Clinton and international dignitaries often stay.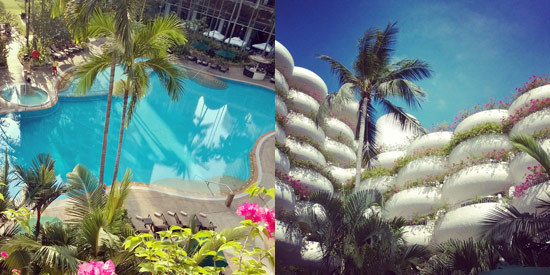 8:45 a.m. Despite the heat, there is absolutely no one in the pool at this hour and I know what my first move is going to be.
After a quick workout and steam (a ritual after so many hours in the air), I'm poolside and soaking up some vitamin D. This is surely better than napping in my room, lovely as it is.
10 a.m. Thankfully I don't have to go far to enjoy breakfast at The Waterfall Café. It's mere steps from my lounge chair to the buffet. Perfect.
11 a.m. Showered and ready to hit Orchard Road, which is just a short walk away. The tree-lined main drag is just as grand as I remembered. It's a virtual gallery of every celebrity-endorsed campaign out there. I'm in and out of the shops at ION before noting the neat eateries (EWF) and appealing stores (Miss Selfridge, Typo) throughout Orchard Gateway.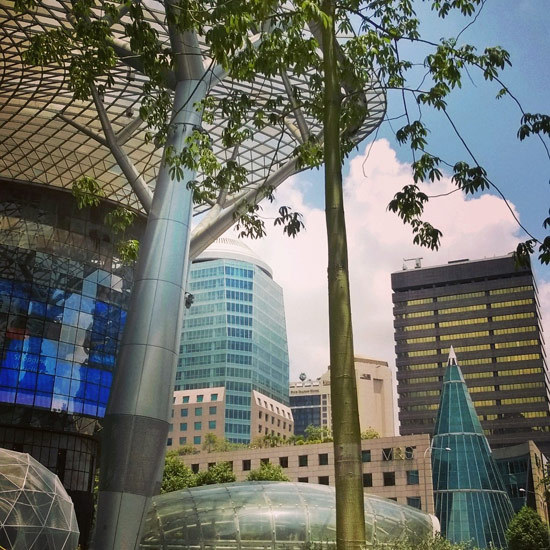 12 p.m. I have every intention to hop on Air Singapore's tour bus (a complimentary service for anyone who has booked travel with the airline), but I've got a map so I just keep walking: through historic Fort Canning, past the National Museum of Singapore, and eventually down Raffles Avenue before I'm on Esplanade Drive.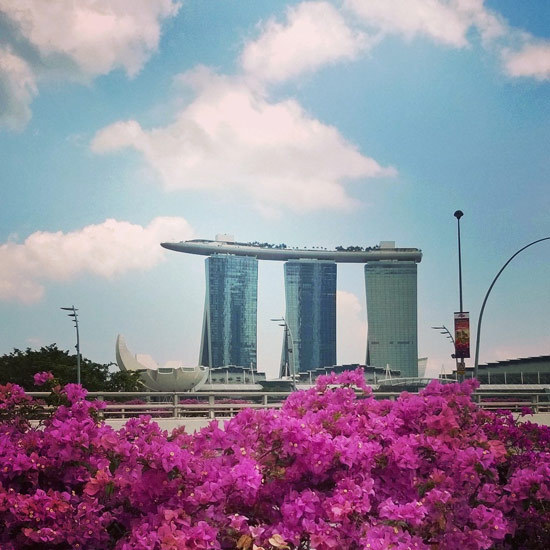 1 p.m. I consider making my way to the David Beckham-endorsed MarinaBay Sands, but it's clouding over and that epic view will have to wait for next time.
1:20 p.m. I'm at Merlion Park when the heavens open for the 30-minute torrential downpour that is an everyday occurrence this time of year. It's not the sort of rain where an umbrella will help you much, so I purchase a fresh watermelon/lemon popsicle from Frostbite and wait under Anderson bridge.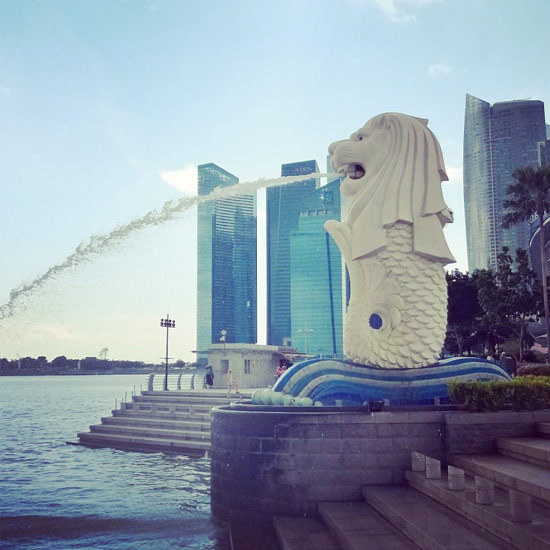 2 p.m. Back on Raffles Ave and into Raffles City Shopping Centre, where I pick up satisfying (and cheap) sushi from the ground floor marketplace. A great place to grab healthy goods to-go!
2:30 p.m. Taxi back to the hotel (SGD$10) and catch the last of the afternoon sun by the pool.
4 p.m. I'm ready for some quality snooze time.
7 p.m. Meet up with Li and Andy from #SGEatWithUs at the hotel's BLU Lounge. While enjoying the sweeping city view from the 24th floor, they fill me in on the program they launched in August 2014.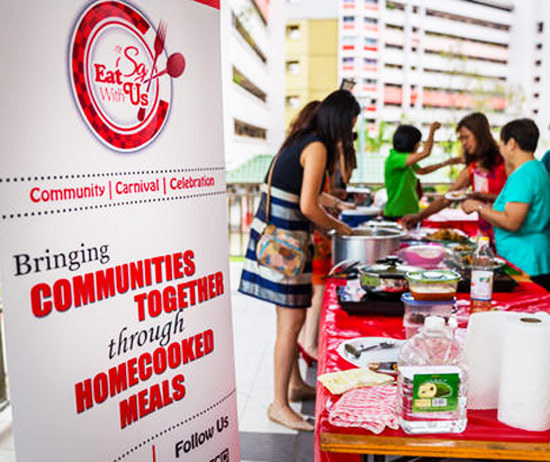 As a way to disconnect Singaporeans from the big food brands, and re-engage them with healthier home cooking, this initiative brings people together over good stories. There's the one about the Indonesian who married a Singaporean and learned to cook duck to aid her understanding of the culture, and to endear herself to the in-laws. Sound familiar?
It's stories like these that are told while participants enjoy delicacies that are unique to this part of Asia. And their carnival-type events have gotten so popular that #SGEatWithUs is now supported by SG50. From August 7-9, 2015, you will find 12 of their home chefs at the National Day celebrations.
8:15 p.m. After all the food talk, I'm hungry to check out one of the food courts that Singapore is known for. A taxi (SGD$5) drops me off in front of Newton Food Court and I'm immediately amazed and overwhelmed by the choice. Once I've browsed every stall, I settle on chili squid, a plate of sautéed something green (possibly broccolini), as well as "carrot cake." The latter is really a radish omelet, so absolutely no clue what it's got to do with carrot. Nevertheless, the chosen trio (purchased for SGD$21) hits the spot and is far too much for one person.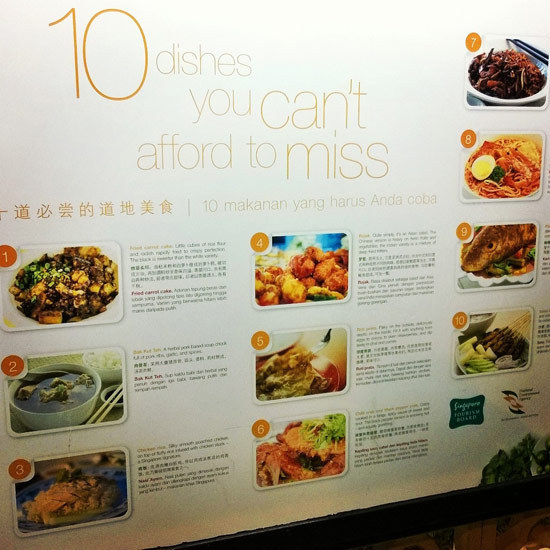 9:30 p.m. Back at the hotel and sinking into a sweet sleep.
April 8th -- 7:30 a.m. Up for another run/steam/swim session before breakfast.
10 a.m. A last wander around the Shangri-La property leads me to The Line Shop, where I admire the lovely 3-D cakes that have been expertly crafted by an award-winning pastry chef.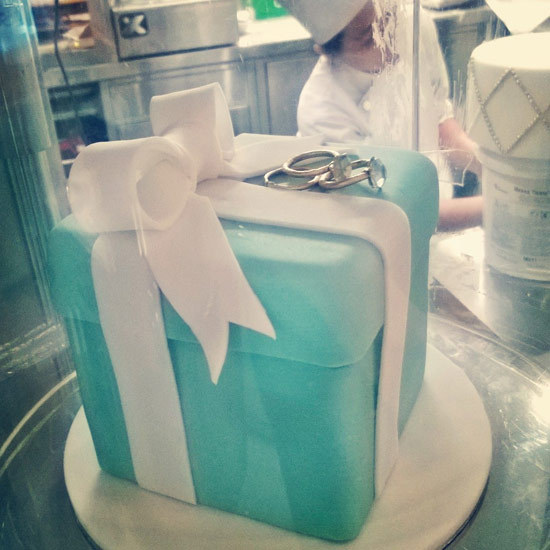 10:30 a.m. Sneaking in a final dose of sunshine poolside.
11:30 a.m. Off to the airport for the final 14-hour leg of my journey home to Prague. Grateful for a proper night's rest and making notes for what to do on my next sojourn in Singapore.
If you have any travel tips on Singapore please leave a comment below!
Images courtesy of Sara Graham's Instagram and #SGEatWithUs.
ALSO ON HUFFPOST: