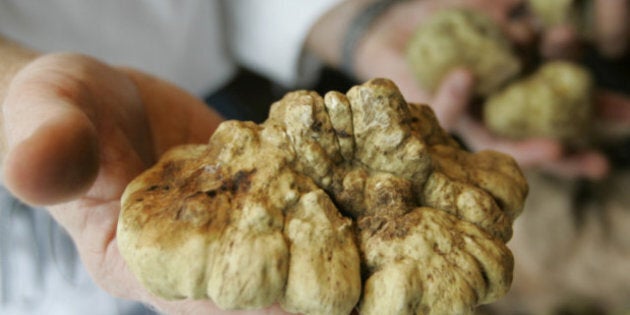 A single street lamp illuminates the Piazza Statuto near the center of Asti. At dawn, the dealers begin arriving. The headlights of their Mercedes and Alfa Romeos pierce the darkness. Others drive up in humble Fiats. Groups of men huddle together in the damp, fall chill, making small talk: the weather, their dogs, everything but the matter at hand. They size up the situation -- who's holding, who's buying or selling. They wait to see who will begin the play.
This is the truffle market. It is a centuries-old tableau, and Alba and Asti -- in the northwest province of Piedmont -- are the truffle capitals of Italy. The truffle hunters (trifulau), collectors, and dealers bargain in Piedmontese dialect with shrugs, hand signals, and body language. I am the only woman here, and will remain totally ignored -- unless I start taking photos. That would be a faux-pas.
Earlier, by moonlight, the trifulau and their trained hounds (the French employ pigs) had been sniffing out truffles in jealously guarded secret places in the woods and rolling hills of the Monferrato area. Clandestine out of necessity, away from the prying eyes of competitors, they find a cache. Eccola! They gently scratch the ground with a metal sapin and remove the truffles. If the hole is camouflaged carefully, by next year there will be more truffles to harvest -- unless another trifulau finds them first.
The white truffle is a fungus with a worldwide following. It grows underground, feeds off the water and minerals of the soil, and lives in symbiosis with the roots of oak, hazelnut, or linden trees. Truffles ripen in stages in a four-hour period, and give off three distinct aromas -- the first is musky, the second mushroomy, and finally a mature, sweet garlic/vanilla/pepper aroma. It is a rare and valuable truffle hound that can sniff out the first or second stage of ripeness. Alas, if a truffle remains undiscovered, it will live for only 12 days.
Back to the piazza. Car trunks become showrooms; brown paper bags tucked into bulging pockets are sample cases. A hunter opens his trunk and the unmistakable aroma of truffles explodes into the air. Buyers crowd in, then disperse. Every trunk holds the three tools of the trade: an electronic scale, a calculator, and a large amount of euros. The volatile truffle market is cash and carry.
"Today it is a buyer's market," says a dealer from Alba. He can sense that prices are going down. "In my car there are seven kilos of truffles, if I see the market going the right way, I open my car and show my truffles because I can gain," he says, and suggests a coffee. The scene at 6:30 a.m. in the crowded Bar St. Carlo is straight out of a Fellini movie.
The aroma of espresso, cigarette smoke, and the perfume of truffles is intoxicating. A pistol-packing police officer strides in for a quick caffe. Men sit at tables, sipping espresso, tacitly inviting prospective buyers to have a look/sniff at their truffles.
On a lucky day, a fortune can be made in this parking lot. Find a truffle and it's like finding money buried in the ground. Depending on quality, white truffles the size of a walnut to a grapefruit sell for about $200 per ounce. The dealer has disappeared. Deals are consummated outside, around the corner, out of view. I did not see either truffle or euro change hands.
They say in Asti that the truffle fair in Alba is too commercial, that the thousands of truffle-loving tourists who descend on the town from mid-September to late-December push prices sky high.
To learn the best way to eat these precious fungi, I drive to the Italian Culinary Institute for Foreigners, in the renovated 11th-century castle of Costigliole d'Asti, where some of Italy's most renowned chefs teach master classes to aspiring chefs from all over the world, and join a group of chefs from Denver. We make tagliolini with flour, one egg, and nine egg yolks and cut it by hand. Using a truffle cutter, we shave slices onto the hot, fresh pasta, inhale and eat. It is ambrosia.
Later that evening, in turn-of-the-century Ristorante Gener Neuv on the bank of the River Tanaro, I eat truffles in ways I've never dreamed of. The Fassi family, Piero in the dining room, wife, Pina, and daughters in the kitchen, and the room itself exude joy. I lift the lid from a china cup and am embraced by the perfume of truffles, shaved over soft polenta and a poached quail egg. Pina slices Porcini mushrooms thickly and serves them in rich green watercress soup that's afloat with sweet, garlicy snails. We feast on gnocchi with melted Raschera cheese and showers of shaved truffles; ravioli with Fonduta, butter and truffles. Dizzy with delicious discovery, there are even more surprises, one of which is Barolo Chinato Cocchi, a wine born for chocolate.
Basta. I've eaten thousands of dollars worth of truffles and have no desire to bring even one home, particularly when I learn that a truffle transported across the ocean would need to be wrapped in cloth, packed in raw rice in a sealed glass jar to contain its perfume, and carried in my handbag. It would cross the Atlantic as it grew: incognito, undercover, and undeclared.