Violence against women is an epidemic in Canada. This week marks the start of Canada's first Gender Equality Week, which is an opportunity to recognize the progress that has been made in advancing gender equality.
According to Prime Minister Justin Trudeau, "Standing up for gender equality is a top priority for the Government of Canada. We have taken action to protect gender-diverse Canadians from discrimination, reduce the gender wage gap, support women entrepreneurs, and prevent and address gender-based violence."
Although the nation has made advancements toward gender equality, women and girls continue to face alarming rates of gender-based violence in Canada.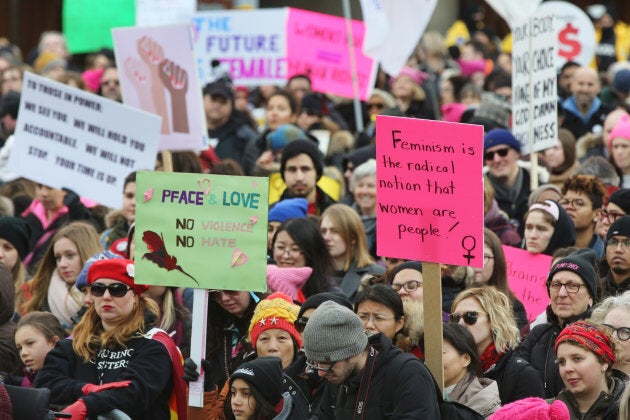 Gender-based violence is when violence is inflicted upon a person because of their gender, gender expression or gender identity. While anyone can experience gender-based violence, women and girls are more at risk.
The risk of violence is even higher if they're Black, Indigenous, a person of colour, a member of the LGBTQ community, gender non-conforming or any combination of each.
In September 2018, The Canadian Femicide Observatory for Justice and Accountability (CFOJA) reported that 106 women and girls were killed by men in Canada in the first eight months of the year.
The killing of a woman or girl because she is female is referred to as femicide, which is the most extreme form of gender-based violence.
According to CFOJA data, Ontario accounts for 50 per cent of Canada's femicides, yet only 40 per cent of the country's population, which is evenly split by gender.
In Ontario, there is an overrepresentation of femicides relative to the number of women and girls that live in the province. And, recent political changes have amplifyed the potential for harm.
The only place gender has been reflected in the government's platform is in regard to the sex-ed curriculum
The Progressive Conservative government in Ontario is yet to unveil policies that specifically address gender disparities, such as violence against women and girls and the gender wage gap.
The only place gender has been reflected in the government's platform is in regard to the sex-ed curriculum, which they have repealed to omit sexual identity, same-sex families, gender and consent.
Gender Equality Week is an opportunity for the government of Ontario to share with Ontarians its plan for gender equity. They can start by outlining their poverty reduction strategy.
Doug Ford', now the Premier of Ontario, campaigned on a promise to keep the Liberal government's basic income pilot project alive. The pilot provided basic income to 4,000 low-income people in the Hamilton, Brantford, Thunder Bay and Lindsay regions.
In August 2018, the government decided to cancel the pilot, less than one year after it began. There has been no mention of what, if anything, will serve as a replacement.
The Toronto Star interviewed six Ontarians who shared what their life was like before and after the basic income pilot. They also talked about how they would manage without this financial support.
Angel, a 56 year old woman enrolled in pilot, said without the basic income received, she would have to return to sex work to survive. Sex work is often a consequence of poverty, and women and girls in poverty are among the most vulnerable to violence.
As the Ontario government continues to find "efficiencies" in the province, the rights of women and girls must not be the opportunity cost of this endeavour.
Have you been affected personally by this or another issue? Share your story on HuffPost Canada blogs. We feature the best of Canadian opinion and perspectives. Find out how to contribute here.