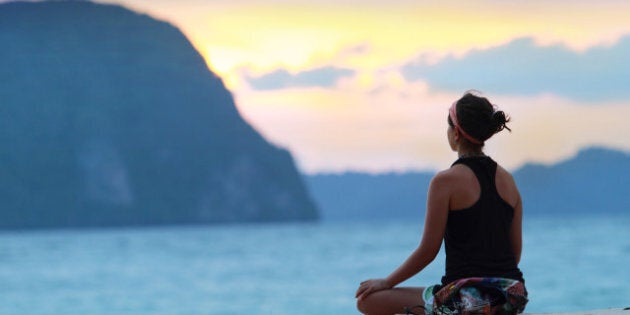 Yoga is rapidly growing in popularity and with so many new studios opening it is increasingly accessible. With so many different styles of yoga being offered at studios, there is definitely a style that is right for you, whether you're looking to calm your mind, relieve anxiety, stretch out tight muscles, work out or a combination of everything.
Although yoga can be a great activity for all people of all body types it can be difficult and at times intimidating to get started. As with all things in life, if you are prepared you are more likely to enjoy yourself and be successful. Here is a list of steps you can take that will hopefully increase your chances of having a positive first time yoga experience!
Attend a Free / Community Class
Trying a free class may relieve the anxiety of stepping into a studio for the first time, and since it is free you literally have nothing to lose! Many community centres and studios offer free or by-donation classes on a regular basis. You can also try checking out Lululemon's weekly community events. Every Lululemon store offers free yoga classes each week, and since they are open to the public they are designed to be accessible to all levels including beginners. It is likely that there will be other first timers at these community classes so there is no need to feel intimidated! Free classes are also a great way to meet other people in your community who are interested in yoga who may have great advice about local studios and teachers!
You will be amazed at how many studios there are in your city once you start looking for them, so head online and check out what your city has to offer in terms of studios. When looking for a studio there are two things to keep in mind. First, you need to make sure that the studio is close to you, or easy to get to. This will ensure that once you start practicing on a regular basis you will easily be able to fit yoga into your schedule. Second, check to make sure that the studio you are interested in offers introductory or beginner classes.
Once you find a studio that is conveniently located and offers beginner classes find a friend or buddy who has done yoga before to come to your first class with you. When doing something for the first time, it is always reassuring to have someone with you who has been through it before. Your buddy can help you with registering for the class, finding the yoga room, and following correct "studio / yoga etiquette." Yoga is all about feeling comfortable and accepting in your own skin, but it is natural to need a little help getting relaxed your first time! By bringing a buddy you will be able to focus on the yoga and not on if you are lying the wrong way on your mat!
Let The Teacher Know It's Your First Time
Once you get into class, let the teacher know that it is your first time to yoga. Since you are attending a beginner's class the teacher will be expecting this, plus it is a great way to get to know your teacher before getting started. The teacher will want to know that it is your first time as they may be able to offer you extra assistance throughout the class.
This may be the most important thing for newcomers to yoga to know. There are many different styles of yoga, and it is likely that there will be some you love and some that you dislike. If you go to your first class and have a negative experience don't be afraid to try a different style or a different teacher. You may hate the first type of yoga that you try, but a different style may be exactly what you're looking for! Keep an open mind and don't be shy to inquire about different styles at the studio.
It is commonly said that the hardest part of yoga is just getting to the mat. In my experience this statement is accurate. Once you make it into a class and onto your mat you get to let your mind go and allow your body to take over. By following the advice above I hope that you have a successful and positive experience with trying yoga out for the first time. It can take a few classes to get used to yoga, but stick with it and I assure you that results will start showing in a variety of aspects in your life! Good Luck on the mat!