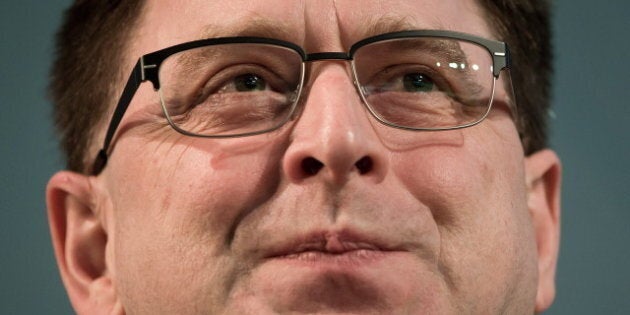 The official May 14 election campaign kicks off Tuesday and it's a scary thought to be this invested in the outcome. I may have won my March Madness pool with a solid bracket last week, but I'm having a far more challenging time assessing two contending political parties than picking one winning basketball team out of 64 for the NCAA championship.
As a newbie, maybe my political sense is still developing, but the majority of British Columbians seem to know what they want.
"What do we want? Change! And when do we want it? Now!"
While the peaceful lawns of the B.C. legislature may not reflect as much, recent public opinion polls are saying it all. The B.C. Liberals are consistently straggling behind the B.C. New Democrats by as much as 20 points according to some polls, and support for Premier Christy Clark is at an all time low. Twelve years of Liberal leadership and it appears the province is ready for something, or someone, different.
Emerge Adrian Dix with his retro style glasses and perfectly suited slogan, "Change for the Better."
However, is there any way of knowing that this change will be for the better? Not really, but the release of the party's platform this week will give voters some idea of what their intentions for change are.
Before the platform is released, and the election campaign officially begins, I want to lay out my platform wish list. These are the top five issues I would like to see addressed in the NDP platform:
Oil & Gas - Provide a clear stance on the Enbridge pipeline, Kinder Morgan's Trans Mountain pipeline, and liquefied natural gas (LNG) plants. While the NDP has stated the need for environmental assessments of the proposals, they have not been transparent on whether they would go forward with the projects regardless of strong opposition from First Nations groups, such as the Tsleil-Waututh nation, whose land will be compromised.
First Nations - Make a stronger commitment to First Nations in respecting their right to protect their territory and lands from any unwanted economic development.
Natural Resources - Undertake an assessment of B.C.'s natural resources such as forestry, mining, and fisheries, and provide an honest valuation of their sustainability. While the province relies on these resources economically for jobs and trade, what are the impacts on the environment and how long can we expect to rely on these resources for financial stability?
Post-Secondary Education - Find creative solutions to address student debt and provide better access to affordable education. The Liberals offered no answers for this in their 2013 budget and proposed $46 million in cuts to post-secondary funding over the next two years. Can the NDP do better?
Homelessness & Poverty - Address these issues beyond just offering affordable housing, but by providing more funding to support mental health and substance abuse programs, especially for youth in crisis. The current government did announce $18 million in funding for these services last week, yet did not address the vulnerable youth population.
These are my hopes for the B.C. NDP and Adrian Dix, who, according to the polls, will most likely be our next premier. Once the platform is released, it should be clear what changes the party is offering and if they really are for the better.
Now we wait for the writ to drop.
Unless, of course, we can skip all the politics and party leaders are willing to lace up their Air Jordans to settle this one on the court...