Well we are a month away from the provincial election here in B.C. which is hard to miss considering the non stop Liberal ads running every day all day on the radio, TV and social media.
I don't know about you but I am pretty sick of listening to how great the Liberals are and how B.C. is #1 in everything. Mostly because I look around and it's pretty easy to see that we as a society are struggling big time. Homelessness is becoming a massive problem thanks to out of control housing and rental prices resulting in tent cities springing up all over the province. Food bank usage is at an all time high, poverty levels are steadily rising and we have been deep in an opiate crisis that has resulted in close to 1000 deaths so far.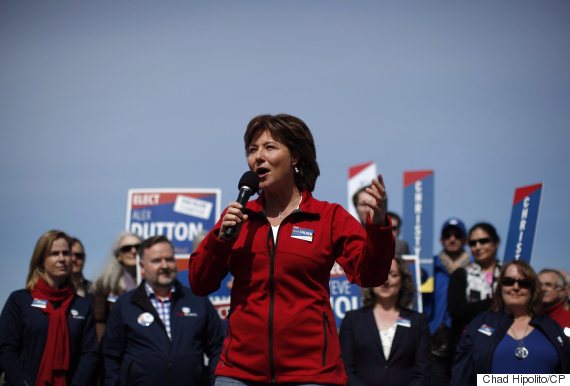 Liberal Leader Christy Clark speaks to candidates and supporters at the Elk Lake boathouse in Saanich, B.C., on Tuesday, April 11, 2017. (Photo: Chad Hipolito/CP)
I am utterly amazed at the pure blatant spin that our government is pushing on citizens and using millions of our own tax dollars to do it. After 16 years in power, if the Liberals were so great and if B.C. was #1 in everything they shouldn't have to spend $15 million promoting themselves to citizens. On the other hand if they know they have ignored citizens in favour of rich donors to the point where the province is suffering, I suppose a multi-million dollar advertising blitz doesn't seem too bad of an idea. Makes it a lot easier when you have access to unlimited tax funds and have the loosest corporate donor restrictions in all of Canada.
Just for the sake of argument lets look at some of the "facts" portrayed in the Liberal ads and why they do not represent the true reality in B.C.:
"B.C. is #1 in job growth in all of Canada" while B.C. might be #1 in creating jobs by basic stats, our quality of employment is worsening faster than any other province with 75 per cent of jobs created being part time low paying positions and 83 per cent were concentrated in the lower mainland while northern B.C. and other areas in the province continue to lose jobs. We have lost 30,000 good paying-family supporting forestry jobs under the BC Liberals and they are now bragging about creating the most part time low wage jobs, not exactly the what I would consider a positive job growth.
"B.C. is #1 in Economic growth" While we might have been leading in official stats again these do not show the whole picture. Many experts agree that the economical growth experienced in B.C. is related to the out of control real estate market and foreign ownership and are now projecting the growth to decline with the housing market cooling off. So while there was a lot of money coming into our province it wasn't benefiting you or I, for the most part it was going into the pockets of realtors and developers and working against citizens by making housing less affordable. Then there is the Code Red campaign which highlights a recent UBC report showing B.C. has the worst economy for younger generations which is in part due to the housing and job prospects.

"Control Government Spending" Slightly different from the "Debt Free BC" slogan Clark and the Liberals used in the 2013 election. I imagine that much like the "families first" slogan they just weren't brave enough to try that one again. Considering our overall provincial debt has skyrocketed under the B.C. Liberals whose financial obligations increased $76 billion in six years. Then you have all the controversy spending like Clark's $50k salary top up, the millions spent on photographers, private jets and car allowances not to mention the recent lawsuit filed against the Liberals who are accused of spending $15 million on advertising this election. Does this sound like a fiscally responsible government to you?
So while the multi-million dollar spin machine runs at full speed I recommend that everyone take a look around their community and province; at the people dying on the streets, the families living in their cars, the long line ups at the food banks, the falling apart school buildings, overcrowded hospitals and make up your own mind about how well we are doing as a province.Because Clark and the B.C. Liberals are clearly living in their own little bubble that very few of us could ever afford to live in.
Follow HuffPost Canada Blogs on Facebook
Also on HuffPost: