 The week of October 20, while walking past the Drake Hotel in Toronto, one of your employees handed me a unibrow and a card that said I should wear it in order to get 50 per cent off the price of admission to your exhibit "Frida and Diego: Passion, Politics and Painting." I am glad that Frida Kahlo's work is here in Toronto and that you are eager to have people come see it, but I can't help but think this stunt isn't how Kahlo would have wished to be remembered.
An outspoken woman who was a devoted communist, Kahlo was much more than just a black stripe above the eyes. She was, in every sense, a radical. Her paintings, which place a strong emphasis on Indigenous Mexican imagery, represent a highly imaginative style and portray women's experiences in a manner more explicit than any of her contemporaries. Kahlo's iconic self-portraits include depictions of everything from her imagining of her own birth and nursing experiences, to her painful miscarriage and tumultuous relationship with painter Diego Rivera. With no lack of spilled blood or ripe guts on display, they are some of the most powerful images in contemporary art.
Yet, when I wear this unibrow, and when I see others wearing it, it doesn't feel like much more than a silly publicity stunt. On Saturday, October 20, the Toronto Star showcased pictures of people wearing their unibrows at the AGO's photobooths, where patrons are encouraged to take Frida-like snapshots in exchange for a discount on the exhibit. In most of these pictures, people are laughing or making funny faces, generally acting like the black fuzz above their eyes is part of a costume and nothing to be taken too seriously.
In one photo, a little girl wags her fingers by her ears and sticks her tongue out at the camera. In another, a man laughs discreetly from behind a hardhat. In each photo, the subject tells us they are wearing the unibrow not in an earnest tribute to the artist and her work, but with a cool and distant irony.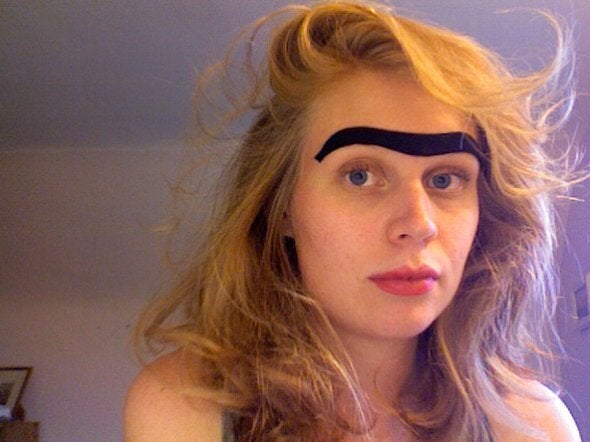 I hate to be a killjoy here, AGO, but since when did celebrating an artist who challenged our ideas of feminine beauty by refusing to change the way she looked involve breaking her down through the implicit public ridicule of her appearance? Over the course of her lifetime and afterwards, Frida Kahlo's unibrow was viewed as many things -- striking, daring, odd, challenging, coy, studied, bold, memorable, and the reason so many men fell love with her -- but never as a city-wide joke. Why start now?
"Yes, I'm a baptized Sikh woman with facial hair. Yes, I realize that my gender is often confused and I look different than most women. However, baptized Sikhs believe in the sacredness of this body ... and, must keep it intact as a submission to the divine will ... by transcending societal views of beauty, I believe that I can focus more on my actions. My attitude and thoughts and actions have more value in them than my body because I recognize that this body is just going to become ash in the end, so why fuss about it?"
Though Kahlo's reasons for keeping her unibrow might not have been religious (as Kahlo once wrote in her diary: "of my face, I like my eyebrows and eyes"), her belief in the importance of her own thoughts and actions over meeting society's expectations is certainly something she and Kaur share. Throughout her life, Kahlo always resisted the norm: from painting "whatever passed through her head" to involving herself in politics while most women sat on the sidelines -- and yes, by having a unibrow. Kahlo always stayed true to her own beliefs and instincts, and this who-cares attitude was the reason she gained so much respect around the world.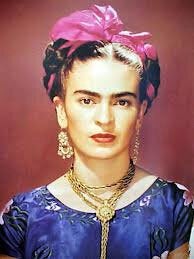 Image from FridaKahlo.org
What then, dear AGO, do you tell us about Frida Kahlo when you hand out stick-on unibrows to people who know nothing of Kahlo's paintings or her feminist impact, and ask them to pose for the camera? The answer is nothing. Instead, your cheap marketing scheme robs Kahlo's unibrow of all its glorious beauty and meaning, and glibly reinforces the idea that gender is something that exists in a binder and that gender deviance is something to be mocked.
Yet, it's possible to paint a different picture here. Encouraging patrons to do their research about the woman behind the brow -- the one who achieved so much for women in both art and politics simply by being herself -- can help give meaning back to that fuzzy piece of felt and perhaps return some playfulness to your campaign.
As your curator Dot Tuer explained in an interview with the Toronto Sun, "(Kahlo) had a great sense of humour, a great love of life, so the unibrow is supposed to be funny." Why then with this campaign don't you tell us a little more about Kahlo -- the politics and personal tragedies that shaped her, the isolation she felt from the world, the portraits that make her so great -- and let us all in on the joke.