DrAfter123 via Getty Images
It's the most wonderful time of the year for Canadian mental health advocates! Wednesday, January 28 is Bell Let's Talk Day. To learn more about this amazing initiative click here.
First things first, let's learn the basics. What is mental health? People tend to get mental health and mental illness confused. It's not hard to understand why, seeing as they are very much connected to one another.
"Mental health is a state of well-being in which the individual realizes his or her own abilities, can cope with the normal stresses of life, can work productively and fruitfully and is able to make a contribution to his or her community." It also means striking a balance in all aspects of your life: social, physical, spiritual, economic and mental.
"Mental illness is a recognized, medically diagnosable illness that results in the significant impairment of an individual's cognitive, affective or relational abilities. Mental disorders result from biological, developmental and/or psychosocial factors and can be managed using approaches comparable to those applied to physical disease." Examples of mental illness are depression, schizophrenia, anxiety, bipolar disorder etc.
On Bell Let's Talk Day, conversations will be taking place online, in homes, schools, and offices across the country. All wonderful, but, will you be participating in these discussions by sharing your personal experiences? Many people won't. Why? Because even on special days like this, where we are encouraged to be honest and open about mental health, many of us are still embarrassed. We may be ashamed or afraid of letting others see any sign of "weakness" (which is a stigma people associate with mental illness), or what people might think of us if they knew our "secret."
Perhaps we can dissolve these fears by having a conversation with ourselves about our own mental health. Only then can we begin to truly understand the message and importance of Bell Let's Talk Day.
How exactly does one go about having a conversation with themselves? Begin by asking yourself the following questions:
Do I take the time to step back and reflect on what's happening in my life?
Am I mad? Am I happy? How am I feeling right now?
How am I really doing?
When was the last time I let myself have a good cry or laugh so hard until my stomach hurt?
What's missing from my life/ what would make it better?
Are my day to day needs being met or fulfilled? (See Maslow's Hierarchy of Needs below, starting from Physiological and working our way up to Self-Actualization)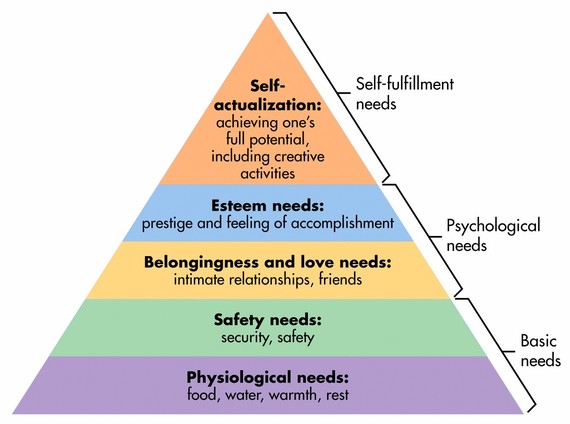 It's not unusual that we get comfortable with our everyday routine -- wake up, go to work, come home, watch TV, go to sleep. We often forget to take care of ourselves in the simplest of terms, which can play a big role in our overall mental health. Let's start to look at our own mental health and the improvements we can make. Getting in touch with ourselves is the first step in breaking the stigma.
If you can take anything away from Bell Let's Talk Day, take away the fact you are not alone. Don't be afraid to let things unravel. Speak up! Ask for help when you need it, and most importantly, lend a hand to others.
ALSO ON HUFFPOST:
Getty Images

Getty Images

Getty Images

Getty Images

Getty Images via The Toronto Star

Getty Images

AP

Facebook

Getty