Dimitri Otis via Getty Images
I should start off by telling you I was a bit weary to write this piece because I didn't want to come off as whiny or desperate, but I feel that is important to be honest about the situation I find myself and many others in.
How many times have you heard the fact that many young people can't find work in their field after graduation? It's become a regular topic in the news and sadly, at my dinner table. Three years ago I completed a four-year program that allowed me to graduate with both a degree and diploma. It was a solution to the problem I had heard about (university students having to attend college to get hands on skills, and vice versa for college students to get a degree). With that being said, can someone please tell me why, three years later, I have yet to land my first "adult" job in my field? I can only imagine the responses I will get to that question. So before the comments come pouring in, let me just explore some situations with you.
1. Entry Level -- Many of the "entry level" jobs I apply to ask specifically for three to five years of working/ paid experience in a previous similar role. If nobody gives us new kids on the block a chance, how can we ever get those years of experience? I have been to several job interviews where I think I did great, get a call back for a second interview and get my hopes up only to fall flat on my face. "We just wanted to let you know you were really great, and we think you would be a great fit, but unfortunately we went with someone who had more experience. We can keep your resume on file and give you a call when a similar position becomes available."
2. Network, just keep networking -- I've been networking for three years, successfully networking I might add. Sure, I've learned a lot from some of the really great professional connections I've made, but I have yet to get a job through networking. I have heard so many times from people "Can't you ask so and so to get you a job there?" No, no I can't. That's not the way things work anymore.
3. Volunteer somewhere to get an in -- I absolutely, positively agree that volunteering is an important part of gaining experience in your field. However, I know there is a slim chance I will get hired after I volunteer with an agency because many non-profits rely on volunteers in order to stay afloat. Yes, there may be "paid" positions, but how often do they become vacant? I had three student placements, one in particular that I absolutely loved and could see myself working there in the future. Lo and behold a position became available for the exact work I had been doing voluntarily for the past eight months as a student, so of course I applied. I followed up with them a few weeks later, and they told me because I didn't have paid experience, I wasn't qualified. Were they serious? I just did that exact job with them, unpaid! I knew the clients, I knew the policies and procedures, I knew the staff, I knew everything that job entailed, yet I was unqualified.
4. Apply, just keep applying -- I am not sure people of earlier generations actually understand what job applications entail or how many people apply for the same position (it's thousands by the way). Personally, each and every application can take me a few hours. I have to tweak my resume and cover letter for the specific job I am applying for. It's not as simple as copying and pasting and crossing my fingers. The competition is fierce and you have to sell yourself (as much as I hate doing it). I sometimes go over my resume and cover letter for days before I actually submit it. The pressure to come across as that unique, perfect candidate has to be squeezed into a few pages, and you just have to hope it does your personality and professional skills justice. It becomes very overwhelming and disheartening after a period of time, and you start to lose faith in your abilities. This is extremely hard for someone who already suffers from depression and anxiety. I know I have the passion and qualifications, but it's my lack of patience that's starting to wear thin. Will I ever get a job in my field? At some point or another I will have to work full time (in a replaceable job) and give up the energy I have been putting in applying for positions in my field just to make ends meet.
5. Don't be so picky -- I wish I could be picky. I wish I could even get the chance to be picky. I have even started applying to jobs that I know I am not fully qualified for. At this point in my life, I would take below minimum wage to get the chance to work in my field. Desperate? Maybe. But I would do anything to get the experience and get my foot in the door.
So hiring committees, I ask you this: Why don't you take a chance on me or new grads who are looking for their first break in the workforce? We are eager, and ready when you are.
Please leave your experiences looking for a job below in the comment section.
I found some hilarious memes on the Internet that I couldn't help but throw into this piece: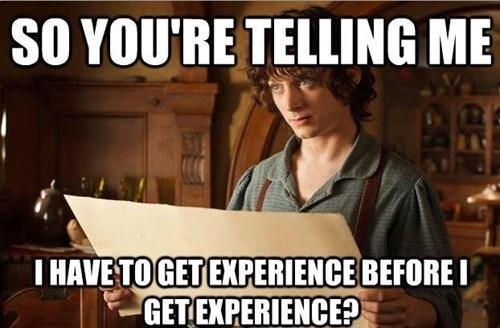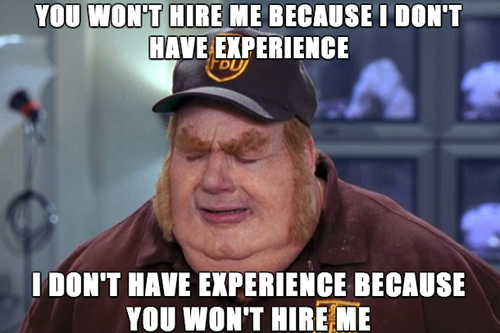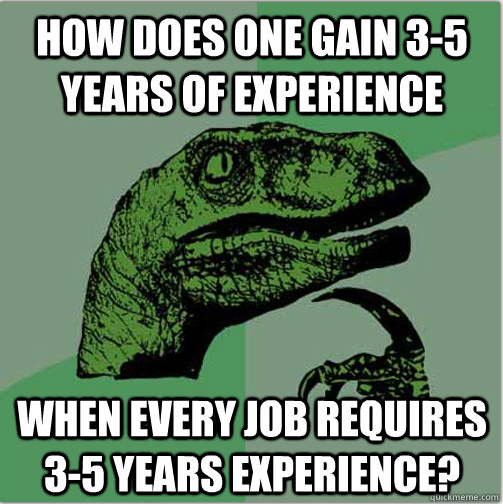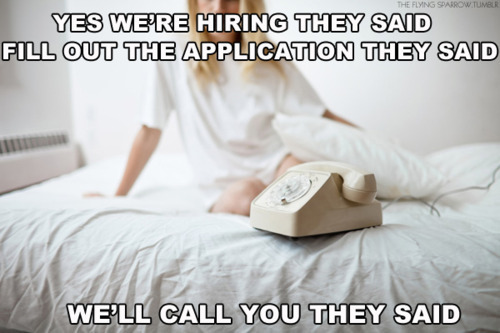 ALSO ON HUFFPOST:
Youth Unemployment Rates In Ontario