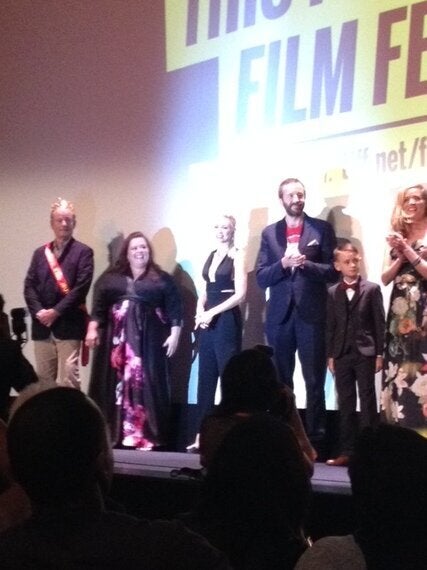 The common theme of the day was: About a boy.
My first screening was Boychoir with Dustin Hoffman, Izzy Izzard and Cathy Bates. Afterwards, I crossed the street for the St. Vincent premiere starring Bill Murray, Naomi Watts, Melissa McCarthy and Chris O'Dowd. While each plot was of course different, both featured young characters who learn about life and their own abilities thanks to a flawed mentor, who also changes for the better in the process.
The last time I saw Dustin Hoffman was at the Elgin premiere of Quartet. Ironically, he was just as nervous about last night's film as he was for his last piece, for which he had more at stake. Despite the nerves, he was able to still crack jokes: "A boy's soprano is more pure than a girl's. That's not sexism, that's just an opinion."
We'll it's one that I agree with, as I sung in Anglican choirs for years. The movie was about Stet, a troubled yet talented kid of around twelve who loses his alcoholic single mother but gains an opportunity to audition for the American Boychoir. His birth-father, played by Josh Lucas, is forced back into the picture after the mom's funeral. He acknowledges his son but by blood only since he now has a new and more legitimate family. We get the feeling that having Stet accepted into the boarding school helps the dad more than the kid. Once in, Stet has a lot of catching up to do, both musically and socially. And this is where the movie becomes glorious. Those voices were amazing. As it turns out, many of the students from the American Boychoir were cast in the film. I often found myself with goose bumps and in tears because of the stunning voices. The best scene was occurred in a chapel where the boys practiced Spem in Alium, a 40-part motet by Thomas Tallis, considered one of the best choral composers of the Renaissance. (Run, don't walk to get your hands on this beautiful piece.) At the end of the film, the audience shot to their feet in applause and bravos for the entire cast, but especially for Garrett Wareing who played Stet. This film shouldn't be missed.
As I headed towards the Princess of Wales theatre, I had missed most of the thunderstorm however it was still raining. I learned later that Bill Murray had worked the crowd in the rain without an umbrella. Talk about being a trooper! Another common theme for Day 2 of TIFF was delays. Much of the audience was kept outside because things were starting and ending late. So by the time they came in, they were soaked despite having umbrellas. If they arrived grumpy and cold, their moods were quickly improved when King Bill joined the cast on stage for their introductions.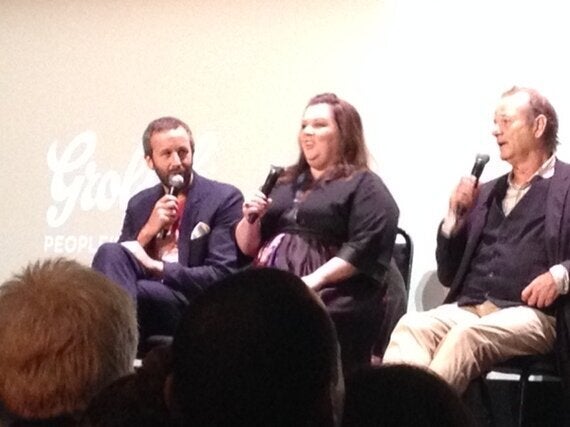 In St. Vincent, Murray is a curmudgeon who reluctantly takes his new neighbour Oliver under his wing each day after school. Oliver accompanies him to the racetrack, the local bar and to the retirement home where Vin's wife with Alzheimer lives. Not only does Oliver learn how to break someone's nose thanks to Vin (using the base of your palm, force it straight up starting under your opponents' nose. Blammo, they're down for 10.), he also learns that Vin is more than a heavy smoker, drinker, gambler and lover of a Russian "Lady of the Night." Needless to say, this fantastic ensemble received much love from us at the end of the film. They also treated us to a hilarious Q&A. I loved how accessible and open they all were. I usually try to ask a question, but I was enjoying myself too much. However, had I gone up to the mic, I would have asked about the white Persian cat that I swear they cast after his amazing performance in The Right Kind of Wrong with Ryan Kwanten.
"Great film everyone. You really blew me away. But I have to say, the white cat was outstanding. I see that the rain must have prevented him from showing up -- you know how cats hate to get wet -- so maybe you can tell me more about how he got into his role? What inspired him in the development of his part?..." Yeah, I know -- too silly. But, Bill Murray Day made me do it.