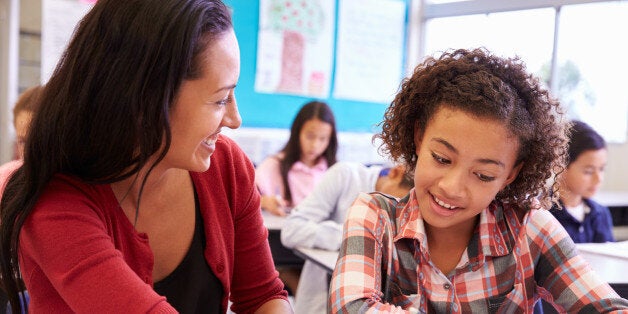 With the end of the school year upon us, you might be stuck on what to get for your child's teacher. The fact is, gifts are symbolic and convey meaning and the right gift goes a long way. Here are some of the dos and don'ts of teacher gifting to help guide you.
Avoid beauty products. Beauty is personal to each individual, which makes picking the right product next to impossible. From allergies, to scent preferences, it's best to avoid beauty-themed gifts.
Apple motifs. While many associate the teacher profession with apples, your child's teacher likely has a considerable collection of such items, especially, if he or she is a veteran.
Food in general. Food gifts are best avoided, as you may not always be aware of allergies, sensitivities and the like.
Think outside the ordinary mug. While teachers likely receive multiple coffee mugs each year as a gift from parents, there are ways to get creative when it comes mugs and convenience. For example, this sleek and well-insulated Aladin Topo Stainless Steel Mug is perfect for any summer travel your teacher has planned. It will also come in handy during the morning commute to school, come September.
Purchase gift cards. Yes, they seem impersonal, but in all reality, your child's teacher spends a lot out of their own pocket money on school supplies, books, and crafts - it all adds up! A gift card to Staples is one way you can contribute and say thank you!
You can also give your child's teacher a night off, with restaurant gift certificates or movie passes. Include a handmade gift card from your child to give it that added personal touch. If you are late picking up a gift for your child's teacher, don't panic, Groupon provides you with the convenience of emailed a gift card.
Get creative with homemade gift baskets. Save money by creating your very own homemade gift baskets. Create a school supply cake by shopping online for great deals on chalk, pens, rulers, and calculators and tie it all together with ribbon and cellophane. If you are looking to add to the school theme, there are some fun printable giftwrap packs on Etsy!
Hot summer reads. Teachers spend a lot of time preparing lessons outside of class that they likely have limited to read for pleasure during the school year. You can't go wrong with a best seller that he/she can read over the summer months. Check out Indigo's Must Read Books for 2016 to help you decide.
Letter of thanks. You can never go wrong with a picture or thank you letter from your child and/or yourself. Teachers are always happy to know that they have made a positive impact on the lives of their students, and so a letter of thanks goes a long way!
Sari Friedman is the Marketing Director of Ebates Canada and resident shopping expert. Ebates.ca is Canada's largest cash back shopping site. As a fashion enthusiast and new mom, Sari has an eye for finding and sharing amazing deals on the hottest trends and must-have styles.
Follow Ebates Canada on Twitter for the best Canadian deals, Cash Back offers and online shopping tips @EbatesCanada
Follow HuffPost Canada Blogs on Facebook