Shutterstock.com
I apologize for not having a spoiler warning before the title.
The drama is gone.
I am an empty husk.
It's only through an awesome, eerie force of otherworldly energy that I am able to animate my fingers upon my trusty Underwood™ typewriter while I lie in a sticky pool of my own despair. A sharp pain at my side. Those who have also lost to Drake... my precious sisters and brothers... you alone understand.
I can't say it was really a surprise. As stated in my previous blog posts (found here), I felt I had about a 3% chance to win a Juno in the Best Video category (sponsored by MuchFACT, the amazing organization that is a large part of why Canada has a thriving video culture and legacy). In my heart, my odds didn't really change until they were announcing the nominees. I quickly raced in my head for a speech. Just in case.
In those moments, I recalculated my odds. I thought of the other videos in the category.
I'm stunned by the astounding artistry and sheer amount of work WeWereMonkeys committed to making "Little Talks" for Of Monsters and Men.
I've long been a fan of the stunning and magical photography that double-nominee Margaret Malandruccolo always employs. Her two videos, Johnny Reid's "Fire it up" and Alan Doyle's "Testify" (featuring Russell Crowe) are both epic and heartfelt.
My own video for "Little Boxes", by the irrepressible Walk Off The Earth, was a special project brought to fruition by so many intensely talented artists and collaborators that I've been fortunate enough to work with. I'm damn proud of it.
And then that Drake guy. He pulled a low move. A dirty cheating trick. He used a video to take a chance and reveal something about himself. In "HYFR", he publicly embraced his Jewishness -- he came out -- in music video form.
Everything begins with a video clip from Drizzy's actual Bar Mitzvah.
Brave and bold. With balls.
Where do you go from there? You let legendary Director X go to work. What would Drake's Bar Mitzvah look like if he had it today? It'd be a party. He'd probably invite Lil Wayne. And it's weird... at my Bar Mitzvah, Lil Wayne was much more reserved. But that was then.
So there I sat. Quickly recalculating myself up to 7-10%. Marianas Trench (three-time 2013 Juno nominees) were presenting the award. In their opening speech they told a story about how their first ever Juno nomination was for Best Video. But they lost. To Blue Rodeo.
There it was. A sign. I now had a story to tell. My first ever Juno nomination was also for Best Video (but as an unmusical director, that's probably the only category I'll ever get nominated in). And then... I also lost to Blue Rodeo. It was the same year. We were fellow losers. Cringing together in that frozen moment under the monstrous shadow of my Original Drake (as I now call Blue Rodeo).
For a moment, I believed. And then...
Well... see the title.
He made a good video. It's the video that I thought would win.
Sadly, neither Drake nor Director X was there to accept the award. They robbed me of probably my best moment to run on stage and "Pull a Kanye."
I think that's what sent me into the downward spiral. I ordered another drink. Then a double. Then a triple. And a Regina triple is pretty stiff, let me tell you. The air was cold. I could barely see as I staggered down the road towards downtown.
That's when I saw a flickering light. I moved toward the light and it dawned on me that I needed to commemorate the moment.
First I was going to honour the night in bile and vomit. But something went off in my brain. A switch was flipped. I let love in.
The tattoo artist's internet connection was down. He couldn't pull up any references. I saw his other work and, to my blurry eyes, it looked impressive. What the hell, I told him. Draw it from memory.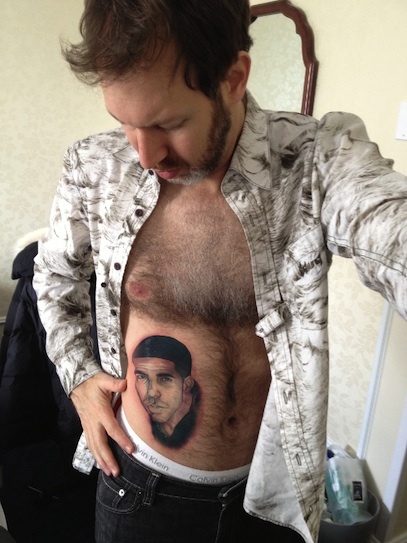 Jews in the entertainment industry. I just can't beat them.
I'm glad Drake made his video. I'm glad WeWereMonkeys and Margaret made theirs. I'm super glad I made mine. I'm happiest when I'm filming and creating and collaborating. I'm grateful for those experiences and chances to express myself. I'm thrilled that videos still exist and that more and more people are watching and supporting them. They exist as viral videos created at home for nothing, multi-media animated art pieces that take months to do, cinematic tales that inspire, and engaging performances that reveal an intimate, humorous or energetic side of a musician at their best. More often than not, they're labours of love made from the heart by a group of people who really give a shit.
Long live videos. Long live my Drake tattoo.
2013 Juno Awards Red Carpet And Awards Show