Jupiterimages via Getty Images
Curlina first learned to cook while growing up in Grenada. It was her grandmother who patiently taught her to prepare meals and bake cakes, and it was these days in the kitchen that she first thought she could pursue a culinary career.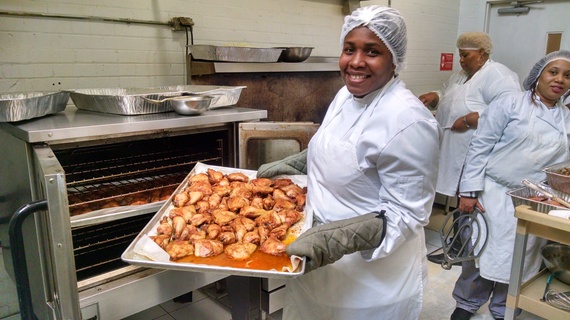 Curlina came to Canada in 1995 and was unable to find work. Like Curlina, many newcomers to Canada find themselves facing significant employment barriers such as language, Canadian work experience and credential recognition. Even finding child care and navigating transportation to get to jobs can prove to be stumbling blocks as newcomers look for work.
Through Second Harvest's Harvest Kitchens program, Curlina is able to overcome those hurdles and follow her passion. Working under the supervision of food service professionals, Harvest Kitchens trains adults and youth facing barriers to employment in food preparation, while turning recovered food into nourishing prepared meals that Second Harvest then delivers to hundreds of hungry Torontonians every day. Last year, the Harvest Kitchens program prepared over 380,000 meals.
"I'm so happy that the food I'm cooking is going to someone who needs it. I once lived in a shelter so I know what it's like to not have much," Curlina noted. The training she is receiving through the program will provide her with valuable job skills needed to help achieve a self-sufficient future.
Every day, Second Harvest delivers a portion of donated fresh and frozen food to its four Harvest Kitchens partners around the city. During a 17-week training session, students prepare over 20,000 meals for people in need across Toronto. These meals are delivered to agencies lacking kitchen facilities. Outreach workers and volunteers also deliver a number of these balanced meals to those who are unable or reluctant to go to agencies because of physical or mental challenges.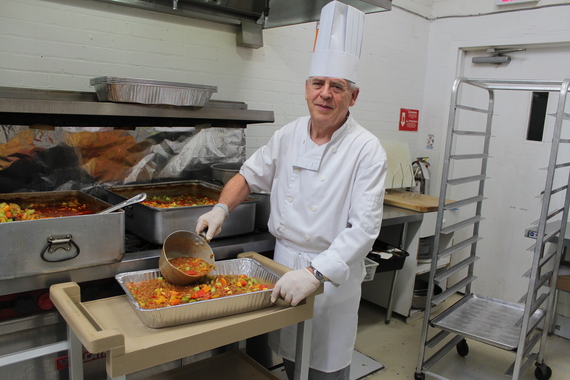 "I plan a menu based on what Second Harvest delivers that day," says Chef Instructor Patrick McNamara, who spent over 25 years working as head chef at various hotels and at Canada's Wonderland before taking on the teaching role at LEF five years ago. "What they get is hot, nutritious meals."
Recent menu items include roast chicken, pork chilli and beans, chicken wings tossed in honey garlic sauce and beef and potato goulash. All were cooked from food provided by Second Harvest.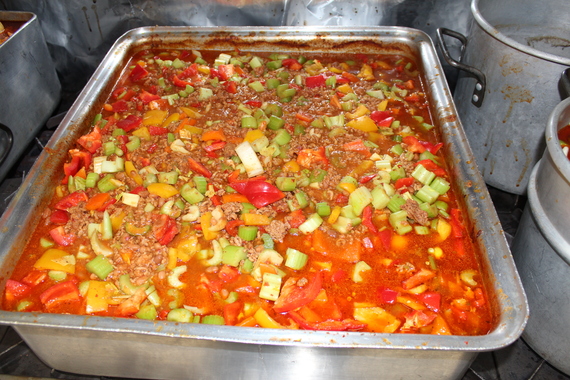 The Harvest Kitchens program attracts people of all ages -- youth who are still finding their way and adults who need a fresh start. It doesn't just hone their culinary skills, it teaches them what it's like to work in an establishment -- often students make 500 meals in a day and some days they're making multiple dishes. The program has a 68% placement rate for graduates, through opportunities in hotels and restaurants around the city.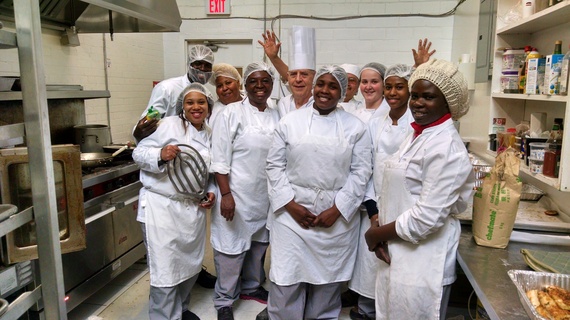 "This system works. It works well for LEF because we train the cooks and it works well for Second Harvest because we help their agencies. In the end, everyone benefits," says Pat.
Curlina hopes to land a job in a kitchen that lets her apply what she's learned at LEF and also share her Caribbean cooking heritage. "I was so excited when I got accepted to the program because now I will be able to make a better life for my kids," says Curlina.
Follow HuffPost Canada Blogs on Facebook