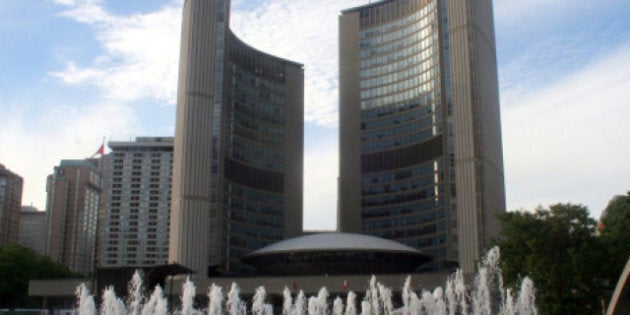 The city of Toronto, and more specifically its budget, has quickly turned into one of the most interesting stories of the year. With a projected budget shortfall of nearly three quarters of a billion dollars -- and less gravy than Mayor Ford promised could be found -- there is no doubt that council will be faced with some very difficult decisions in the near future. As the former mayor of Toronto, I've been watching the debate unfold closely, hoping that council and the mayor can find a reasonable and responsible solution for a city I care so much about. Because make no mistake, we must stop moving the shortfall from one year to another without a permanent resolution.
Making programs and services more efficient and effective is welcome, and that should help in reducing costs and better serving public needs, but it would be naïve to assume that efficiency alone could solve the deficit. Therefore cuts, and maybe tax or user fee increases, will have to be made. However, any cuts that could be detrimental to the quality of life that our city has come to enjoy are not welcome.
In particular we must avoid cuts that would affect the most vulnerable among us -- the poor, the elderly, racial minorities, the disabled and at risk youth, to name a few. These individuals rely on programs and services like nutritious meals for low-income children, child care, libraries, and affordable housing every day. Without these, their quality of life would be drastically reduced, and at what cost? Many of these programs are just a drop in the proverbial bucket that is the city's budget. Remove them for a small gain, or maintain them for a tremendous upside; it seems like a simple decision.
Report after report has proven that these programs matter, and should be strengthened not cut. Both the Conference Board of Canada and the Canadian Centre for Policy Alternatives have demonstrated a widening gap between the rich and the poor. Professor David Hulchanski at the University of Toronto writes about Toronto being made up of three components -- the rich, the dwindling middle class, and increasing low-income neighbourhoods. The United Way describes the concentration of poverty in high rise apartments. All of these reports point to an increasing threat to the social fabric and social cohesion of the city. We can't afford to abandon the vulnerable in our society. We shouldn't balance the books on the backs of the poor. We will pay a lot more in the long run if we do.
Plenty has been written about the world-class status of Toronto. There are many components to that reputation. The safety, cleanliness, and liveability of our city. The arts and cultural life, our education systems, our parks and ravines, our distinct neighbourhoods, and how we treat our most vulnerable citizens. All these components are important for attracting investment and people coming to Toronto as tourists and new residents bringing new talents, ideas, and creativity. We can't afford to lose the synergy that comes from all of these characteristics. We can't afford Toronto going from world class to mediocrity.
Council must be careful about cuts to programs and services that could affect our quality of life in Toronto. The KPMG reports do not look at the long-term consequences of their cut options. Council must do that. The public needs to know what the trade-offs are in this exercise and be given adequate opportunity to register their opinions on the details. As is often said: 'the devil is in the details.'
Art Eggleton is a Liberal Senator from Toronto. He is a member of The Standing Committee on National Finance and is Deputy Chair of The Standing Committee on Social Affairs, Science and Technology. Visit Sen. Eggleton on Facebook.