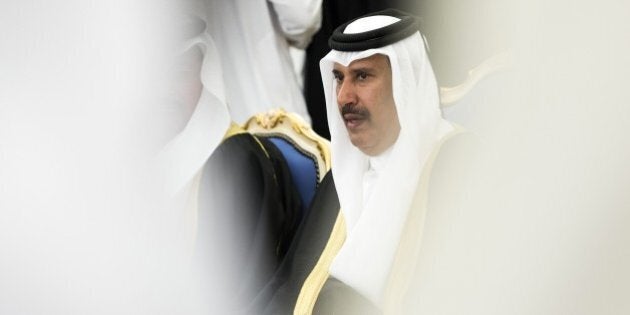 From the time he received the throne in 1995 until the day he died, Abdullah watched, mostly in silence, as the world became mired in religious extremism and as blame for the chaos fell squarely upon the shoulders of ordinary Muslims.
Abdullah witnessed thousands of unholy jihadists unite under the banner of terrorist groups, such as ISIS, Al Qaeda, The Taliban and Boko Haram, all disturbingly branding themselves as "Islamic," reportedly with funding from Gulf countries, including Saudi Arabia. He watched, as in their wake, bombs exploded and millions of innocent refugees of all faiths and beliefs, men, women and children, lost their homes, or worse, were injured and/or killed.
Abdullah knew and implicitly sealed the export of hateful Wahabism from Saudi Arabia's borders to all corners of the earth, ignoring centuries of tradition from its Islamic anti-thesis, Sufism. He watched, along with the rest of us, as the traditional, more peaceful way of Muslim life, in places like Pakistan, Malaysia, Indonesia and parts of Africa and India predominantly ended, only to be replaced by a rigid, violent dogma which silenced and killed politicians, activists, police, soldiers and citizens, all in the name of Islam.
About two months before Abdullah died, two young female activists, Loujain Al Hathloul and Maysaa Al Amoudi were arrested and thrown in prison in his country, having drove over the border from the United Arab Emirates, after having been waved into the country by Saudi border guards. They remain in jail. Their crime? Driving, while female, on Saudi soil.
Before Abdullah died, co-founder of the Saudi Liberal Network and Saudi's first female litigation lawyer, Souad Al-Shammary, was thrown in prison, as well, where she remains, reportedly mistreated by authorities, her much-needed medication withheld. Her crime? Questioning the "requirement" in Saudi Arabia for men to wear beards. Even the enemies of Muhammad wore beards in his era, she had said, upsetting Saudi's bearded clerics.
While Al-Shammary, a mother of six, suffers, not far away sits the head of the Saudi Human Rights Monitor, lawyer, Waleed Abulkhair. Sentenced to fifteen years in prison for "distorting the King's reputation", Abulkhair is in jail also. To date, he has not held his new baby, Joud. And everyday his wife, activist, Samar Badawi, struggles for his release.
Why is this Saudi lawyer in jail? Possibly, in part, because he was bold enough to represent activists like Saudi Arabia's most famous political prisoner, Raif Badawi, leader of the Saudi Liberal Network.
Badawi, a father of three, whose wife and children are now in Canada, remains in jail in Jeddah. He was sentenced to 10 years in jail, 1000 lashes, a fine of $266,000.00 (US) and is subjected to a permanent travel ban. His "crime"? Opening online debate in Saudi Arabia, in which he asked why Saudi Arabia has no churches for Christians, no womens' rights (including the right to drive) and upholds medieval apostasy laws.
Badawi was silenced by Abdullah's government in June, 2012, when ordinary Saudi citizens started to pay attention to his blog. On January 9th, 2015, Abdullah's government carried out part of his sentence, flogging Badawi at the Al-Jafali Mosque in Jeddah, shortly after Friday prayers. As Wahabists cheered, Muslims from tolerant schools of thought and their fellow citizens of other faiths and beliefs, signed petitions and gathered at Saudi embassies all over the world to demand his freedom.
The Saudi prisoners of conscience named here are the tip of the iceberg. More exist.
Remembered by western leaders as a "man of peace" who "encouraged reform," some of whom plan to attend his funeral this upcoming Tuesday, Abdullah's crimes against humanity include failing to uphold human rights in Saudi Arabia and permitting the spread of extremism and terror all over the world.
What western leaders may not realize and what we Muslims must know is that Abdullah's rule was marked by events that transformed the world view of Islam from one of mostly apathetic indifference to one which deemed just our unified interrogation as terror suspects. After all, not only are we now inspected with great scrutiny at the world's borders and elsewhere, we are routinely asked today, as a community: "how can you allow such horrific crimes to be committed in your name?"
While Saudi Arabia condemned the killing of journalists at Charlie Hebdo offices in Paris this month, at the same time, the custodian of our holiest sites lashed Raif Badawi, fifty times, in front of a mosque in Jeddah.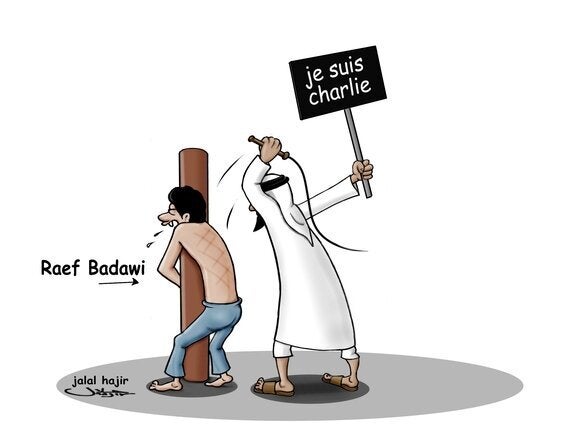 That is illustrated nowhere more profoundly than by Moroccan cartoonist, Jalal Hajir, here.
Though Islam has no Pope, the world looks to Islam's birthplace to form its opinion of Islam and Muslims.
And so the buck stops there, with the King of Saudi Arabia.
It is the reason our condemnation of violence and intolerance, publicly expressed by scores of ordinary Muslims, seems to be heard by no one.
Our voices are silenced by the loud whip of the Saudi prison guard.
Was Abdullah a man of peace and reform? No.
To the contrary -- for us Muslims, the ones who struggle for universal human rights both inside and outside the mosque, Abdullah and his government are a reminder of the words of the Quran which read: "under the guise of apparent faith they (the hypocrites) repel people from the path of God."
Some say no greater enemy of Islam exists.
May our Merciful God guide our hearts, allow our voices to be heard and open the eyes of all our leaders to allow justice and compassion to prevail everywhere.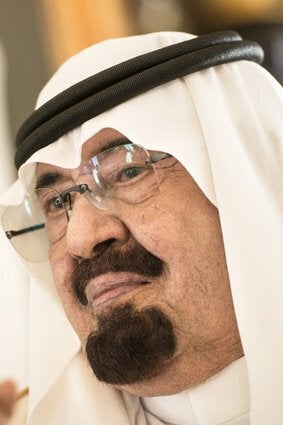 King Abdullah Of Saudi Arabia