The Council of the Federation, the collective name for Canada's provincial premiers and territorial leaders, has just passed its 13th birthday.
Whether it be health accord negotiations, group action to implement environmental agreements or now discussing how legal cannabis will be rolled out across the country, the Council meets several times a year to show that the provinces and territories have united interests on the national stage to deal with the issues of the day.
For the longest time, a photo of the premiers assembled could be mistaken for a photo of a fraternity or a really unsuccessful boy band.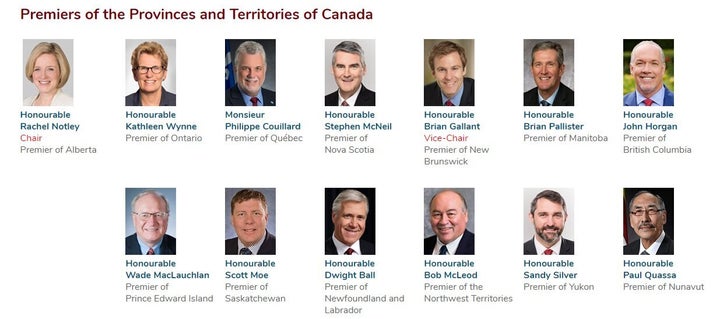 Since then, Pauline Marois and the PQ in Quebec were turfed. Kathy Dunderdale resigned before her party fell into single digit seats in the following Newfoundland and Labrador provincial election. Alberta's Allison Redford suffered scandal in the press and subsequently resigned (after a degree of internal pushing from her own party). British Columbia's Christy Clark resigned after her government was re-elected narrowly, and a coalition of two male party leaders were able to jointly push her aside. Nunavut Premier Eva Aariak declined to seek the role again and then lost her seat too.
The Toronto Star's Bob Hepburn aptly points out that re-election for a female head of government has only happened once in our country's history out of eight total attempts by women leaders. Clark was the only one.
Now, only Ontario Premier Kathleen Wynne and Alberta Premier Rachel Notley sit as two of thirteen on the Council.
Both of them are seeing the Conservative wagons circling, and "conventional political wisdom" among media and pollsters would say to expect losses for both Premiers.
Don't count out women who want to see their voices factored into national decision-making.
Is this sexism? Without a doubt. No Premiers are treated with as much personal contempt and sheer disrespect as premiers who are women. And this doesn't even account for the contempt and discrimination that LGBTQ, Indigenous, visible minorities or "othered" politicians face.
If the two strong women candidates for the PC Leadership in Ontario, Caroline Mulroney and Christine Elliott, split the more centrist voters in the leadership contest, it's possible that Doug Ford could come out the victor. In that case, it's possible the increasingly male Council of the Federation will return to being an all-male affair by around May 2019.
It's not over until it's over though.
Don't count out women who want to see their voices factored into national decision-making. Women and visible minority voters in Alabama prevented an alleged pedophile, Roy Moore, from taking the safe Republican seat. Women were a decisive factor for Wynne in 2013. We could even see the first Ontario provincial election where all major party leaders vying to be Premier will be women.
Although, in terms of re-election and women in positions of power, expectations could not be lower for Wynne and Notley by virtue of the toxic dialogue created around their personal capabilities and their records.
How much of that discussion is fact-based remains to be established. (Spoiler: it's very little.)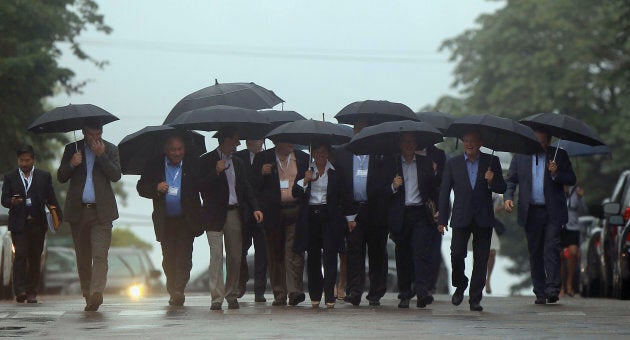 In a sense, men may be setting themselves up to be surprised when Ontarians and Albertans remember that their Premiers have instituted a number of sensible, important policies that will make a real difference in citizens' lives.
It's a question of what barriers are built up so that women have such a high bar to win and also win again. Throughout the history of politics, there are men who were given a second term at the ballot box on benefit of the doubt alone.
A "gender-based lens" on policies and having women make up half of the decision-makers in the room are not covert methods for women to seek advantages or undue benefits. They are just ensuring that policies will be more successful for everyone. It's simply a must-have.
The conventional, traditional, male-dominated politics are not behind us yet. With a feminist Prime Minister, a gender-balanced federal Cabinet, the voices of marginalized groups heard on an increasing basis and an insurgent conversation about whether a black woman could be the next President of the United States, there is hope that "convention" is the antithesis of the direction Canada is headed.
In 2018 and 2019, let's remember that women heads of government should be tested the same as male politicians. And, considering that men have been given the benefit of the doubt for millennia, don't deny women a seat at the national decision-making table.
Women heads of government may again take the majority of the seats on the Council of the Federation, and hopefully it will last this time.