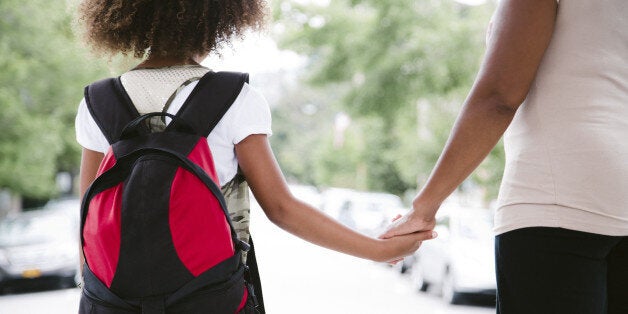 New Power episodes are no longer playing on Starz, you can't turn on the TV or radio without some type of "bogo" sale going on and at least one person is having their final all white party. If this was Twitter, that sentence would have ended with #SummerIsOver #Back2SchoolSeasonIsHere #TeachersStopCrying.
My daughter is anything but excited about this, and I tried my best to do an Olivia Pope type spin to change her mind. I failed miserably. Finding something to make resuming an 8:00 p.m. bedtime seem fun is harder than it seems. So don't judge me.
Regardless of how the kiddies (or teachers) feel about it, IT'S here. Which means we have to plan for it. If you think about it, this is kind of like New Year's Eve without the scrambling for over-priced childcare. It's kind of like a fresh start. OK, I'm doing it again. I'm trying to make you excited about it. I probably failed. Especially if you're a teacher. Olivia Pope spin approach take two. OK, let's try this. I can't promise that this school year is going to be amazing. Or that any of the things that drove you crazy last school year won't still drive you crazy. But I will say I learned a few things last year that I will definitely use this year.
I made a short list of things that parents can do to help start the school year off on the right track. Unlike NYE, I know better than to create a list of things that I will probably forget by March and feel like a failure by July. This list is different, it's actually a few tips to start the school year off right. Think of this more like a short term commitment, nothing that you're going to be obligated to forever. Think more speed dating and less Sallie Mae student loans.
1) Please don't be THAT parent to post a million "our first few weeks of school" pics on Facebook. No need to flood all your friend's timeline with a pic of your child with all of their classmates. Oh yea, while we are on the topic, don't post pics of your child's classmates on any of your social media platforms without the other parent's consent. You might want to stick to that last part all school year.
2) Allow the teacher to see a glimpse of YOU -- I like to feel like my daughter's teachers see a little bit of Nita, and not just Mom. Last year my daughter's teachers and I hit it off well when I confessed that at bake sales, I make the best plastic cups and utensils ever. I mean, I don't want to brag, but I can pick up a mean set of paper towels.
3) Plan for the big ones -- beginning of the school year is a good time to finds out about the field trips that you will likely enjoy more. I make it a rule to attend a certain amount of school trips per year with my daughter. However, her school sometimes has a limit on the number of chaperones they will allow. It's helpful to get this schedule early and try to sign up for the trips you would enjoy more than others.
These three little tips are no promise to a perfectly smooth school year. However, implementing these basic strategies in the beginning of the school year is a pretty good start. Besides, if you actually identify them as goals and complete them you can cut yourself some slack for those New Year's resolution. Happy School Year!
Back To School Bags That Aren't Backpacks