It wasn't for the reason you might think... I am not terminally ill.
As part of my local business networking group, I was asked (as I have been several times throughout my career) to show people what I do for a living. As you can imagine in my line of work, that's no easy task.
Because I feel so honoured and rewarded to help many grieving families whose hearts are broken and forever changed, I wanted to share this experience with others and show them the human side to this business. The side filled with sharing memories, tears, laughter and joy.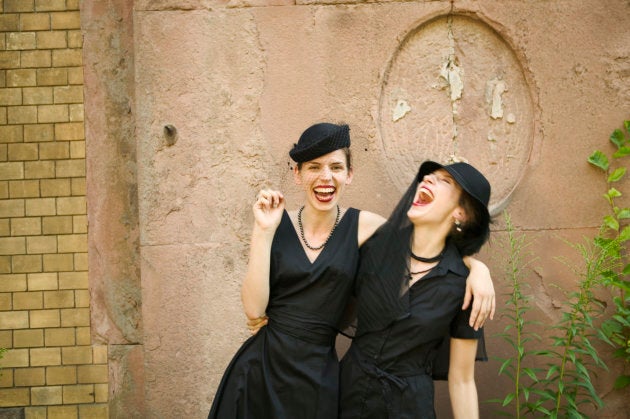 I thought that after planning hundreds of funerals I should be able to orchestrate my own. I simply followed the steps I recommend to families every day. It wasn't easy to keep it a secret, but I managed to pull it off and it was brilliant. I even wore a little black dress, had a DJ and a champagne toast!
What happened at my funeral
As the guests arrived, they were handed a custom-designed memorial card. It included the Prayer of St. Francis, which has always held deep meaning to me. There were several images: one of myself, a photo of my "strength" tattoo, a Scottish thistle and, of course, a butterfly.
Guests enjoyed a meal that included my favourite foods and desserts. While they mingled, the DJ played a custom playlist and my all-time favourite movie "Pretty Woman" was streaming on the screen in the background.
A good friend of mine was the master of ceremonies and, after a brief eulogy, we watched a video tribute. Some of the people in attendance were actually moved to tears. I was smiling the whole time as I knew the impact this experience was having on those present.
I did speak at my funeral — anyone that knows me well would agree I've always got something to say and love having the final word.
It was the most authentic way I have ever shared who I am and what I do for a living.
What the guest response was like
I explained why I hosted my own funeral and planned each and every detail the way that I did.
Although this day was about me, in essence it was for them. I had gifted them this experience just as others who plan their own funerals do. I don't consider it to be morbid or superstitious and certainly won't bring the end nearer, as some believe.
It had the same impact I've witnessed time and time again as we honour people whom we have loved and lost. "It was a great funeral" and "I forgot I was even in a funeral home" were just some of the responses I received.
There were tears, laughter, music, flowers, food and I even gave them gifts to remember me by. It was the most authentic way I have ever shared who I am and what I do for a living.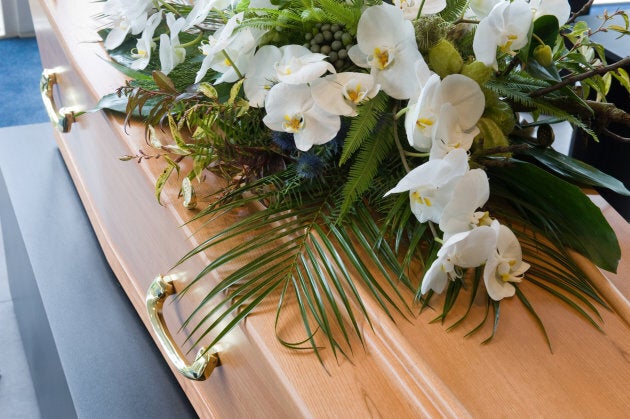 A retrospective of my life
I wish my parents had videotaped my birth. I have always felt that since I couldn't see myself exit this world it would have been nice to see me enter it.
I am inherently drawn to creating connections with people. For as long as I can remember, family and friends have said I have a way of making others feel comfortable. Hosting my own funeral offered me a unique perspective to see the impact I've had on the lives of those in attendance (albeit with this audience, we had more business than personal relationships). It allowed those who didn't know me to get a sense of who I was, beyond the girl with "the big smile who always seems happy."
Personally, I experienced many emotions as I looked back on my life and recognized my struggles have shaped me as a person. My strength of character comes from being both resilient and transparent.
How this experience altered my viewpoint
As I've been working with families to plan end-of-life services for many years, I've developed a very different perspective on death. Though each and every service I've had the opportunity to be part of comes with a different set of emotions, I've been able to separate my feelings and offer grieving families support when they need it.
Going into my own funeral, I had assumptions that the sentiment would be similar and in many ways, it was. This experience solidified my view on the importance of human connection and the opportunity we have, even at the end of life to recognize that grief unites us. When we honour our feelings, we are opening ourselves up to growth and strengthening bonds.
Though I am not ready to leave this world, I can tell you I've had a glimpse of how I may be remembered. Let the band play on...
Have you been affected personally by this or another issue? Share your story on HuffPost Canada blogs. We feature the best of Canadian opinion and perspectives. Find out how to contribute here.