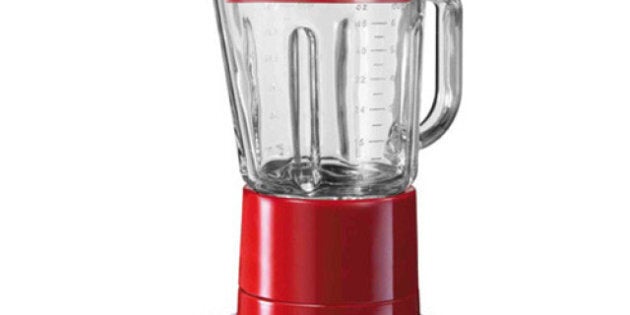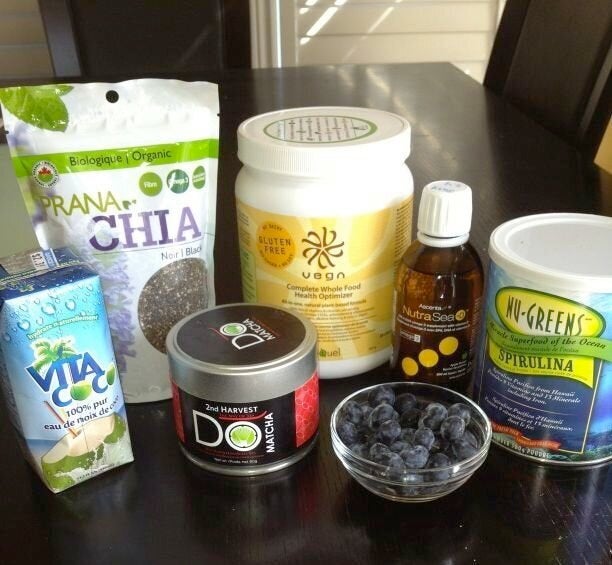 You know that coffee commercial, where strands of steam from the coffee cup penetrate right up the woman's nose, reminding her that the only reason she woke up that morning was to dramatically rip open the dazzling white drapes and sit down with her "I will die if i don't drink you right now," cup of instant coffee?
Well, my morning looked just like that...except there was no steam, no drapes and no peaceful music playing in the background (although, I was singing...just not very well). What got me out of bed this morning was the most amazing, high energy, high protein, antioxidant rich, anti-inflammatory, superfood filled shake. Yes, I know...absolutely nothing like the commercial.
So, why did I start my day this way?
Protein is an extremely important nutrient that must be obtained in the diet daily. It is crucial for our muscles and is a source of energy for the body. It also helps to stabilize our blood sugar levels, keeping us feeling satisfied and full throughout the day -- a great way to curb cravings for sweets.
Protein in liquid form, as opposed to food, is much easier on the body and provides quick energy and nourishment. Food sources can take up to two hours to process, whereas a protein shake takes only 30 minutes.
Adding healthy ingredients to your protein shake, such as green veggies, fresh fruits, superfoods (chia, flax, matcha, spirulina powder, and fish oil) help to increase energy, increase mood, improve digestion, aid with weight loss and contribute to overall good health.
Choosing a Protein Powder
Whey protein has the highest biological value of any protein. It is perfect for those who are not sensitive or allergic to dairy.
It is essential to choose a whey protein made with whey protein isolate or a blend of whey isolate and concentrate -- preferably New Zealand whey. New Zealand whey is the cleanest, purest form of whey available.
• Choosing a brand with added enzymes such as protease, lactase and amylase is recommended, as these enzymes help to make the protein more digestible.
• Choose one that is hormone- and antibiotic-free.
• Choose one that is all-natural, free of refined sugars, artificial flavours and artificial colors.
Vegan protein powders are often made using hemp, brown rice and pea protein. They are perfect for those who are sensitive to whey.
• It is beneficial to choose a raw, sprouted vegan protein powder as this helps with digestibility.
• Choose a brand with no added sugar, fillers, artificial flavours or colors.
Try one of these delicious protein smoothie recipes, or create your own! The options are endless.
Heavenly Chocolate Protein Smoothie

• 2 CUPS OF WATER OR MILK ALTERNATIVE (rice milk, hemp milk, coconut milk, almond milk)

•1 TBSP OF YOUR FAVORITE NUT OR SEED BUTTER (SunButter or Nuts to You Nut Butters)

• 1 TSP RAW HONEY (Nude Bee Honey)

• 1/2 BANANA

• 1 SCOOP PROTEIN POWDER OF CHOICE (or 2 tbsp if it doesn't come with a scoop)

• 2 TBSP COCOA POWDER (raw, sugar-free is the best option)

• 1 CUP FROZEN MIXED BERRIES (mangoes and blueberries are my fav!)

• 1-2 HANDFULS OF SPINACH OR KALE

* Toss all of the ingredients into a blender and blend until smooth and creamy!
Scrumptious Superfood Smoothie

• 1 CUP WATER OR COCONUT WATER (VitaCoco or O.N.E coconut water)

• 1 SCOOP PROTEIN POWDER (or 2 tbsp if it doesn't come with a scoop)

• 1 TBSP CHIA SEEDS

• 1 TSP MATCHA GREEN TEA POWDER

• 1 TSP ASCENTA HEALTH NUTRASEA FISH OIL

• 1 TSP SPIRULINA POWDER

• 1/2 CUP FRESH BLUEBERRIES

* Toss all of the ingredients into a blender and blend until smooth and creamy!
What's in your favourite healthy smoothie?