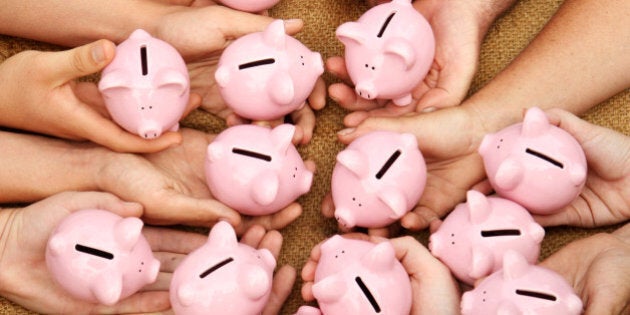 If you're considering embarking on the painstakingly tedious process of raising seed capital for your company, you should know that a dismal 98 per cent of business plans pitched to venture capitalists or accredited angel investors are rejected. And in the off chance that your idea is endorsed, the combined expense of raising funds via traditional financing routes can top $250k.
Oscar Jofre knows this story all too well. Two years ago he tried to go public and the process almost bankrupted his company. That experience is part of the reason why he's one of equity crowdfunding's most ardent disciples today.
In fact, Jofre, a 25-year entrepreneur and technology innovator, co-founded and is a member of the Equity Crowdfunding Alliance of Canada. Through his company, Koreconx, he has helped thousands of businesses in 44 countries raise capital through equity crowdfunding.
Jofre has published a free e-book to help people understand the exploding crowdfunding phenomenon, which he says is dramatically changing the global financing landscape. In it he describes four basic types of crowdfunding:
1. Donation based, where contributions go to a charitable cause with no financial return to the people putting money in
2. Reward based, (like Kickstarter), where investors get a prescribed reward at a later date, like tickets to a movie being funded or a product being launched
3. Lending based, where investors lend a business money and are repaid with an agreed rate of return and at a specified time
4. Equity crowdfunding, where people invest in a company in exchange for shares in that company.
According to Oscar Jofre, equity crowdfunding is the Holy Grail of the crowdfunding phenomenon that is sweeping the globe. Unlike the other types of crowdfunding, equity financing is highly regulated. It has to be, to prevent widespread fraud. But don't let that put you off: it is still far more accessible, less expensive, and more transparent than raising money through traditional routes.
The premise is simple, according to Jofre: "you go to the crowd, tell your story, and let the crowd decide if they want to invest, all at very minimal cost."
Obviously you still need to be prepared with all due diligence information, the nature of which is determined by the country, state, or province involved. (There are many online platforms to assist you in complying with necessary requirements for the specific portal you are applying to. Jofre's company, Koreconx, is one such company, providing the eco-system infrastructure platform needed by a business to go through the entire process, front and back end.)
Once you are approved, it's critical to engage all possible social networking tools -- Facebook, Twitter, Pinterest, Google+ -- to get your story out. Social media is essentially what makes crowdfunding work; if you can create an active, engaged community of supporters, they will do the promotion for you.
One of the cool things about equity crowdfunding is that businesses are able to raise varying amounts of money, from as little $200k, to in the many millions. And as long as you are a good citizen and deliver what you promise, there is no limit to how many times you can go back to the crowd.
However, if you don't deliver on your promises, you can bet on the crowd nipping your fund raising efforts in the bud forever.
In summary, here are some of the benefits to equity crowdfunding from the business perspective:
- More choice for raising funds as there are no third party barriers to your deal being financed -- the only entity you need to convince of the value of your deal is the crowd
- No limit to how much money you can go to the crowd for or how many times you go to the crowd for money
- Eliminate much of the expense involved in traditional fund raising
- You have a vastly larger base of potential investors to tap into
- Investors become supporters become evangelists for your deal; some will even become advisors
From the investor point of view, equity crowdfunding provides an equally impressive list of benefits:
- An opportunity to get in on the ground floor of a new business.
- Total transparency -- at the portal you see everything you need to make a decision about whether you invest, and in one, easy click
- Immediate and direct online access to the company you've invested in
- Liquidity - third party exchanges exist now to provide a market for your investments
But there's more. Equity crowdfunding is good for the economy as a whole, because allowing for easier access to funding for companies should promote new business development, which includes more job creation. Some proponents believe that it also encourages innovation, and that's good for everyone.
Jofre says that it's been tricky estimating the potential growth for the equity crowdfunding market. Four months ago experts were forecasting that the market for 2014 would be $5 billion, but in the time since the actual market value has ballooned to over $30 billion. Experts are now saying that by 2020 we will see an equity crowdfunding market worth $3.8 trillion. Expect that number to swell.
Needless to say, stock exchanges are a little skittish about the equity crowdfunding movement, because they stand to lose revenue from company listings. We've heard claims from exchange executives that crowdfunding isn't legal in Canada (it most definitely is, there are two portals operating now and several slated to start operating in the next year), and that it's an invitation for fraud (fraud happens in listed companies too - see Bre-x). Desperate times call for desperate statements...
I'll tell you what: if I'm a junior entity looking to raise some capital, forget the bigshots. I'm going to the crowd.