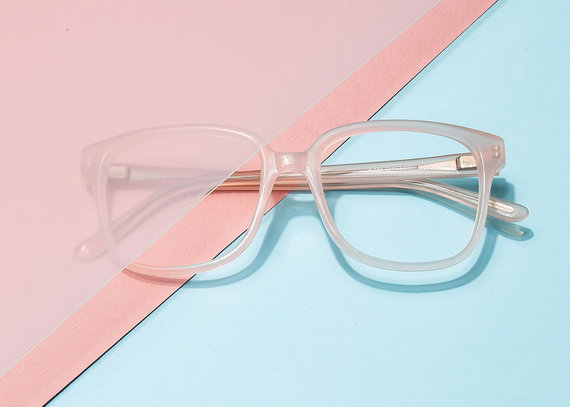 For the first time, Pantone's colour of the year includes two hues that reflect a desire to de-stress and bring balance. With a renewed concentration on mindfulness and unplugging, Pantone has predicted that Rose Quartz and Serenity will encompass a sense of calm in 2016.
"With the whole greater than its individual parts, joined together Serenity and Rose Quartz demonstrate an inherent balance between a warmer embracing rose tone and the cooler tranquil blue, reflecting connection and wellness as well as a soothing sense of order and peace."--Leatrice Eiseman, executive director of the Pantone Color Institute.
How to Wear Rose Quartz & Serenity
While both shades can be combined into a single wardrobe piece, there are ways to gradually incorporate this theme for a fresh look that gets the jump on spring.
Knowing your skin undertones can help you to determine what shade will be the most flattering to you. For instance, if you have summer colouring, which includes cool undertones and a low contrast between their hair and skin, you will find these colours most complementary.
Meanwhile, pastels make a great contrast to deep skin tones. Rose Quartz best flatters golden undertones, while Serenity helps to highlight the pink hues of a cool undertone.
The Rose Quartz and Serenity hues will also complement the grey tones (whether grey-brown, grey-blue or other shades) in your eyes.
Inspired by Rose Blush

Eyewear designers have increasingly embraced softer pastels shaped in frosted acetate frames that act as neutrals. These Kam Dhillon 3070 Erin Blush frames, for instance, demonstrate how an oversized rectangular frame can be softened with a semi-translucent pale shade.
The great thing about this shade is that it is incredibly versatile. If you're a romantic, you can weave this delicate hue into a wardrobe featuring softer shades of pastels.
If you are concerned about the look seeming overly precious, pair with shades of grey, an all-black palette, or even contrasting primary colours.
Inspired by Serenity

Blue hues are a flattering alternative to stark black frames, and a semi-translucent acetate lightens the look of this subtle cat-eye shape. As glasses wearers have shifted away from stark, black plastic frames the past months, shades of blue have become a popular style choice in optical fashion.
As with Rose Blush, Serenity can moderate sharp angles and temper the look of a thicker frame.
Colour Pairings

If you've already purchased clothing in Rose Quartz or Serenity, you can also use these pairings to discover glasses hues that will complement your look. For instance, a pair of slate grey or black glasses provides a blank canvas so that you can play with the hues in your wardrobe. Looking to make a switch to metal frames? Metal glasses in gold, silver or bronze colours are a striking option and can be found in shapes that flatter any face shape.

Pantone offers colour-pairing suggestions that can guide you in finding a palette that suits your style.
Get more colour palette ideas at Pantone »
For more tips and advice on finding your perfect pair of glasses visit theLOOK.
Follow HuffPost Canada Blogs on Facebook
MORE ON HUFFPOST: