 Ariel Garten, co-founder and CEO, InteraXon, a thought-controlled computing company based in Toronto, has managed to beautifully blend the worlds of science, art, business and technology. Often referred to as the "Brain Guru," her innovative technology harnesses the power of brainwaves to control objects and create experiences, from gaming to making a chair levitate, with future applications that can enable you to see into your mind and also help children with attention deficit disorder (ADD) -- and more.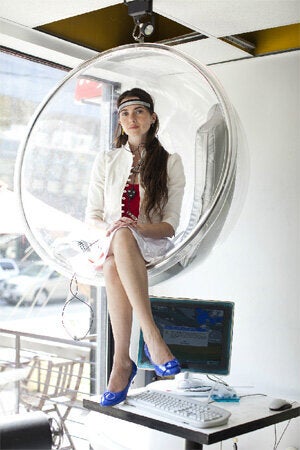 Garten in the levitating chair
On a much grander scale, during the 2010 Vancouver Olympic Games, she conducted a thought-controlled computing project that had visitors at the Ontario Pavilion use their brainwaves to control "live" light shows that illuminated three major landmarks in Ontario -- the CN Tower, Niagara Falls and the Parliament buildings -- thousands of kilometres away.
Garten also works as a practising psychotherapist and has researched at the Krembil Neuroscience Institute, studying hippocampal neurogenesis. As a gifted artist, she has exhibited her work at the Art Gallery of Ontario, DeLeon White Gallery, and has opened Toronto Fashion Week. Once a fashion designer, she previously owned a boutique and also ran a successful real estate company.
In my in-depth interview with Garten, she discusses her innovative technology and its future applications. She also talks about the lack of women in technology and how she is filling that gap. I invite you to watch the interview here:
Photo credit: courtesy of Ariel Garten